This past weekend, Tracee Ellis Ross dressed like a true grown up to attend the MTV Movie & TV Awards. That doesn't mean that she donned a boring and covered up dress and called it a night. Oh no, this star chose a casual and cool Rosie Assoulin patchwork dress that was just as colorful as it was chic.
In no ways was Ellis Ross competing with the nearly nude 20-somethings who shared the red carpet with her. Instead, she was once again letting her personal style shine in a way that felt authentic and effortless. It was just one example of the Black-ish star's sartorial prowess and it served to further our crush on the daughter of Diana Ross.
Here, we break down the five reasons why we are obsessed with Ellis Ross' style and why you should be, too.
1. She's not afraid to take risks.
Mixing tiered fringe and sheer panels in one dress? Not a problem. Donning a dress and turtleneck, plus pumps and a clutch, all in varying shades of orange? Done. And trying out metallic in almost every hue? She's not afraid of that.
Ellis Ross is what we like to call a true fashion icon, in that she never opts for something safe. She is always pushing boundaries, being as creative as possible and making it look really, really fun.
2. She actually has good taste.
While Ellis Ross currently depends on stylist Karla Welch to dress her for red carpets and other big events, the starlet also has her own keen sense of taste. In fact, long before she landed a role on Black-ish, she actually worked in the fashion closet at New York Magazine.
"I think I came out of the womb this way. I think I came out ready to shop. I've always been into beauty in general. I don't just mean like beauty products, I mean just beautiful things," she told the LA Times. For further proof that Ellis Ross has her own sense of style, scroll through her Instagram, where many posts come tagged with #StyledByMe.
3. She sees her outfits as more than just clothes. 
Ellis Ross is an outspoken advocate for women's rights, in addition to all human rights. So it makes sense that she wore Dior's now-iconic "We Should All Be Feminists" T-shirts for an appearance on Jimmy Kimmel Live. Paired with a Tumblr pink suit from Bally and coordinating satin booties from Manolo Blahnik x Adam Lippes, this look deserves a standing ovation.
https://www.instagram.com/p/BT4VB6Gj33Z/?taken-by=traceeellisross&hl=en
But fashion isn't totally serious for this actress. While wearing sweatpants from Vetements and a pair of shield sunglasses in a not-so-conspicuous shade of orange, Ellis Ross isn't afraid to admit that she's been "caught" in yet another Instagram post. Clearly, humor is very important when it comes to getting dressed.
4. She was one of the few celebs who actually wore Comme des Garçons to the Met Gala.
We have no words, other than: BRAVO!
5. She knows her way around a serious stack of jewelry.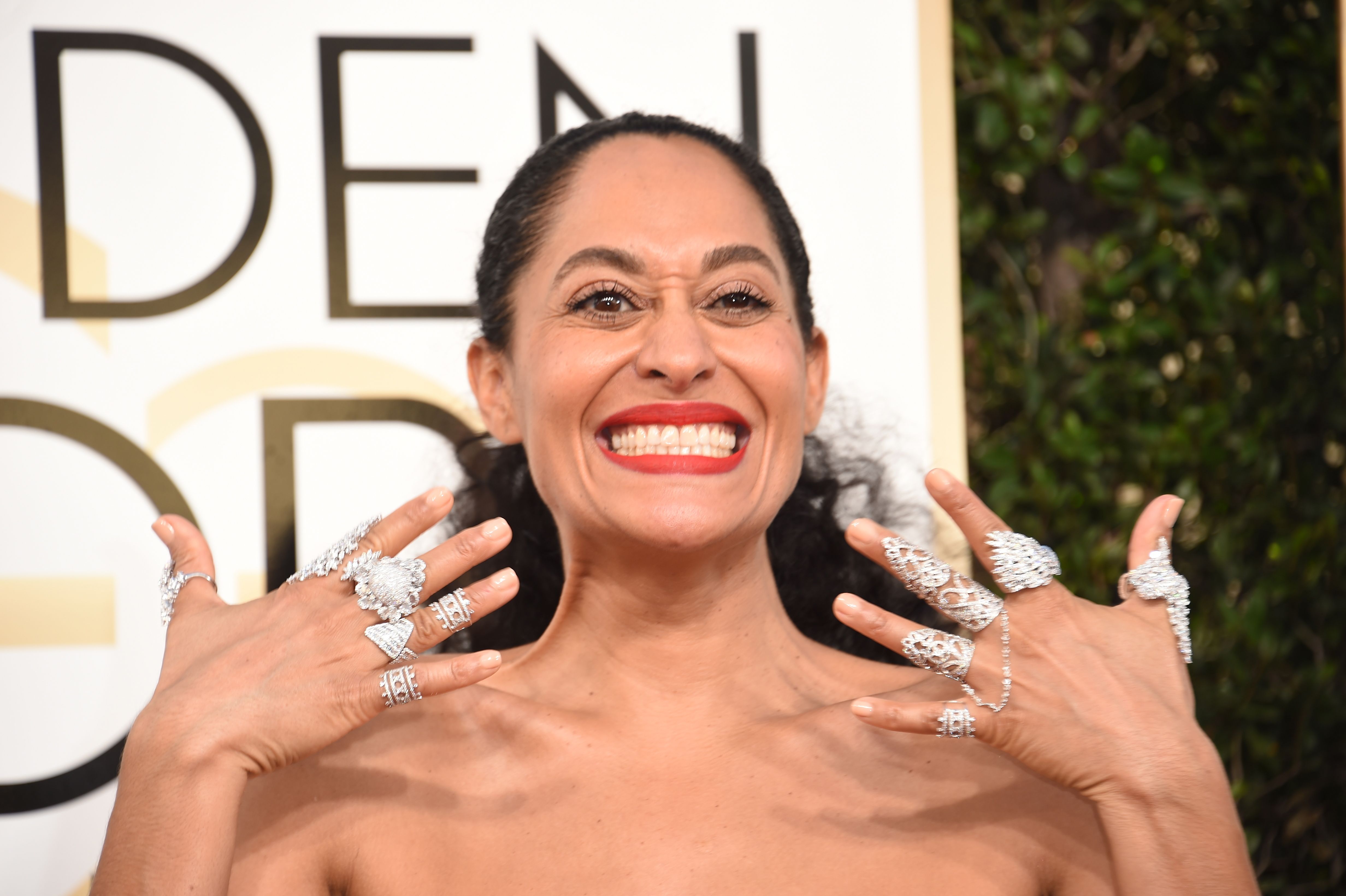 Who could forget Ellis Ross' blinged out moment on the red carpet of the Golden Globes this year? Her fully adorned fingers somehow overshadowed her already sparkly Zuhair Murad gown and were some of the best dressed digits of the eve.
The blinged out look was created with four Noudar diamond rings, one L'Dezen by Payal Shah ring, plus pieces by YEPREM and Kavant&Sharat. We reserve quite a bit of respect for any woman who loves jewelry enough to rock these serious stacks.