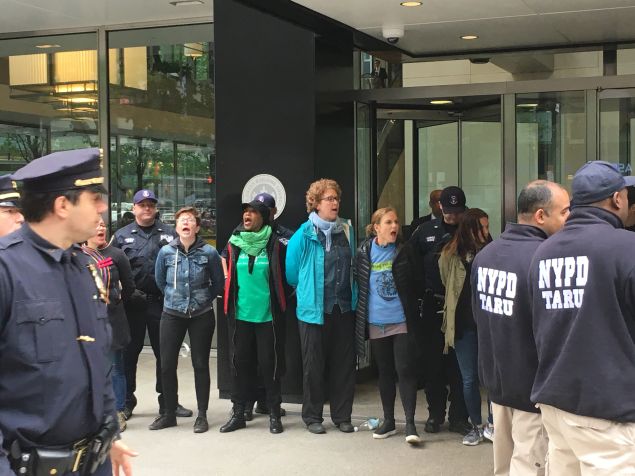 May Day kicked off in Manhattan with police arresting 12 activists protesting against major corporations the objectors accused of supporting and profiting from President Donald Trump's aggressive immigration enforcement agenda, in front of the JP Morgan Chase Tower on Park Avenue.
The individuals arrested included four protestors from the immigrant advocacy group Make the Road New York; two from inner-city organizer New York Communities for Change; one from the anti-Trump Action Group Network; one from the public health activist group CTZNWELL; one from the liberal nonprofit Center for Popular Democracy and one from the teachers union-backed Alliance for Quality Education. The cuffs and threat of imminent prolonged processing did not apparently dampen the demonstrators' spirit.
"No hate, no fear! Immigrants are welcome here!" the protesters yelled as they were getting arrested.
The protesters were among more than 500 people rallying against JP Morgan Chase, Wells Fargo and other lending institutions they say are profiting from Trump's immigration agenda, a rally and march organized by Make the Road New York and the Center for Popular Democracy.
The action, which kicked off on May Day, is part of the two groups' newly launched "Corporate Backers of Hate" campaign against nine corporations they say stand to profit from Trump's agenda, which includes expanding immigration detention, building a wall along the Mexican border and now-blocked executive orders barring entry to people from Muslim-majority countries and withholding funding from so-called "sanctuary cities." The companies also include Goldman Sachs, Boeing, Disney, IBM, asset manager BlackRock, Uber and the Blackstone Group.
The protesters blocked the the JP Morgan Chase entrance holding signs with the slogans "Your Profit, Our Gain #BackersofHate" and "BACKERS OF HATE." Police took the demonstrators into custody after they refused to move away from the entrance.
"Shame on Chase!" all the protesters yelled repeatedly in unison.
The groups noted that JPMorgan Chase donated $500,000 to Trump's inaugural committee and that CEO Jamie Dimon is a member of Trump's Business Council. They also said that Trump's companies owe Wells Fargo $14.4 million, and that the bank services another $1.2 million in Trump's companies' loans.
They added that when Trump first took office, he took down a U.S. Department of Labor website collecting complaints from Wells employees harmed by the bank's unauthorized account scandal.
The other protesters standing in front of JPMorgan Chase chanted in support of those getting arrested, screaming, "Chase, escucha! Estamos en la lucha!," "No hate, no fear! Immigrants are welcome here!" and "Your profit, our pain!"
The rally kicked off in front of the New York Public Library with speeches from advocates, a rabbi and immigrants speaking out against Trump's policy of arresting and expelling any foreign national accused of any crime. They subsequently marched to the JP Morgan Chase Tower, Wells Fargo and then returned to the library to conclude the march.
Along the way, the protesters chanted, "Trump, escucha! Estamos en la lucha!" ("Listen up, Trump! We're in the struggle!"), "No somos uno, no somos cien, somos milliones, cuéntanos bien!" ("We are not one, we are not hundreds, we are millions, count us well!"), "Luchando! Creando! Poder popular!," ("Fighting! Creating! Popular power!"), "Sí se puede!" ("Yes, we can!") and "El pueblo, unido, jamás será vencido!" ("The people, united, will never be defeated!")
Javier Valdés, co-executive director of Make the Road New York, credited New York Communities for Change for leading the fight on the issue for a "very long time."
"We're so happy to join them…as we take the fight to those greedy corporate folks that are supporting the Trump administration," Valdés said. "Today, we wanna make very clear that you gotta pick a side. You cannot be marketing to our community, saying that you're pro-immigrant, saying that you're for diversity and then supporting the anti-immigrant policies of Donald Trump."
Indeed, Valdés said that "everybody here has to choose a side" today, particularly the corporations that are based in New York City.
"The side has to be with us," he continued. "They gotta get out of the detention business. They gotta get out of deporting families."
Sonia Medrano, a member of New York Communities for Change, reiterated that the United States is a "country of immigrants." She said that immigrants must remain united in the face of his policies and suggested that he be kicked out of the country first.
"He has a personal vendetta against us Hispanics but we are gonna demonstrate to him that when we come together, we are stronger," Medrano said, through a translation by another member. "Donald Trump, you are the head of this country whether we like it or not but as the head of this country, you are going to have to be the first one to pack your bags and have to go."