It's been an eventful few months for Fox News host Tucker Carlson. His show, Tucker Carlson Tonight, was moved first to the spot made vacant by Megyn Kelly's departure to NBC, and then to the 8pm prime time slot left open by the cancellation of The O'Reilly Factor due to the sexual harassment charges against Bill O'Reilly. He's also busy ranting about Mika Brzezinski and looking for non-bow tie dressing options.
Now, Carlson has decided it's time for some home changes, too, as the Fox political commentator has listed his seven-bedroom. 5.5-bath Washington, D.C. abode for sale. He's already had to lower his expectations, though—the house has only been on the market for about a week, and the price already dropped from $2.2 million to a touch under $2 million.
The 4,784-square-foot Colonial in Kent is situated along the Potomac River, in the Palisades section, per the listing held by Washington Fine Properties broker Nancy Taylor Bubes. The house was built in 1941, and features a renovated kitchen open to the den, as well as a living room, dining room and sunroom on the main level.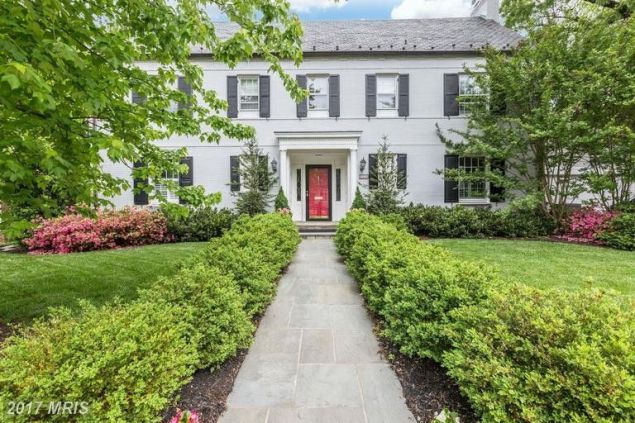 Carlson and his wife, Susan, haven't lived in the house for too long—they bought it in 2011 for $2 million, according to Realtor.com. Maybe the failed Dancing with the Stars contestant (never forget) just wants a new house to go with his current primetime gig. If Carlson's discarded digs aren't your thing, there's always Hunter Biden's newly listed DC home right nearby. Carlson and Joe Biden's son are even using the same broker.
Interested buyers may want to read Carlson's Politico piece from January 2016—Carlson wrote that on his street, "there's never been anyone as unpopular as Trump. The Democrats assume he's a bigot…The Republicans (those relatively few who live here) fully agree with that assessment, and they hate him even more. They sense Trump is a threat to them personally, to their legitimacy and their livelihoods. Idi Amin would get a warmer reception in our dog park." Well, someone didn't hold back.
That doesn't seem to stop Carlson from leaving the neighborhood, though. Prior to this abode, he and his wife resided in another house in the surrounding area, which sold for $4 million in 2011. Hopefully, Carlson can take time away from his busy schedule of yelling about the horrors of Penn Station bathrooms to find a buyer for this home.