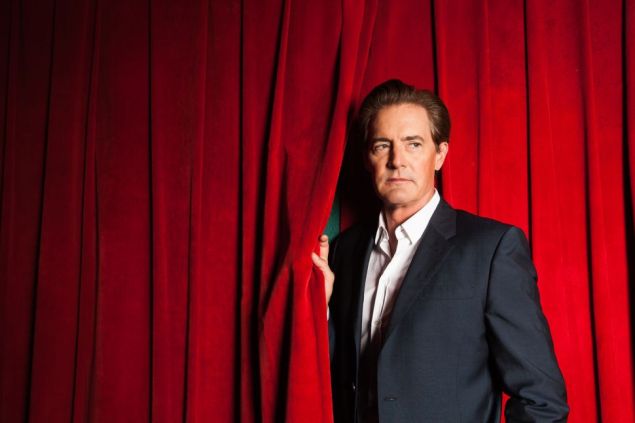 In a couple of short weeks, it will be the tenth anniversary of The Sopranos' final episode, "Made in America," which ended with a conclusion that infuriated many viewers but has also kept them talking since that fateful 2007 day. The famous ending, the one that included a cut to black as Tony Soprano looked up while sitting in a diner, has engendered a lot of discussion on whether there is an answer to be found. Is Tony alive? Is he dead? Has he been arrested? Series creator David Chase has refused to clarify, sometimes saying that worrying about whether Tony is alive or not is asking the wrong question.
Arriving at the same time as Made in America's tenth anniversary is the return of Twin Peaks, a drama created by David Lynch and Mark Frost that directly influenced David Chase when he crafted The Sopranos. One of the most compelling influences was ambiguity. When Twin Peaks came on the air, the majority of television shows did not offer up unresolved conflicts or opaque symbols. While an episode of television might play with the idea that an event may have been a dream, it is difficult to point to one that gave the audience a white horse in the middle of a suburban living room with nary an explanation to be found. Twin Peaks did just that, though, and allowed shows down the line to do the same, even if audiences were sometimes displeased with the result.
Twin Peaks adored unanswered questions. They powered the show. Lynch and Frost did not even plan to reveal the question at the heart of the show, who the killer of Laura Palmer was, until the end of Twin Peaks and perhaps not even then. Only at the behest of ABC did they give audiences the answer: Laura Palmer's killer was her own father. Yet, Lynch and Frost still threw a curveball. Laura's father, Leland, appeared to be possessed by a supernatural creature named BOB. Did Leland kill his own daughter or did BOB force him to do it? The series asks this question, with Agent Cooper wondering if BOB is merely a representation of the evil that men do, but it gives the audience no answer. When Lynch followed Twin Peaks up with a film, Twin Peaks: Fire Walk With Me, he furthered this debate, blurring the line between Leland and BOB. If the audience went into the film hoping for clarity, they came out more confused than before.
And that's not even touching on the many other questions Twin Peaks refused to answer. What was the relationship between the Man From Another Place in the Red Room and BOB? Is there a difference between the Black and White Lodges? What is the smoke that seems to fly behind the curtains in the Red Room? Why did a white horse appear to Sarah Palmer? Just how much did Sarah Palmer know about the crimes that went on in the Palmer household?
Because Twin Peaks was cancelled at the end of its second season, fans had to come to terms with the fact that they would not receive answer. With Twin Peaks' return, these questions are arising once more. Recently, Vulture ran an article titled "The 10 Lingering Questions Twin Peaks Needs to Answer." The article asks straightforward questions, questions that will likely be answered in the upcoming season of Twin Peaks (although no one should consider anything a guarantee where David Lynch is concerned). However, the title of the article reveals a line of thinking that the audience should be wary of. Twin Peaks does not "need" to answer any questions. On the contrary, Twin Peaks should probably be careful not to answer too many questions. My claim goes against what has become an ironclad rule in the age of social media. Shows like Lost ended up terrible because they did not answer all the mysteries (an argument that I would argue is false off the bat, but that's a discussion for another day); when questions are raised, they must be answered, according to this rule. This, too, is why the finale to The Sopranos is such a letdown. David Chase denied the audience a conclusion. Why could he not give the viewers the sight of a dead Tony Soprano, like the ending of Breaking Bad did with Walter White?
It is true that most television offers firm answers to the questions raised, especially since so many dramas revolve around solving crimes. Simply because most television shows use this tactic does not mean it is the only viable approach, though. In fact, there's a danger to clarifying every detail and spoon-feeding the audience. I often find myself thinking about that final scene of The Sopranos, about how I feel crushed as "Don't Stop Believing" begins to play, realizing that this is the last time I'll see the Soprano family after watching them for six amazing season. At the same time, I feel a certain fear and excitement, knowing that the scene is building to a climax that forces me to confront an unusual ending, one that will leave me searching for catharsis, which is all too appropriate in a show that explored that very search. I don't know what happens to Tony. I have theories, sometimes ones that conflict with each other, but the search for truth lingers on. The ending is an existential moment, and I find that it crops up in my mind when I least expect it to.
I cannot say that I have thought about the ending of Breaking Bad very much since it aired.
It is therefore not at all surprising that I am still drawn to Twin Peaks' scenes in the Red Room. That I do not know the full story of BOB, the Man From Another Place, and the Giant are not detrimental to my experience. That unknowability is a key part of my experience. BOB is terrifying because I do not know if he is fully supernatural or a very real part of human nature. A concrete answer would rob that tension and rob an important element from Twin Peaks itself. The nature of BOB relates to the real nature of evil in the world, one which cannot be fully answered and with which we must grapple with daily. An answer to it would be a lie.
I have no fear that David Lynch will rob Twin Peaks of mystery. His track record since the drama ended has been almost spotless. I do think that in the age of social media, where television shows are picked apart whether they are designed to be or not, audiences and some critics are going to be frustrated with a show that refuses to offer firm answers and instead marinates in ambiguity. Look back at the coverage of Westworld: half the articles on it not only picked apart the episodes, but they also attempted to answer every question the show asked in the neatest way possible. There is nothing inherently wrong with this approach, and it certainly suited what Westworld was going for, but it would be a mistake to apply it to every piece of art. I fear, though, that will be lost on some. The Westworld approach has been applied to almost every piece of pop culture art of the last few years. Remember when people tried to state that the ending of Return of the Jedi had hidden clues that showed Luke Skywalker would be evil in The Force Awakens? Remember how people tried to argue that the spinning top at the end of Inception was/was not slowing down?
Twin Peaks is not going to be easy for people who want answers. In the words of another show that adores unknowability, The Leftovers, Twin Peaks likes to let the mystery be for it's the mystery itself that provides the power and the truth of the art. It will likely teach the audience how important this concept is, although it might be a harsh learning curve. Perhaps, in the end, Twin Peaks will remind us why the many dramas it inspire, from The Sopranos to The Leftovers, are so enriching: they understand that life can never be fully understood.