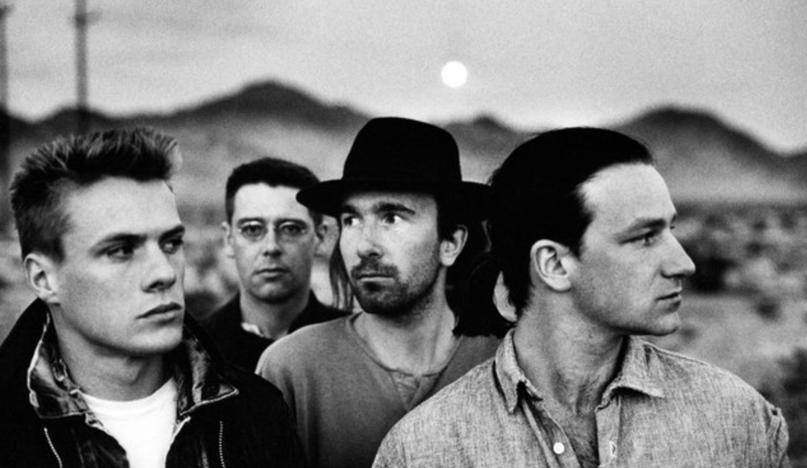 U2 did something they likely would have never done 10 years ago: They hooked up with the biggest rapper of the moment, Kendrick Lamar.
The song, "XXX," laments the election of Donald Trump, and it isn't bad. Bono's voice comes in during the second half of the song, where he repeats the lyric, "You close your eyes to look around."
READ THIS: U2's 'The Joshua Tree' Isn't the Masterpiece You Remember
The song still would have been a hit without U2, whose participation seems like a desperate plea for relevance among today's music listeners.
And it has worked to a certain extent. Late last week, Billboard featured U2 on the front cover of their website, claiming the band tied Michael Jackson, Madonna and Weird Al by having top 10 hits in the '80s, '90s, '00s and '10s. The big difference is that these acts didn't need to be "featured" as a guest on a record with a top current act in order to score their chart feats.
Had U2 been big on rap collaborations throughout their entire career, this wouldn't be disappointing. But something seems to have gone awry with the band in the last decade. It started with the 2009 (relative) sales disappointment No Line on the Horizon.
Even Bono himself admitted the band misfired on the album, at least in a commercial sense. However, the lack of success didn't hurt the band's brand at all. Within a couple of months, they started the U2 360° Tour, which became the highest grossing music tour in history.
In 2014, U2 made an unfortunate mistake that tarnished the band's image in the eyes of many critics and fans by force feeding a mediocre (at least that's what many listeners thought) album, Songs of Innocence, to the public.
As Variety noted in September of 2014, U2 claimed to have always wanted their music to reach as many people as possible. Unfortunately, the fact that they didn't give Apple users a choice about downloading their album created a huge backlash that still haunts the band almost three years later.
Observer said the album giveaway was like "Guy Fieri showing up at a restaurant and quietly setting a chili dog onto everyone's plate," and Salon noted how U2 instantly became the most hated band in America—and those were actually two of the nicer articles.
The band sensed the backlash and apologized one month later. Their diehard fans forgave them, but U2 became a joke to the rest of the world. In 2015, they were forced to play in arenas rather than the stadiums they were used to.
In another decision that some see as desperate, U2 has decided to go on tour only two years after their previous one. But this isn't for a new album; it's for their 1987 breakthrough album The Joshua Tree.
The band is trying to make people forget about what they've become and celebrate what they once were. According to Forbes, U2 sold 1.1 million tickets in 24 hours when they first went on sale in January. The fact that they are playing stadium dates and adding second stadium shows in some cities shows that this decision is, at least in the short term, a great business move.
Still, when you compare U2 to where they were 10 years ago (one year after winning several Grammys), it's easy to see that their brand has been somewhat tarnished. Perhaps U2 can return to their former glory when they stop worrying about sales enough to hook up with the latest hot rapper or force their music on people's mobile devices.
U2 certainly can't rely on selling millions of albums and having tons of hits anymore, but they can still save their brand and legacy before it gets too late.
Daryl Deino is a writer, actor and civil rights activist who has appeared on shows such as The Untouchables, Parks and Recreation and Two Broke Girls. Besides writing for Observer, he has also written extensively about technology, entertainment and social issues for sites such as the Huffington Post, Yahoo News, Inquisitr and IreTron. Follow him on Twitter: @ddeino.