Over the holiday weekend, the parents of Uber founder and CEO Travis Kalanick were in a severe boating accident in California's Pine Flat Lake, where the couple has gone boating for years. His mother, Bonnie, passed away and his father, Donald, remains in critical condition.
Despite the questionable business tactics and many controversies surrounding Kalanick, this has largely been seen as nothing but a tragedy. People have put their disdain aside to offer their condolences, but the same can't be said for a lot of Uber drivers. Many had choice words for their CEO following the accident.
"It should have been Travis in that boat not his mother."
"If this was on a driver's side he wouldn't shed a tear."
"Too bad Travis wasn't on the boat too."
"
👍
👍
👍
👍
👍
👍
👍🏻
👍🏿
👍
👍
👍
👍
👍
👍
👍🏽
👍
👍
👍
👍🏻
👍
👍
👍
👍
👍
👍
👍🏿
👍
👍
👍"
"Sheep's crying for the man who would send you to the slaughter house?"
"I feel very sad for his mother and I wish his father a speeding recovery. But Travis has destroyed many families, so having said that; my condolences to the rest of the family and loved ones, but NOT to TRAVIS."
These are just a few insensitive comments shared by Uber drivers in the wake of the tragedy. They were posted on Facebook in groups where drivers discuss everything from their craziest passenger stories to Uber's unfair business practices.
While this is certainly not representative of all Uber drivers, the number of such comments was staggering—for every sympathetic thought, there was one (or more) like the comments above. Disgruntled drivers shared everything from jokes to happy emojis to their wishes that it was Travis who died.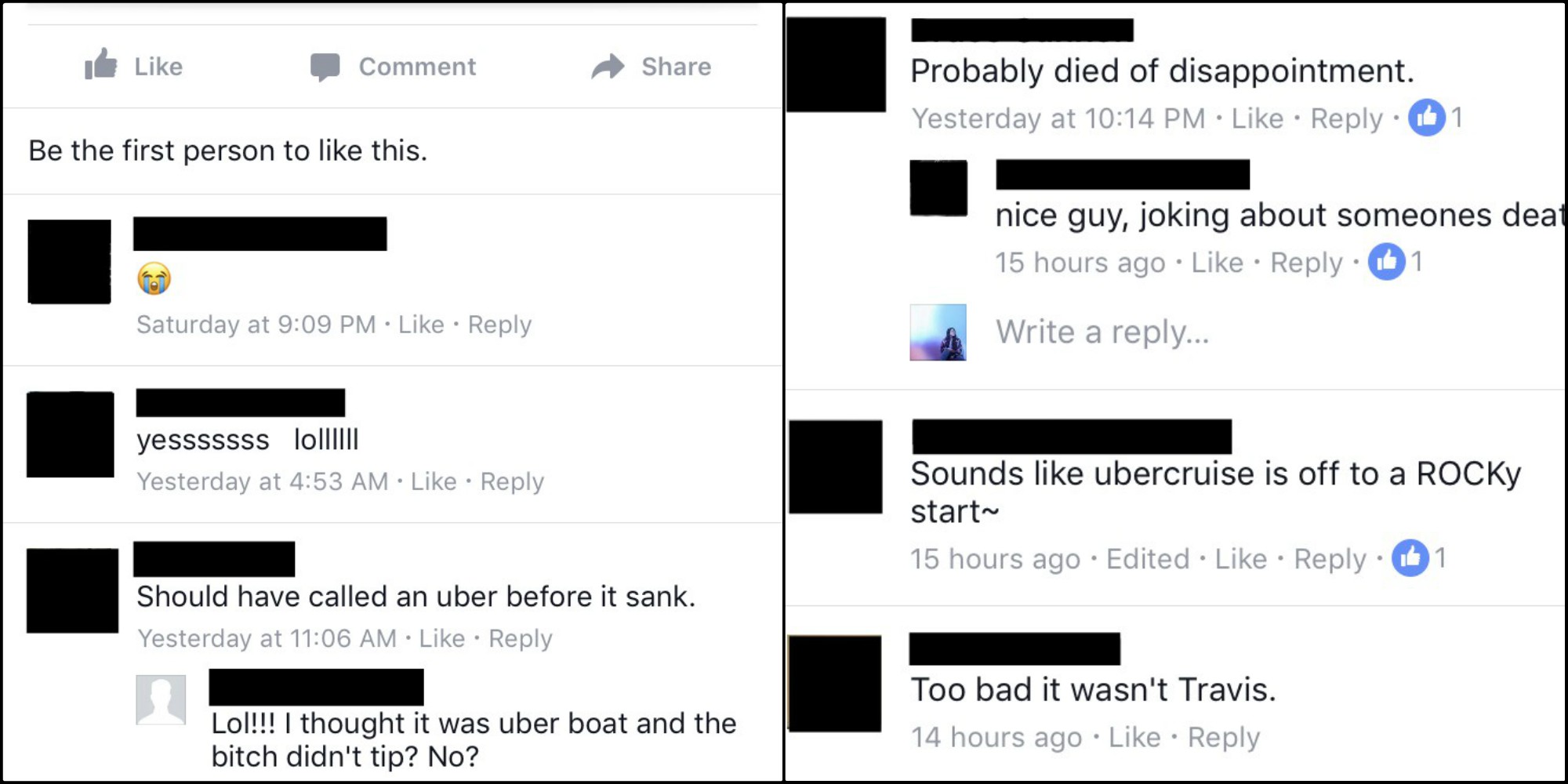 Drivers have a lot of reasons to hate Uber and its boss. It was recently discovered that Uber stiffed New York City drivers on millions of dollars in earnings over the last three years. They're paid terribly—one driver made only $35 for 36 hours of work. The company has also misled drivers about their earning potential, preyed on vulnerable people and exhibited sexism and misogyny again and again.
Read also: Uber's 10 Worst Actions—Threats, Lies, Sexism & Shady Business Deals
And these drivers are vocal about it all. They've held thousands-strong rallies to protest unfair wages. They've sued the company. They've talked to the media. They even try to reach out to Kalanick personally on Twitter to share their concerns, which has resulted in many getting blocked by their own CEO.
Uber drivers have proven they are persistent when it comes to demanding fair treatment from their company and boss. They have shown they have many outlets for doing so. So why trash Kalanick when he just suffered such a loss?
The Observer has written its fair share of negative articles on Uber and Kalanick himself, but we are sending our condolences to him and all loved ones affected by this tragedy.