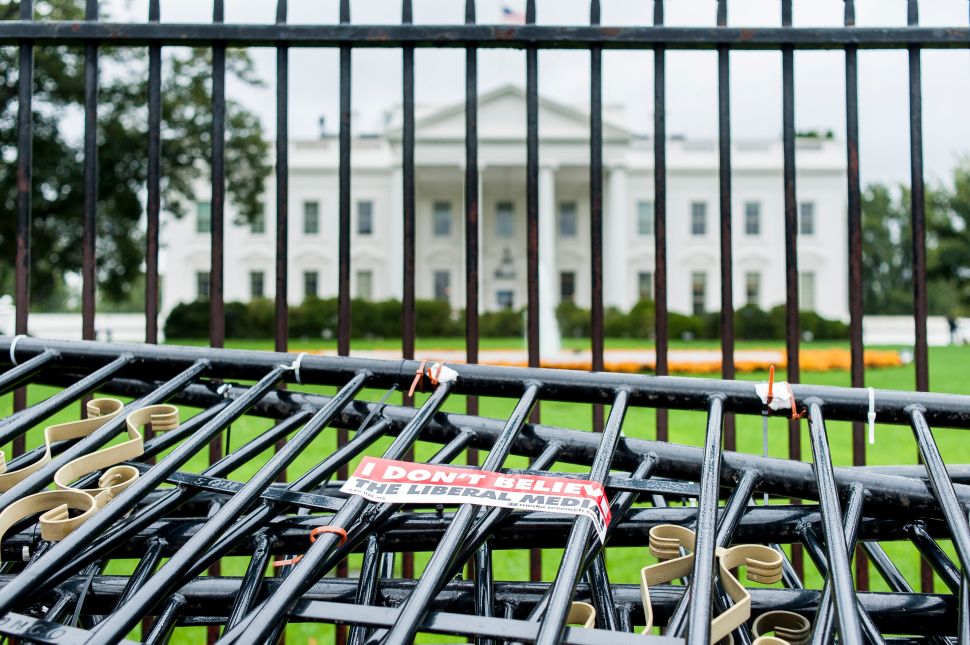 Molotov cocktails and bricks are flying at former bastions of free speech like UC Berkeley. Conservatives are right that these violent protests from college liberals are an attack on free expression, but it's more than just "whiny snowflakes" on campus who endanger this fundamental right. While these foolish protests over controversial speakers like Ann Coulter and Milo Yiannopoulos pose a threat to free speech, it's still the government that puts it in the most peril.
Reporters Without Borders recently released its 2017 World Press Freedom Index, in which it ranks 180 countries on a variety of free speech issues such as surveillance, censorship, and crackdowns on espionage and whistleblowers. The United States fell two spots this year to 43rd in the world.
America, which claims to hold dear the values of the First Amendment of its Constitution, has never been ranked better than 17th in the world since Reporters Without Borders began keeping statistics in 2002. Years where the government has tried to increase surveillance efforts, ramp up the battle to combat terrorism, or deal with political protesters have been the worst for the nation's ranking. As the 2014 report put it, "Freedom of information is too often sacrificed to an overly broad and abusive interpretation of national security needs."
By comparison, Switzerland, which notifies its people when they've been spied on and stays neutral in foreign conflicts, has consistently been one of the top ten nations in the world for free speech.
When the rankings began in 2002, the United States was at its highest mark: 17th. The following year, after invading Iraq, the United States dropped to 31st for its actions at home and an abysmal 135th for its actions abroad.
The 2003 report reads, "The Israeli army's repeated abuses against journalists in the occupied territories and the U.S. army's responsibility in the death of several reporters during the war in Iraq constitute unacceptable behavior by two nations that never stop stressing their commitment to freedom of expression."
That's because the military-industrial complex is the ultimate force for suppressing the rights to speech and assembly. Much in the same way violent protesters jeopardize speech, so too do armed government officials set on enforcing the political status quo. The difference is violence from law enforcement is legal in certain circumstances. Thus, there is little recourse against government intrusions on this right. When free speech is under attack on campus, alumni can stop donating to their alma mater, prospective students can choose not to go to certain schools, and current students can transfer. The same cannot be said of government—just try withholding your taxes.
After a momentary improvement in its ranking in 2004, America continued its decline. As the Iraq War persisted and surveillance powers were ramped up under the PATRIOT Act, the U.S. never rose above 44th during George W. Bush's administration.
In the first two years of Barack Obama's administration, there was some hope the U.S. could redeem its free speech reputation, especially since Obama campaigned on a message of transparency. America was ranked 20th in both 2009 and 2010, but it quickly fell back down as political protests began at home. By 2011, the U.S. was down to 47th.
"The crackdown on protest movements and the accompanying excesses took their toll on journalists," the 2011 report reads. That toll included the arrest or beating of 25 journalists by law enforcement in the U.S. that year.
The remaining five years of the Obama administration saw America's record on free speech continue to sour, as the administration went after whistleblowers, most notably Edward Snowden and Chelsea Manning. As awful as it is when college students riot and protest, colleges don't have the ability to keep Snowden stuck in an embassy in Moscow for fear of imprisonment or to keep Manning in jail, as Obama did until he commuted her sentence.
Both Bush and Obama left the nation with a worse ranking from the Press Freedom Index than when they took office. America went from 17th in the first ranked year of Bush's administration to 48th when he left. Obama took the nation from 20th in his first full year to 41st in his final full year.
Simply based on rhetoric, President Donald Trump has already begun to follow the same trend. As the 2017 index puts it, "Donald Trump's rise to power in the United States…[was] marked by high-profile media bashing."
While it's easy to call out the violent, overly-sensitive college students who protest and riot against speakers as the huge threat to free speech that they are, it's also important to realize they don't have the power the government has to suppress dissent. Certainly the "heckler's veto" is something college students have wielded to silence their ideological opponents, but government has the legal monopoly on the use of force. It uses this power to silence whistleblowers, shut up dissenters and stifle national discourse.
Dan King is an advocate for Young Voices and a journalist residing in New York's Adirondacks. He writes about free speech, civil liberties and LGBT issues. He can be found on Twitter @Kinger_Editor.