Media outlets just lost a bunch of Facebook followers after the company discovered and broke up an "extensive fake account scam" targeting publisher pages with false likes. But while most media pages—including the Observer—lost a few thousand to around 200,000 followers (or about three percent) at the very most during the purge, USA Today lost a whopping 5.8 million on its main page. That's over 38 percent of its followers.
It's unknown why USA Today was targeted so heavily by the scam, but we do know that USA Today has taken steps to cover up some boasting it's done about what it thought was a uniquely robust social following. The Observer discovered a USA Today article from January 30, 2017 titled, "USA TODAY Surpasses 10 Million Facebook Fans." While the original post has been quietly taken down—rather than corrected or retracted—and now leads to an error page, we located an archived version that contains some serious bragging.
"USA TODAY, with the fastest-growing news presence on Facebook, now has more than 10 million fans for its primary Facebook page," reads the now hidden article. "It now joins CNN, Fox News, The New York Times and ABC News as the only American news publishers to pass the 10 million-fan mark."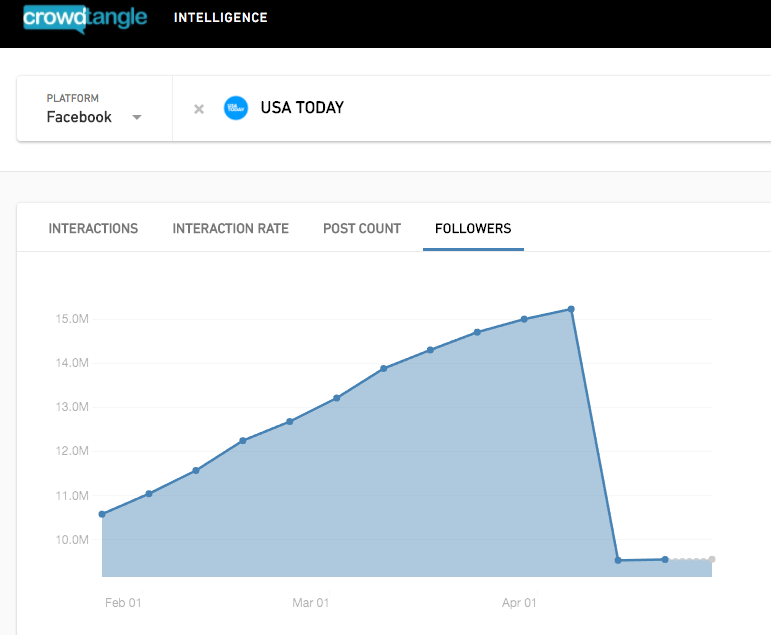 Out of all these listed, USA Today is the only media company to be kicked out of the 10 million followers club after the purge.
The post goes on to explain just how USA Today accomplished this feat—"USA TODAY increased engagement by posting more, and on a wider variety of content types: link posts, Facebook Live events and native on-demand video, with much of it over-performing and curated from around the USA TODAY NETWORK."
This is likely true, but we know the growth was largely due to the spam accounts. A Facebook representative told the Observer the accounts liked media pages to appear legitimate in order to gain friends and either send them spam or entice them to click on monetized sites. The representative also confirmed the fake accounts began liking pages at least six months ago, which would mean they were included in USA Today's total tally of 10 million. 
Update: Amber Allman, corporate events and communication vice president for USA Today, provided the Observer with the following statement:
"We are not covering anything up. In a PR blog post in January, we shared Facebook data from a third-party vendor. As soon as we realized these numbers did not reflect 100% organic growth, we alerted our partners at Facebook to resolve the issue, halted any marketing efforts for Facebook fans and removed the post until we are sure our fan data is completely cleaned up by Facebook and we have a true picture of where we are."