It's not often that a fitness center has reviews on Yelp saying "she wants to know about your goals—and not just the ones on the scales," and "Dani works with you to train both physically and mentally to accomplish goals, overcome obstacles and to build overall strength and confidence." Dani is Dani Tsukerman, the woman behind Very Personal Training, a gym for people overcoming body image issues.
Tsukerman has preliminary phone calls with potential clients, to discuss their relationship with working out, scales and mirrors. Her Brooklyn gym doesn't have many mirrors, and she threw out her scale long ago. During our first phone call she told me, "If you want to eat a whole box of donuts, I think that's awesome, if you're happy afterwards." It's a departure from the detoxing and carb counting other gyms suggest.
Tsukerman, who looks like a brunette Reese Witherspoon, is open about how her experiences shaped her unique method. After starting in her basement, she opened a bright, airy fitness studio a few blocks from home. There, she meets with women and discusses their past before teaching them the proper technique for planking.
The trainer struggled with eating disorders starting at seven, and was hospitalized for anorexia during high school. Now, she wants to prevent the same thoughts in others, which is why she treats her training like therapy. She refuses to focus on losing weight for a perfect, seasonal beach body and doesn't work with brides before their wedding. Instead, she teaches people how to completely rethink their approach to fitness.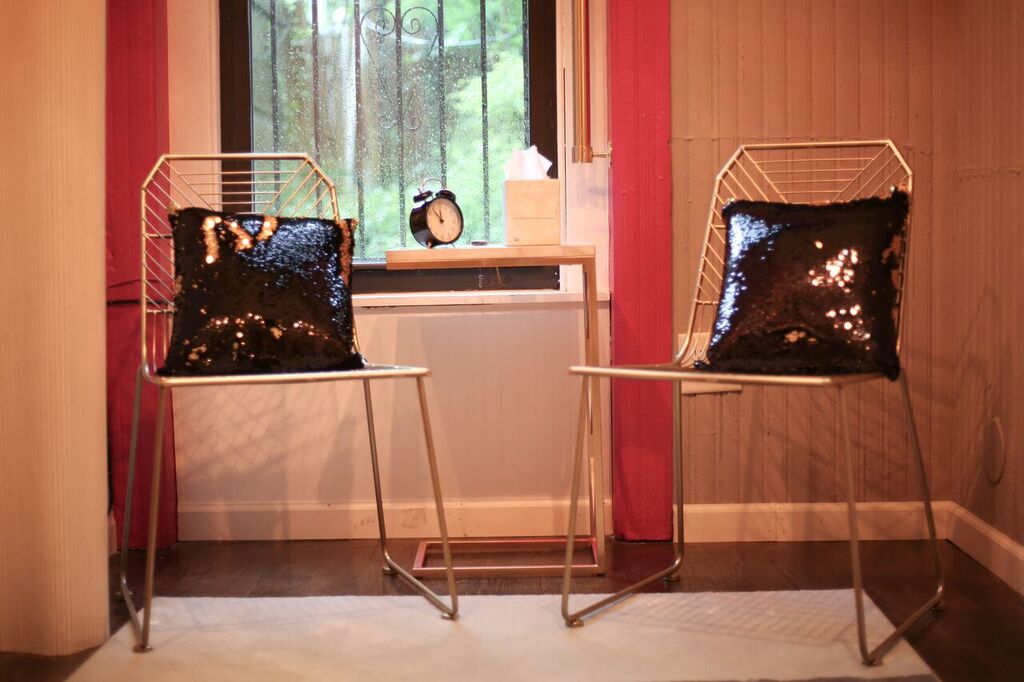 "I started dieting in tenth grade and as people started telling me how good I looked it became this obsession I couldn't stop," Tsukerman explained in the sitting room where she talks to new clients.
"I started obsessively getting on the scale," she admitted, detailing a vicious cycle of weighing herself continuously. In her junior year, she was only 100 pounds and knew she had a problem. After she was hospitalized and on the road to recovery, she relapsed with bulimia, began abusing laxatives and started binge eating.
"I would wait until my mom went to bed and I would eat gallons of ice cream, or an entire box of cereal, and then throw the evidence out the window so nobody would know in the morning. And that was probably the worst, worse than starvation," she said. After going to school in Israel, her family visited and she realized she would rather be alone, exhibiting suicidal thought patterns. She decided to start eating three meals a day.
"Little by little, very, very, very slowly, I started to come out of this deep depression. I started working out a little, and of course working out became a bit obsessive. I was at the gym so much that a trainer came over and said, 'Have you ever thought of becoming a trainer?' and I had no idea that was even a possibility." At the time, she was studying for the GRE.
She became a personal trainer, hoping her newfound understanding of food would change her thinking. After a few years of working in gyms, she realized it was an unhealthy environment. The mirrors and constant bikini season promotions fueled her behaviors.
Then, Very Personal Training was born, for women struggling with similar issues, from yo-yo dieting to scale obsessions. Instead of focusing on a goal weight, she wants her clients to realize what their bodies are capable of doing.
"It's more about happiness than it is about fitness or health, which can be a radical idea for somebody in the fitness industry," she realized. In a city focused on trainer's showcasing their tight abs on Instagram, her lack of a social media presence and small studio is a welcome departure from wall-to-wall mirrors and boot camp drill sergeants.
"It's important for people to see a trainer that's not perfect. I wasn't a gymnast, athlete, cheerleader or dancer. It's something that just saved me, and I wanted to give it to other people," the Park Slope mom explained. "It's really about how you feel about yourself at the end of the day and if you're enjoying life."
Now, Tsukerman has slowed down and makes an effort to avoid perfectionism. "I have this rule of threes. You should take a day off every three weeks, take a break every three hours and take a vacation every three months, just to avoid burnout," she said.
While she encourages her clients to throw away scales, unfollow #fitspo accounts and trash diet books, she urges them to ultimately make their own choices. "Just stop caring about what you look like so much. It's just not the be-all, end-all. It's not the answer to your problems," she announced. And after a session with Tsukerman, you'll believe her.