If you miss New York in the 1980s, you're in luck. There's a wonderful hour-long video of the Big Apple you can view right now on YouTube. [Or you can watch it in its entirety above.]
It's a compilation from the NBC News archives made up of B-roll footage used during newscasts. No one wants to see a newsreader speak the entire time—TV is a visual medium, after all. When you say "New York," people want to see what they think New York is and think they know what New York is because of B-roll played during newscasts. This video has a lot of such footage—so much it's almost exhausting. Yet, for a native New Yorker, it could be as meaningful a film of that era as anything Woody Allen or Martin Scorsese ever did—except, maybe, After Hours.
In case, you should happen to forget who shot it, there's a giant watermark covering the middle of the screen yelling "NBC NEWS" at you. After a while, though, you don't even notice it's there.
There's the requisite shot of skyscrapers, including the Twin Towers, which defined the city's skyline during the era. Some of it looks like the opening of Saturday Night Live. There's even a glimpse of Battery Park City back when it was just a pile of sand atop landfill from the World Trade Center's construction. A whole section is dedicated to the Statue of Liberty shortly after her centennial cleaning, with nary a tall building behind her in pre-Schundler Jersey City. The Brooklyn and Manhattan Bridges span the East River, anchored on land before developers figured out how to condo everything. Meanwhile, miserable pedestrians stroll the Williamsburg Bridge, unaware that those same '80s clothes would be worn ironically on that same bridge a few decades later.
No New York City video compilation is complete without street scenes and there are quite a few of those here. At about 12:28, there's a shot of a mustachioed traffic cop wearing the old brown Transit Police uniform, a fixture at busy intersections prior to the 1995 merger with the NYPD. Chrysler K cars and other long-forgotten models flood the streets like a river in a small Midwest town after a big storm.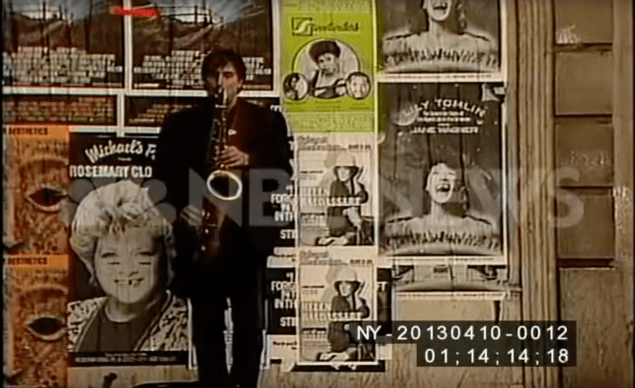 But then at about 14 minutes in, we get to see the scenes that defined the soul of city itself. Interspersed between helicopter shots and that's where those of us who remember the era will get all misty-eyed. There's a guy playing a saxophone in front of a wall plastered with posters advertising Rosemary Clooney and Lily Tomlin. If you ever wondered what happened to Rob Lowe's character after the credits rolled in St. Elmo's Fire, there's your answer. More street performers, people arguing with hot dog vendors, piles of tourists, unattended children dodging cars as they run in front of open fire hydrants…all are here.
What makes this particular video so enthralling isn't just the visual, but it's also the audial. These days, when you see '80s stock footage, there's music in the background to remind you, "Hey! You're looking at something from the Reagan Era!" Instead, this has natural sound—"nats" as the video professionals say—and in some way, it's a more powerful tug on whatever engram deals with nostalgia.
We catch doors slamming, cars honking horns as their undercarriages scrape the road, gum snapping, shoes peeling from the concrete, conversations starting, all as if they are happening in real time and yet now 30 years later. They are awkward and imperfect, the way life as we remember it is, and the way that is purposely avoided in video editing rooms when we watch films and shows from that time.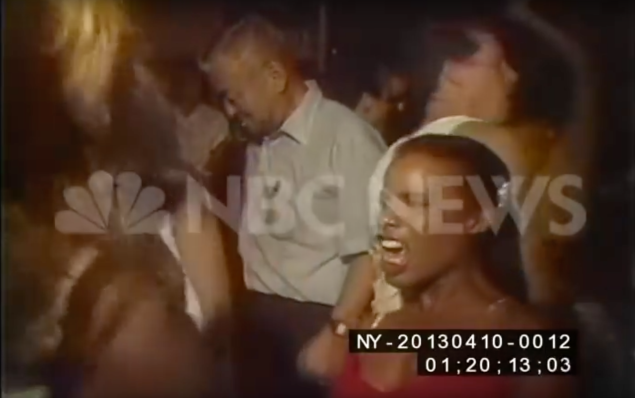 Sadly, the shots from inside the Limelight have no sound. From this writer's recollection, the music was rather forgettable anyway. But the dance floor banter—the exchanges as sloppy as the patrons simultaneously trying to get down to Chaka Khan and keep their vodka tonics from spilling—that's missing from this video. The glittered masses are there with cigarettes legally blazing at the bar and dancing side by side with people who look like they mistook the converted church for an accounting conference, but we don't hear it. We are robbed of the complete experience.
Other parts of the video are aural witnesses to a disappearing New York accent that has lingered on in the public imagination. At 26 minutes and 26 seconds, a group of very 1980s New Yorkers stand behind a velvet rope when a male friend wearing too-short white shorts strolls by. "So what's this faw?" he asks the NBC cameraman. "News Faw?"
For the markets-minded, there's another element of a bygone era: traders at the New York Stock Exchange. Nowadays, the floor is primarily used by financial news shows to say, "We're live at the exchange" as they report on today's market but really, it's there's not much going on. That's because most trades are conducted electronically on servers based across the Hudson in Mahwah, New Jersey, and no one wants to see reporters standing in front of computer equipment. The guys you see on the NYSE floor in 2017 are the straggling remains of the open outcry system which may well go away when the last of these men hang up their blue jackets.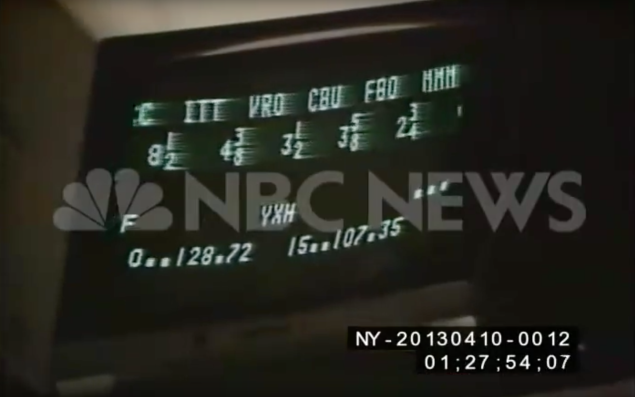 However, in this footage, the term "stock market" is a real place that has the look and feel of a Middle Eastern souk, replete with men with ill-fitting colorful jackets and paper order slips littering the floor. The exchange is practically a ghost town now, but we can watch it packed in 1980s splendor as monitors on the NYSE floor and trading desks elsewhere on Wall Street flash green numbers in quarters and eighths and 16ths, relics of how medieval Spanish traders counted their gold coins. All of those machines together have the same computing power as what's currently in a child's pocket. And all of those men (and occasionally, women) wearing all of those suits shouting all of those orders are now redundant, replaced by chips and wires. Yet here they are for us to gawk at their adrenalin rushes, unaware that the 1987 crash will wipe them out financially and the impending technological revolution will wipe out the meaning of their existence.
Speaking of which, at precisely 33 minutes and 7 seconds, we find the future 45th president of the United States of America, then in his mid-to-late 30s, dozens of pounds thinner with normal skin tones and darker hair. We then see a montage of his buildings and planes just before he appears again, now in his white leather-upholstered helicopter overlooking the city he loved but that wants nothing to do with him. We are spared his voice in this video, in case you were wondering.
We get plenty of views of Gotham's fabled restaurants from that time. The "21" Club's menu prices look like something out of Chipotle to our 21st Century eyes. Tavern on the Green, Le Cirque, the Palm's 837 Club, the Russian Tea Room, Lutèce, La Grenouille…names that danced on gossip pages that now mean nothing in the Kardashian Age.
And there's a montage of New York's Finest. When the city's social structure began unraveling in the 1970s, it was thought the police force should appear friendlier. What's more approachable than a guy with a gun wearing a powder-blue shirt? Once the Giuliani administration began, it was decided police officers should look like they mean business and those shirts got a lot darker but you can watch them trying to enforce laws dressed as if they are about to flip a burger.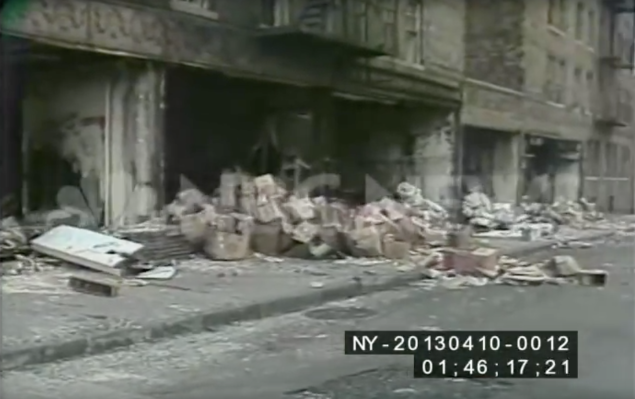 The last part of the video is downright depressing. There are shots of Koch-period graffitied subways shuttling gloomy riders on elevated trains. A pre-refurbished Apollo Theatre has a loudspeaker shouting that you're at a world-famous venue. The rest of Harlem is a dismal jumble of garbage, untrusting people and liquor stores. The South Bronx still hasn't recovered from 1977 and bears some resemblance to Aleppo now. The only sounds we hear are sirens.
And then we are robbed of sound again.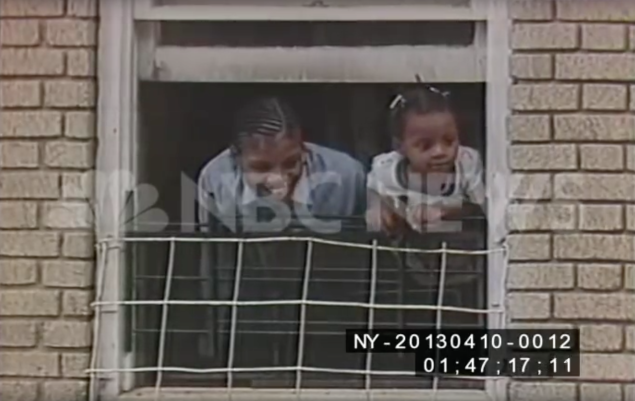 We don't hear the children as they poke their heads through windows laughing. We don't hear women shouting across the street to their friends. We don't hear the young people singing their rhymes as they skip rope or leave church or play with puppies. We don't hear the music the young man is moving to as he teaches himself how to breakdance. Instead, silence. The people don't have a voice in this part of New York. We are to look at them solely with pity instead of recognize them as familiar neighbors going about their lives with all the same routines and joys as the rest of the world.
Nor do we hear them in the other outer boroughs that are relegated to the last few minutes of the video. In Queens, we hear a dog bark. The camera quickly drives fast through residential neighborhoods with the windows turned up. In Bed Stuy, splattered blood on the curb and bullet casings are held up. Again, also silence. We finally hear something as the Cyclone roars through a gritty Coney Island and then we just hear the screams of passengers. It cuts to silence again as a group of young men breakdance on cardboard on the boardwalk. These guys are now reading AARP Magazine.
We do get sound toward the final couple of minutes as we visit the Russians of Brighton Beach. Then it's only Russian music. It's winter. The people are all old. They wear long coats and hats. Nobody smiles. Few people talk. It was called Little Odessa for a reason. It wasn't a compliment.
There's a rather strange tendency among transplanted New Yorkers to romanticize the city's darker moments of the 1970s and '80s. "This city used to be amazing," you'd hear from ex-Ohioan trustifarians mimicking nostalgia to ex-Illinoisan in a Brooklyn café. In reality, it was more complex. It was still a vibrant, thriving city but one with crumbling infrastructure and social unrest. It was where dreams were born only to be mugged. It was a place where the outer boroughs and upper Manhattan were ignored by anyone south of 96th Street.
New York has come a long way since then but some of its most severe problems linger. Still, for a brief moment, you can take yourself back to that time. They weren't halcyon days but they are shaping the world we are in now far more than we ever imagined.