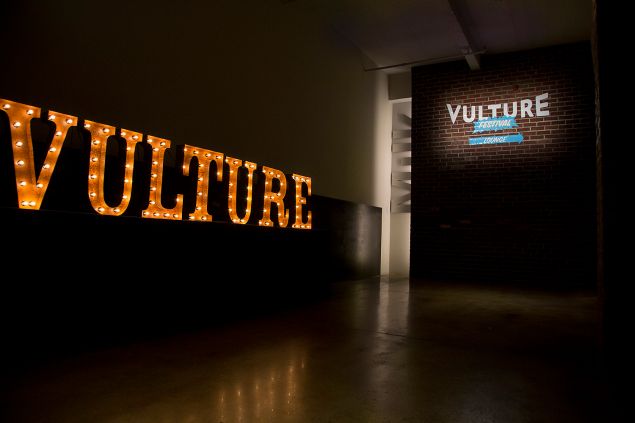 Where can you find loads of celebrities, trivia contests, creative discussions, and a Senator and the President yucking it up? Okay, it's not really the actual President, but everything else mentioned in this list is absolutely real – and ready for fans to enjoy at this year's Vulture Festival, a pop culture consortium taking place in New York on May 20th and 21st.
Every year the festival brings together an eclectic group of artists with the aim to thrill fans of everything trendy.
The list of talent appearing at this year's Vulture Fest is a literal who's who of TV, movies and music, including Sarah Jessica Parker, Aziz Ansari, Neil Patrick Harris, Connie Britton, Stephen Colbert, Gillian Jacobs, Kevin Bacon, and Vince Vaughn, to name a few. (Seriously, this is just a few!)
"This event is meant to be an extension of what we do on our site. It's all about bringing creative people right to their fans," says Vulture Senior Editor and festival organizer Jesse David Fox.
Fox says that the festival isn't just about TV, that it's a pop-culture extravaganza with the kind of witty, in-depth, critical coverage found on Vulture's website brought to life during two jam-packed days of live events.
"We work really hard to have a wide variety of things that range from high brow – like conversations with [Sons of Anarchy creator] Kurt Sutter and [American Gods creator] Bryan Fuller – to some less serious stuff like a trivia game show with the casts of Crazy Ex-Girlfriend and Orange is the New Black competing against each other," explains Fox.
Other events at this year's fest include a live table read of the Netflix series Love, a pajama brunch with the cast of Playing House, screenings of feature films Dean and The Little Hours, as well as a discussion entitled Feminist as F*ck featuring some of today's most daring voices in feminist writing. There will also be a concert headlined by Cat Power with Frankie Cosmos.
Fox says that two events he's particularly looking forward to have a bit of a 'political' slant to them
"I kind of still can't believe that we got [Minnesota Senator] Al Franken," says Fox. "He's an actual government official now, which is very cool and important, but he's also this awesome comedy writer with an amazing history in the business, so it'll be really interesting to hear what he has do say about everything. And what timing! Especially given what's happening in our country  right now. "
The other event Fox feels is a must see features comedian Anthony Atamanuik who stars in Comedy Central's The President Show. "He'll be in character as President Trump, doing this whole interview with New York Magazine national affairs editor Gabriel Sherman. And, what's really fun about this is that [Sherman] has actually interviewed President Trump before, so this is truly something that will be incredibly unique and that you won't see anywhere else."
Bringing this immersive, fun weekend to the public serves as way for Vulture to connect with readers of the site in a unique way, says Fox. "The goal is to give our readers a physical representation of what we do on the site. We feel that this fest ultimately is a Vulture that you can touch with your hands or see with your eyes. So when we plan this we always want to represent that full picture of what Vulture is so that our readers can interact with us directly."
Fox says that another aim of the festival is to bring together like-minded individuals who share a common appreciation of pop culture. "People who come to these events are excited to be there, so it creates this really fun, inclusive atmosphere for everyone. There's this electric feeling at every event that makes it almost impossible not to interact with the people around you. So, along with just having a good time, it's really a great place to meet people as well."
To encourage more mingling among participants, Fox adds that the lounge area of the festival has been amped up this year. "Everyone with a ticket to any event has access to the lounge. This is a real focal point of the fest for participants and our hope is that people will hang out in there and really interact with each other."
If Vulture Fest appeals to you but you just can't make it to New York right now, don't worry, the fest is expanding and will hold it's first Los Angeles weekend in November of this year.
"We'll start planning the LA festival the Monday morning right after we close the New York event," says Fox. "We don't know what talent or events we'll have just yet, but I can assure you that our mission is to create an incredibly unique event with something fun for everyone. We've been successful doing that so far so that's what we'll keep doing."
For a full list of events and available tickets for this year's Vulture Festival in New York, and to get on the mailing list for information about the upcoming Los Angeles weekend, please visit the website here.