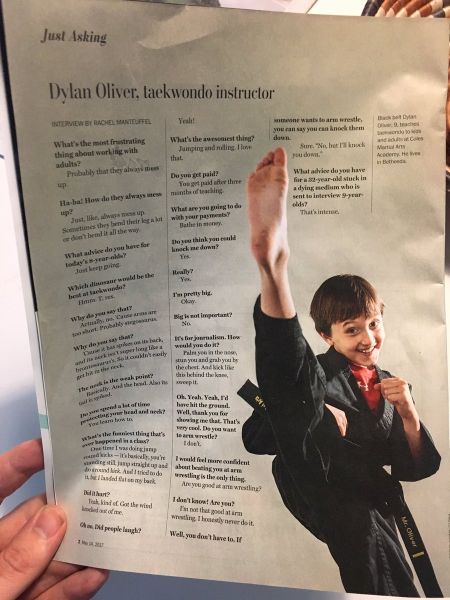 All it took for media Twitter to forget about politics was a nine-year-old taekwondo master and a catty reporter.
Writer Rachel Manteuffel's Washington Post Q&A with pint-sized black belt Dylan Oliver spread like wildfire on social media this weekend, mostly thanks to Manteuffel's jaded tone. The duo's funniest exchanges included:
"What's the most frustrating thing about working with adults?"
"Probably that they always mess up."
"What are you going to do with your payments?"
"Bathe in money."
Oliver also described how he would knock Manteuffel down ("It's for journalism").
But the last question of the interview was the part that went truly viral—it was retweeted tens of thousands of times:
Every journalist has had to cover stories for their "dying medium" that they weren't all that passionate about, so Oliver's response hit home with many reporters:
Manteuffel told the Observer, however, that the final question wasn't meant to show she was "too good for it" at all.
"The question was a risk, but he took it so perfectly and with his own humor and voice," she told the Observer in an email.
Manteuffel has conducted many of these weekend Q&As for the Post, with offbeat characters like a 21-year-old mayor and the president of the Tall Club of Greater Washington. She said this assignment wasn't actually that different from her previous ones, even though she asked questions like "Which dinosaur would be the best at taekwondo?"
"I like to start preparing for an interview thinking about what this person knows that I wish I knew," Manteuffel said. "The awesomeness of dinosaurs, as a field, has rapidly expanded since I last thought deeply about the subject."
She knew the story was still a bit absurd, however, which is why she poked fun at it during the interview itself.
"My job was to take a little boy seriously, and I did, but in a way that acknowledged the absurdity," Manteuffel said.  "An interview transcript couldn't capture his real expertise, taekwondo, so I was sort of casting him as an expert at being a nine year old boy."
And in spite of Oliver's youth, Manteuffel said he still gave sage career advice.
"He ended up advising me to stay in journalism until it was really really dead, which luckily is what I was already doing," she said.