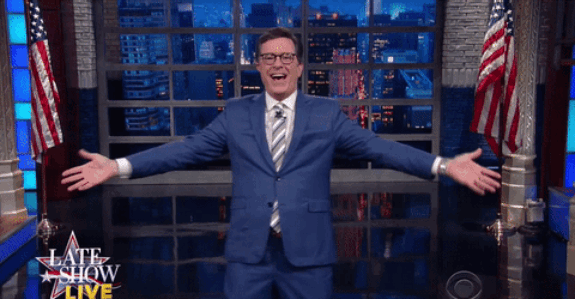 In an interview with Time, President Trump found time in his presumably busy schedule running the nation to attack Late Show host Stephen Colbert: "You see a no-talent guy like Colbert. There's nothing funny about what he says. And what he says is filthy." Trump rounded out the commentary with his "Free Bird," talking about TV ratings: "The guy was dying. By the way, they were going to take him off television. Then he started attacking me and he started doing better. But his show was dying. I've done his show. … But when I did his show, which by the way was very highly rated. It was high — highest rating. The highest rating he's ever had." (Brief fact check: Colbert's highest ratings were actually during an appearance by Low Energy Jeb. I mean Jeb! Remember that guy?)
Colbert needed only two words to respond to Trump: "I win."
For a self-professed expert in publicity, Trump doesn't seem to realize that when the President of the United States is acknowledging the comedian making jokes about him, he doesn't come across as a dignified leader. It's a political own goal, kind of like re-tweeting Rosie O'Donnell.
President "Grab them by the pussy, don't even ask, when you're famous they let you do anything" Trump will never get the moral high ground on Stephen Colbert, a life-long Catholic, Sunday school teacher whose love for his wife is so goddam genuine it basically qualifies this video of him telling the story of how they met as self-care.
My first job in New York was interning at the Late Show and I was starstruck, very dumb, and terrified. On my second day, Colbert found out that I was a golfer in college and he invited me into his office to putt into a cup with him, asking me where I was from and where I went to school. But it doesn't even matter that Colbert is a better person than Donald Trump by nearly every metric—the President of the United States picking fights with comedians only turns him into a laughingstock.
Please, keep picking fights with people smarter and funnier than you, Mr. President. It gives them plenty of material.