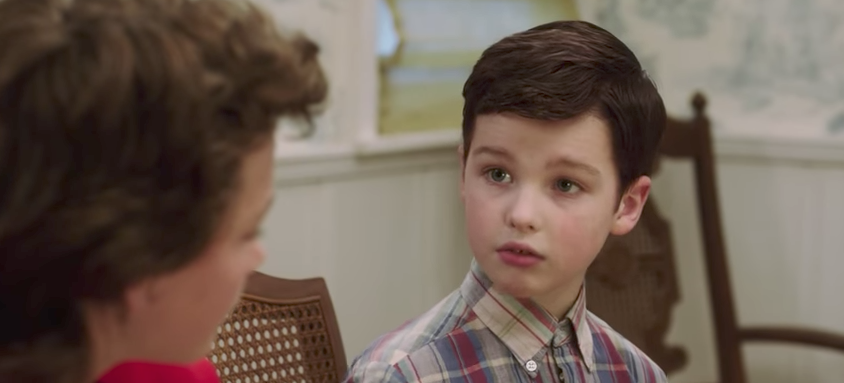 Look, I am clearly not the target audience for Young Sheldon, the new CBS sitcom from the team behind The Big Bang Theory and Jim Parsons which shows us Parsons' character as a child. I have seen episodes of The Big Theory, usually when it's on the TV of an airplane, but I've never really enjoyed it. It's just… there, like that pair of underwear in the back of your drawer you only wear when you really have no other options. But I am a New York Liberal Elite. I like my television shows to have "jokes" and "compelling plots" and "interesting characters." So, like I said, from this 5-minute-plus first look, I can already tell this show isn't for me. But honestly, I ask you: who is this for?
Meet Sheldon: He's 9 years old and he's a little shit. Just so annoying. You're going to want to punch him the face all the time. Follow him as he's annoying and rude to his family and then goes on to be annoying and rude at school,  while the whole time also being annoying and rude over voiceover. Take the moment where Sheldon's older brother jokes about him being adopted. It's a fairly common joke if one member of the family has a distinguishing or unique trait. But Sheldon decides to just be his little shit self. "How can I be adopted if I have a twin sister? Think, monkey, think," Sheldon replies. It's one thing to be smart. It's another to be super mean and condescending to people all the goddam time.
https://www.youtube.com/watch?v=XR-jIhwIfIw
I argue that the Big Bang Theory is only as successful as it is because it allows the viewers to feel intelligent—you, as a viewer, are part of this gang of quirky, relatable, astrophysicists. Sheldon might be the most quirky and least relatable, but he is still a part of a larger group with whom you are supposed to identify with, regardless of your IQ. But who are you supposed to relate to in this scenario? Sheldon's filthy brother? His mean sister whom he resents? His sad-sack parents who don't understand their gifted child? They are the butts of his voiceover jokes. We are all the working class Texas idiots that this awful child in a bowtie is mocking. I want this child to be shoved in a thousand lockers.  I want him to win a golden ticket to the Wonka Factory and be turned into Loudmouth Little Jerk Taffy. I want him to choke himself on his Young Republican bowtie.
I hate Young Sheldon. The only way I could have hated him more would have been if he said "Bazinga" but I imagine they're saving that bit of comedic brilliance for the finale.