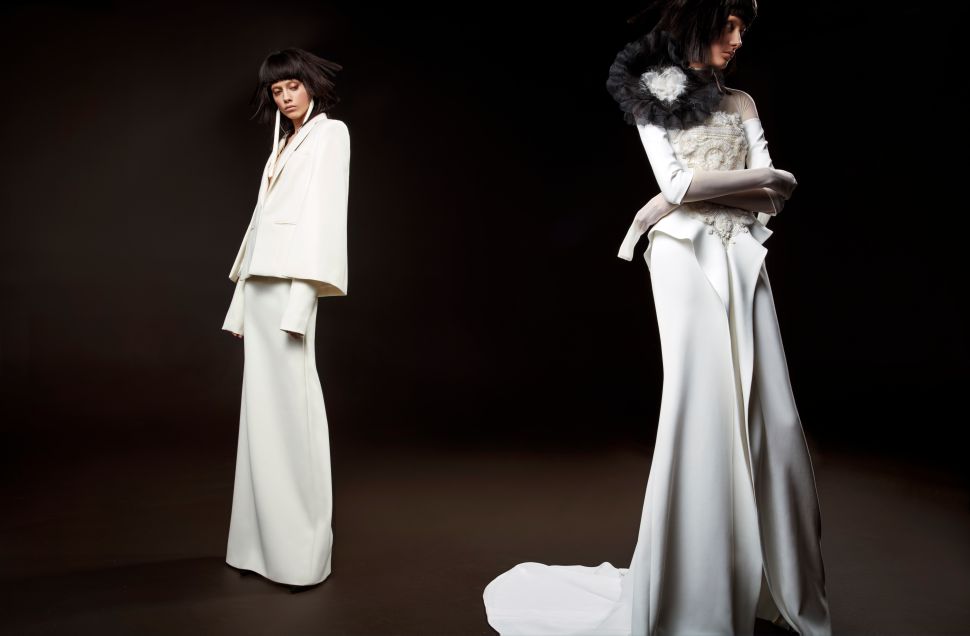 At times over the last few years it's been difficult to articulate the difference between bridal collections and the Victoria's Secret runway show. Necklines plunged, midriffs were bared, and skirt slits rose to the waist. Designer attempts to appear sexy and modern edged perilously toward vulgar—not the vibe most brides strive for on their wedding day.
This year, charm, femininity and grace have returned to the runways. Whether a reaction to celebrities who show up on the red carpet in their underwear or simply an acknowledgement that women don't want to hide their wedding photos from their future children, it's a welcome change. And there's a perfect dress for every bride.
The original bridal visionary Vera Wang focused on extreme sleeves and avant-garde silhouettes for a surrealist take on the wedding gown. Whether a stretch-illusion bodysuit layered under an exaggerated collar or a crepe cutaway gown with a peplum flange and pearl Passementerie bodice, asymmetrical lines and bold black accents turned tradition on its head. As usual, brilliant tailoring prevailed. Perfect for: art lovers who've never missed a Whitney Biennial.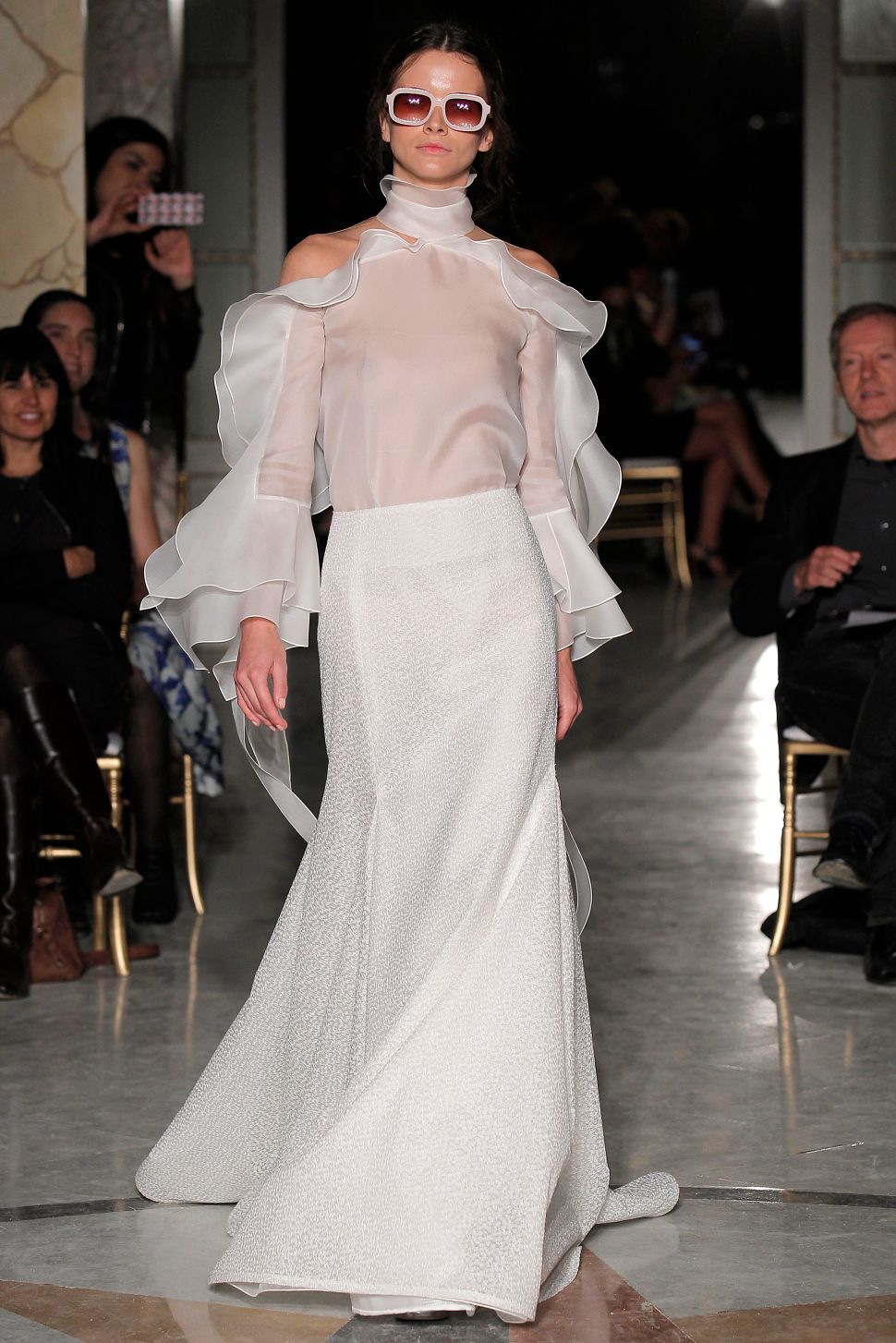 Oversize ruffles act as an architectural element on this Angel Sanchez gown. Bare shoulders are a youthful contrast to the high neckline, wrist-grazing sleeves and fluid mermaid-cut skirt. Perfect for: a Victorian trapped in the wrong century.
The pussy bow took it on the chin this year, but Carolina Herrera uses it as elegant punctuation on her bridal trouser ensemble. Poet sleeves and sheer shoulder panels soften the sporty silhouette. Perfect for: a feminist with the heart of a romantic.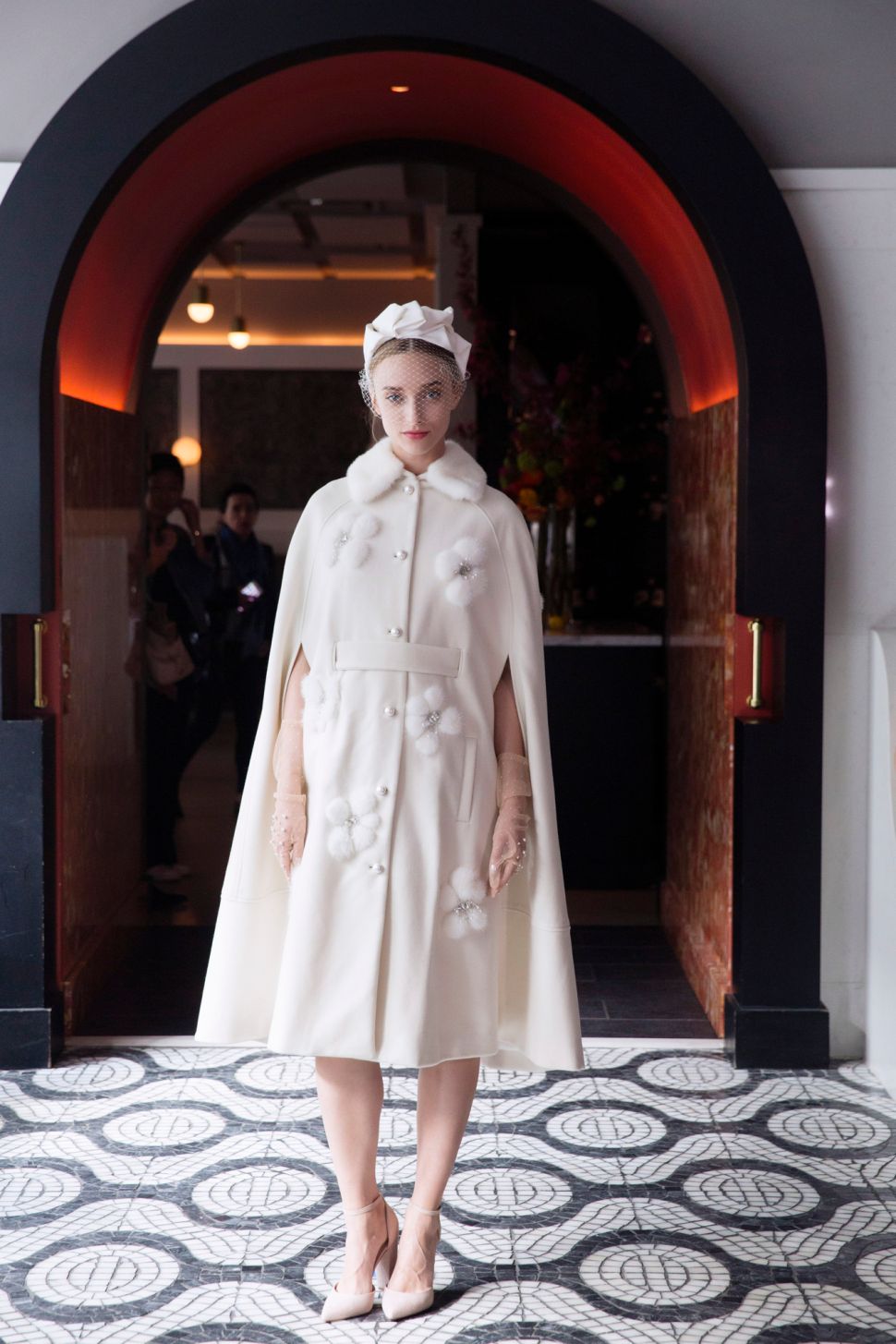 Long associated with fairytale princesses and superheroes, the cape gets a contemporary rethink from Lela Rose. The mink and crystal flowers strike a swinging '60s note, and the back is embroidered with everyone's favorite motto (and the theme of the collection): "Love Is Love." Perfect for: an activist who enjoys her afternoon cuppa'.
With a generous swathe of silver sequins, Oscar de la Renta takes the girl-tux into thoroughly glam territory. Key to the outfit's rocker-bride swagger: a simple white cotton T-shirt in contrast to that extraordinary corset. Perfect for: a Bianca Jagger wannabe.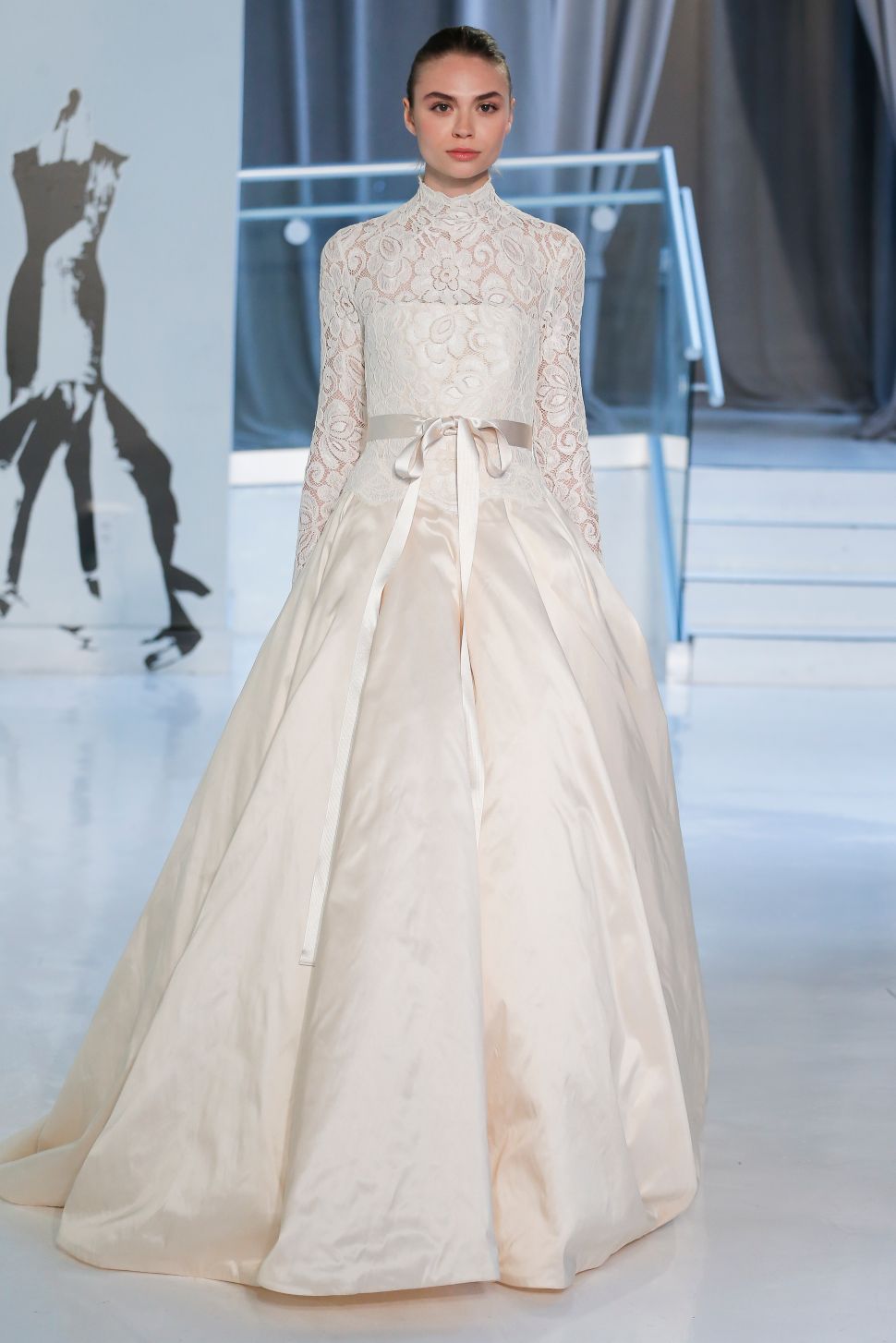 If the local Archbishop is presiding at your ceremony, you'll want the words "formal" and "covered" to figure prominently in your dress description. Peter Langner checks both of those boxes with a classic taffeta A-line gown topped with an enchanting lace jacket. Perfect for: royalty.
Dresses layered over trousers made a strong showing in this year's ready-to-wear collections. Sachin & Babi show how beautifully the trend can work on the wedding aisle. We love the juxtaposition of the coatdress's elaborate train and slim-fit Mikado pants. Perfect for: a Park Avenue princess staging a revolution.
Rachel Leonard was the fashion director of Brides Magazine for 18 years and is currently the Editorial Director for The Bridal Council. Rachel can be followed on Instagram @_rachelleonard. 
A marketing executive currently living in Arizona, Sally Kilbridge spent 20+ years as an editor at Brides Magazine. She indulges her love of travel and romance on her website, a definitive guide to destination weddings.