Welcome to "Weekend Stream," where every Friday, Darian Lusk—comedian and writer living large in Brooklyn—will gently recommend something new and exciting to stream, listen to or play over the weekend. Follow him on Twitter @eatpraylusk to send suggestions for future installments.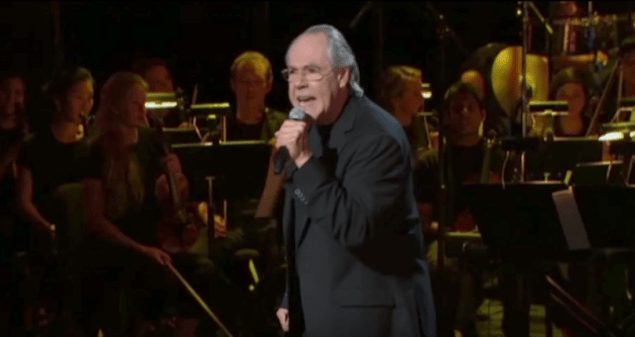 A lot of documentaries about legendary stand-ups strive to paint a picture of a comic who was "on the front lines" or "changed the game." In the case of Robert Klein, this is not a difficult task.
Robert Klein Still Can't Stop His Leg, now streaming on Amazon Prime with a 7-day subscription to Starz (also a great way to watch American Gods TBH), follows now 75-year-old comedian as he looks back at his 50 year-plus career. Klein was the first comedian with an HBO special and host of the fifth ever episode of S.N.L. Jerry Seinfeld, Billy Crystal and countless others were influenced by him, and each gets a moment in the spotlight. Also, so do I. I'm in the film.
Yes, midway through the documentary — which alternates between Klein's current life and his crowning moments on stage — he heads to Binghamton University in New York (#SUNYrepresent) to pass on his wisdom to the school's stand up comedy club. And I, "comedian at large" as my bio above will tell you, was in this club.
To your first question, yes, we were "cooler than most frats." And to your second question, "why?" Well, one of the club members' dad, Marshall Fine, directed this documentary. Fine asked us if this comedy legend could come to our school to do a show with us, and of course we said yes. We didn't think our scene would even make the cut. But fast forward two years later when my brother's girlfriend told me she saw me on a hotel T.V. in Montreal, and well, here we are.
After Klein's visit, it became clear to us why this documentary needed to be made. The comic is a huge force in comedy for how few millennials know him. He's been in countless films from 10 Things I Hate About You to Sharknado 3 [he re-watches his cameo in it for the doc, which is funny] and came up with 70s legends like Carlin and Pryor. His material may be a bit dad joke-y now, but his influence is undeniable.
My moment in the spotlight goes as follows. Each of my friends goes up to do a set in the lecture hall for Mr. Klein. Then I go up to sing a comedy song on piano, as I am a musical comedian. Now, I thought I did fine, but Klein thought otherwise.
"Where's the musical guy — you," he points to me. "Comedy and music, the thing is, the music should be good. So practice being a little more precise in your singing."
Wow. I don't want to say that a legendary comedian is wrong but I did study classical piano at Hoff Barthelson music school in Scarsdale, New York, for 12 years. But hey, he's the one with the career-spanning documentary that I'm recommending. Anyways, moving on.
Klein is (otherwise) a likable, wacky guy—enough to follow around as he lives his life in Westchester, going swimming with poker buddies or making wisecracks at the supermarket. He is still an animated presence 50 years later who totes a harmonica in his pocket wherever he may go and brings non-jaded levity to those around him. Fine's caring direction clearly shows, as the film is made up of easily digestible sections that allow the comic to shine. Even when he was destroying my confidence for anyone with a Starz subscription.
Unlike the third act in a lot of comedian's stories, what's nice is that Klein has a lot of friends and is actually happy. And he doesn't care that people don't know him. That's the film's ultimate charm. Also, there are some very touching comedy history tidbits. One in particular; the comic recounts being with Carlin and Pryor at a comedy awards event when the self-destructive Pryor was in his final stretch. "He was helpless, he couldn't move," Klein said. "Carlin took a picture, he was between us, and he [Pryor] was in his wheelchair. We walked away and I was devastated, and he [Carlin] goes, 'that dude is fucked up!'"
Anyway, this film is great for comedy nerds or anyone who is willing to tell me this legend of stage and screen was a little harsh on me. Please DM me for the latter. Please.
Other Great Things To Stream This Weekend
On Showtime:
Twin Peaks: I'd be doing a bad job as a T.V. columnist if I didn't recommend Twin Peaks. And you'd be doing a bad job as a T.V. viewer if you don't watch it. The reboot of this masterwork from David Lynch, well, season 1 was a masterwork but I definitely digress, is a must watch for all of us. It's been so long in the making and it is easily the most anticipated television event of the year. So, insert "damn good coffee" joke here and — just watch the darned thing! (Added May 21)
On HBO Go:
Breaking Away: This coming of age story about an Indiana high school bicycle prodigy who thinks he's Italian and his crew of slackers — "Cutters" — is the perfect beginning of summer film. It was shot entirely in Bloomington, and showcases the best attributes of the 70s independent filmmaking. Jackie Earle Haley, who plays Moocher or "Shorty" in the film, was Rorschach in Watchmen and the stoned guy who won the half court shot in "Semi-Pro." Great actor honestly