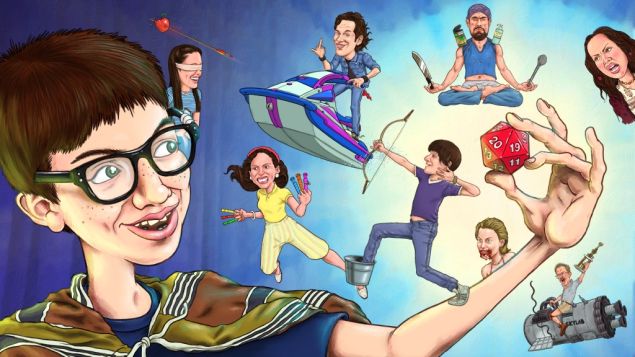 There is only one movie in history that has made me pee my pants laughing: David Wain's incredible Wet Hot American Summer. Though it didn't get much press when it debuted in limited theaters in 2001, the movie became a cult fan favorite of comedy nerds like myself and my friends, who had spent many a high school night watching and rewatching our favorite sketches from The State on MTV, where Wain and the majority of the Wet Hot cast originally got their start.
Since then, time has shown the WHAS franchise to have longer legs than its initial box office tally may have suggested: in July of 2015, Netflix ran a spin-off prequel, Wet Hot American Summer: First Day of Camp. Last April, Netflix announced production for an official sequel: Wet Hot American Summer: 10 Years Later. (If you don't get it, here's the OG joke.)
As a big WHAS fan, I pulled out my wallet the moment I saw the Kickstarter page for an official Wet Hot American Summer Fantasy Camp Roleplaying game, put out by LA indie comic press, The Devastator. (Again, the original joke was spawned from a side-plot of the film, which involved a D&D nerd saving the camp from a crashing space station with the use of his trusty 20-sided die.) And though the Devastator's Kickstarter has already gone over its goal funding, there are still a couple more hours for fans of the series to purchase their way into an advance copy of the game. I spoke with The Devestator founders Amanda Meadows and Geoffrey Golden on comedy, roleplaying and the perils of the indie book industry during an era of "publish or perish" (online only).
[protected-iframe id="d4806dd62140983adc431c8a137814ee-35584880-35147716″ info="https://www.kickstarter.com/projects/devastatorpress/wet-hot-american-summer-fantasy-camp-roleplaying-g/widget/video.html" width="480″ height="270″ frameborder="0″ scrolling="no"]
How did you all decide to start The Devastator imprint in the first place?
Amanda Meadows: We've been publishing books since 2010. Our first and last Kickstarter before this was in 2010, to fund our first ever book. So we became a publisher of anthology series called The Devastator. We did that for about 3 years and about 3 years ago, we transitioned from just doing the anthology a few times a year to being a full-line press. We started making stand-alones and one-offs of books and comics and zines. Now we're doing 12 individual titles a year.
I've got to ask, it's SUCH a good time to be in publishing, so this may seem like a SUPER obvious question, but…why go into independent publishing, as opposed to being the next Clickhole.com?
Amanda: (laughs) Right? Well, there was already so many great people that we knew and loved and worked with who already do stuff on the Internet…that's actually where we came from. We were writing for the internet, and we realized that the stuff we were most proud of disappears, and then the stuff you hate is on the internet forever. We were longing for a sense of permanence. Like making classic print humor, which used to be everywhere back in the 20th century, but by the mid-90s was basically gone.
I believe The Observer was a little bit on the model, back in the day. As was Spy magazine.
Amanda: That evolution is important to make, but slowly a lot of the humor stuff died off for print. So we wanted to do that again. We work with people who probably make more money from the Internet than NOT the Internet. 
What a funny distinction: money from the Internet versus money not from the Internet.
Geoffrey Golden: And what a funny visual! I'm just seeing money coming out of a computer, ca-ching, ca-ching!
Amanda: There's been a move to indie publishing in the last few years, and I think part of that is a reaction to the Internet, and part of it is a reaction to mainstream publishing: the big publishers have consolidated and converged into these mega-corps. It's like, there used to be the Big Ten, then there was the Big Seven, and now it's a Big Five. 
What that means is that within any given publisher, there are a million little imprints that specialize in niche things, but overall everything gets homogenised. There are so many voices left out of mainstream publishing, which is where I used to work. For someone that's even a big name like Amy Schumer, it's like the publishing world is saying "Let's take what's edgy and cool about her standup and dilute it for this container." So as comedians, we have a sense of "let's fuck around and see what publishing can do, let's see what comedy can do." 
How did you come up with the idea of a Wet Hot American Summer RPG?
Geoffrey: The three of us, Lee, Amanda and myself, along with our friend who is an illustrator were getting drunk and high at Disneyland. We were talking about a roleplaying game that we had come up with a couple years before, The Wizards of Cockblock Forest. It was a roleplay, but everyone plays as a wizard, and you have to cockblock each other with magic spells. 
Sounds a little like Hello From the Magic Tavern.
Geoffrey: We've gotten that a few times before, which I take as a compliment! We were such big fans of the movie, and while we were drunk and high at Disneyland, Lee remembered that (actor and comedian) Joe Lo Truglio had done stuff with our magazine.  We had done a whole photo shoot and he was the nicest, sweetest person. So Lee said, "Why don't we put those two things together? Wizards of Cockblock combined with Wet Hot American Summer? A Wet Hot American Summer roleplaying game!"
We thought it was a great idea, but we didn't think it could happen. Licensed projects are things that giant companies do; we had never done one before. We're just a small press in Los Angeles that focuses exclusively on comedy. We didn't know how to make this work. But Lee, who is a live comedy producer, he had already had David Wain's information. I shaped the idea and Lee pitched it to David, and he said "Yeah, that's good, let me show it to my licensing guy."
So, let's say for the sake of this argument that I'm not a big D&D/roleplaying nerd. Will this game be accessible to me?
Geoffrey: It is designed for you to play! It's for both the Keiths and the Alexas of the world. The idea is that you're either a camper or counselor at Camp Firewood. You're trying to achieve a big camp dream, which you set out of for yourself at the beginning of the game. That could be anything from "I'm going to get laid tonight" to "I'm going to drive a motorcycle off the roof of the infirmary" to "I'm going to shoot that gopher once and for all!" 
So instead of the "dungeon master" equivalent creating the goal, it's the team as a collective?
Geoffrey: Well, not exactly. So every person has their own individual Big Camp Dream, right? So the camp director, our version of the dungeon master, will come in with a camp already designed. Gameplay takes place over one crazy day, just like the film. So while you as a player are trying to achieve your dream, the camp director is throwing all these other obstacles at you. The game comes with a Camp Firewood module; a Camp Firewood adventure with some built-in scenarios. So your camp director might say "Okay, at the end of this round, a piece of Skylab is going to be falling out of the sky." So if you and your fellow campers decide to help, the professor might save the camp. But you might be more into getting laid; you'll be over at Bunk 3." That kind of thing. 
So I'm getting it! You can be at odds with the camp director/dungeon master!
Amanda: You can be at odds with ANYBODY at the table, exactly! The thing about the game is it's just like a comedy: it has A, B, C and D plots. So everyone has their own plot they get to follow, and at the end of the game, all the plots kind of entangled in a funny way. Like the end of a Seinfeld episode, you get this great crescendo at the end where they all come together.
Geoffrey: It distinguishes itself from Dungeons and Dragons and a lot of games in that way; they're all about working toward a common goal. Teamwork. This is all about "Hey, we're going to have our own fun adventure, and it's going to cross-over with other people's adventures in these unexpected ways.
So now that you guys have reached your Kickstarter goal, what's the next step?
Geoffrey: Well the game officially launches in November, and we'll be doing game events throughout the summer and into the fall. We'll be doing some early gameplay tied to comic book conventions, pop culture conventions. ComicCon stuff.
The next season of Wet Hot American Summer should really find a way to incorporate your game into the season! Or at least the press material?
Amanda: Hey, call us, Netflix!