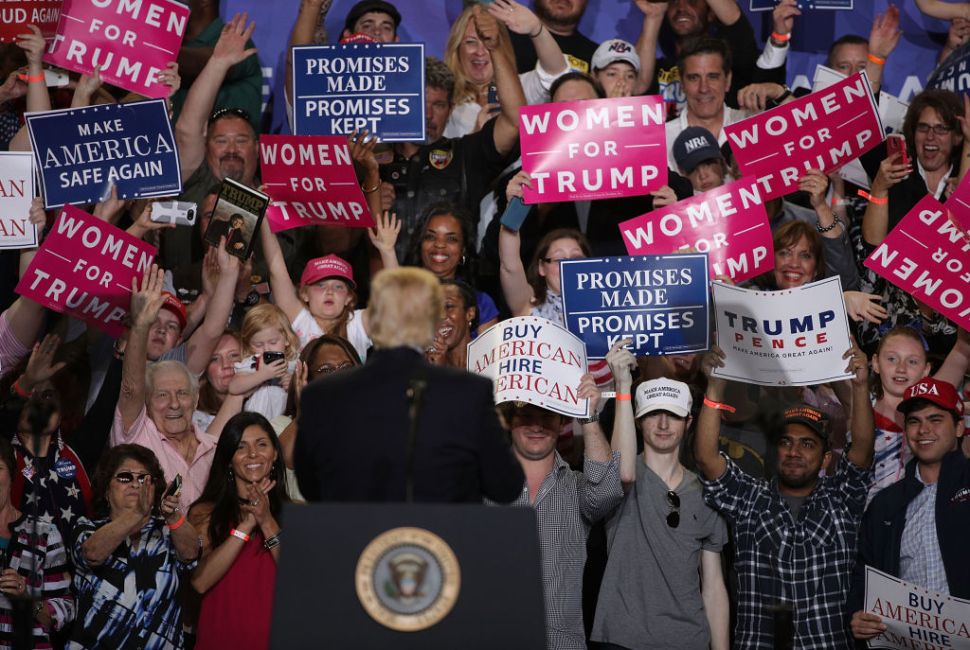 Matt Kiser graduated from college into the first days of the 9/11 era, which led immediately into a war, then another, then the mortgage crisis nearly caused western civilization to go up in flames. But then the coolest, most dignified presidential candidate in living memory, Barack Obama, showed up and won. For Kiser, his 20s were all drama and chaos, ending in a near total meltdown of the global economy, until this with-it professor took over and said: "I got this."
After nearly a decade of tumult overseen by a chuckling goon, it felt good to trust the guy in charge. And Kiser, like a lot of people, largely tuned out as Obama did his thing. Which made it all the more alarming when a reality television bully followed in his place this January. It made Kiser say, "What the fuck just happened?" So he started a newsletter based on just that sentiment, and it went viral immediately.
"There's so many grassroots startups or movements or groups popping up at the local level," Kiser told the Observer in a phone call. "I'm guessing a lot of those people are people like me who are in the early 30's or later who are now like, 'Oh crap, I've gotta figure this stuff out.'"
'It's totally fucking crazy how interested people are in Trump. It's like a weird reality show'
At the beginning of that journey, Kiser traveled from his home in Seattle to Washington, DC, for the Women's March. The experience made him feel like he wasn't alone, like he was doing something, but it also heard people there expressing their frustration as they tried to reengage with politics. That realization inspired What The Fuck Just Happened Today?, a newsletter and blog that became Kiser's contribution to the larger effort by left-of-center Americans to make sense of a divided nation. It's staying power seems to have as much to do with filling people's emotional needs as their intellectual ones.  
Every day, Kiser, an alum of sites like Business Insider and Forbes, documents his efforts to figure the day's news out out on a blog where he posts links to the top White House related stories of the day, with "Just the facts, ma'am" summaries and caps each day off with a newsletter that goes out to thousands of followers.
Here's an example from his May 25 post:

He sees clickthroughs to at least one actual story on about 12 percent of his newsletters, which is a huge number for this kind of daily email. Those clicks also appear to be roughly evenly spread throughout the whole newsletter, too, which tells Kiser that people are at least scanning the whole thing, not just clicking on the first couple links.
By the end of the day, the blog and the newsletter end up as the same content. The only difference is that the blog post evolves over the course of the day. He told us that he typically gets up around 6 a.m. west coast time and starts trying to digest the first several hours of Washington news, which is three hours ahead. Once he's ready, he opens a new blog post and starts adding links and summaries. That "first edition" usually goes live around lunchtime in Washington. Followers can watch the post evolve as he goes, and he updates it all day as it comes time to send out the newsletter, around 6 p.m. on the east coast.
The software that runs his site allows him to use a unique editorial model, where his readers can give feedback on his posts as he puts them together through the day. He uses software called Jekyll to run his blog. Jekyll integrates with GitHub, a site used by developers to keep track of the versions of software as they develop it.
"It's like blogging for hackers," he said. "One of the things that attracted me to it, honestly, is it allows you to open source a blog." 
Via Github, followers can submit edits to the blog. Whether it's something as small as a typo or as big as a summary that mischaracterizes a story, they can influence that final daily product. His readers effectively make up his editorial board.  
"It's really interesting to have random people I don't know make a pull request to copy edit content," he said. 
He may be in it with his readers now, but he started alone and committed to do it through President Trump's first 100 days in office, which ended on April 29. When it started to look like he might be able to take it more seriously, he launched his Patreon, promising supporters he would quit his day job if they'd commit $8,000 per month to supporting the site.
"As soon as I realized I needed to make money, I knew it wouldn't be advertising. I knew it wouldn't work, and you're selling out your users," he said. "If you want to be reader-first, you have to—by necessity—ignore that model."
About three weeks ago, he quit his job to do it full time.
"It's totally fucking crazy how interested people are in Trump. It's like a weird reality show," he said.
"Honestly, I think there's probably a big emotional thing going on here too. I think a lot of people just want a thing like that this to exist for historical archive purposes," he said.
But it also seems like his newsletters fill a more intimate need. "I get a lot of emails that this helps them cope with what's going on in the world, because they can disengage while they are work, come up and it's like a time box for their news consumption."
Since the project began, Kiser has sent out roughly 10 million emails. This summer, he plans to plumb that data for guidance on what's making the newsletter stick, so he can try to keep giving his followers what they want. 
For now, he describes what he thinks they want by saying, "This product I've created is kind of like an antidote, from either being overwhelmed by the news or completely disengaged."