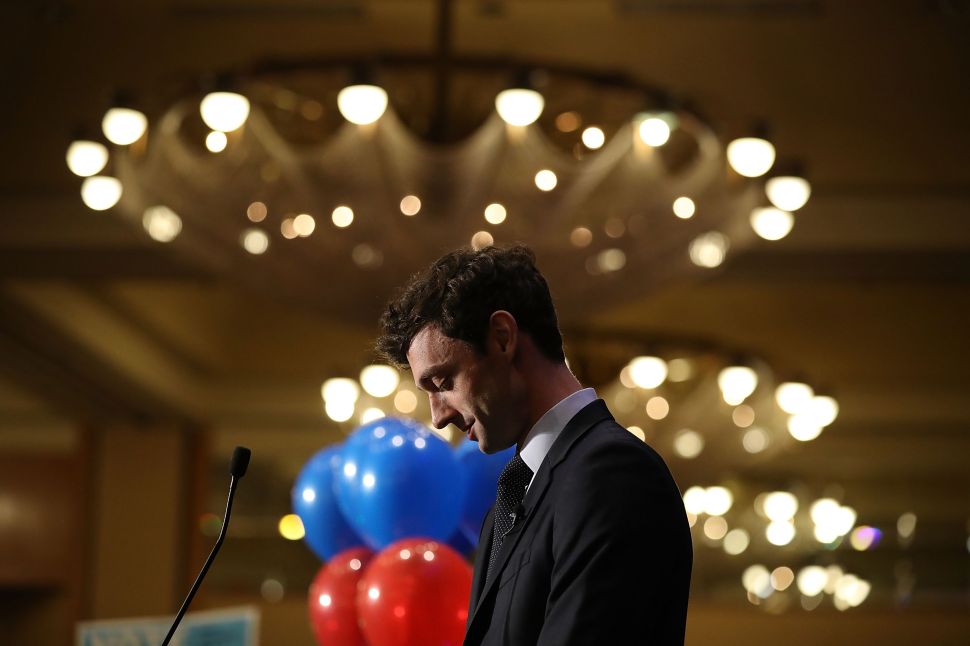 With an energized base, Washington D.C. in turmoil, and being the party not associated with the chaos, Democrats should be picking off special election seats effortlessly. From Kansas to Omaha to Georgia, the party has fumbled several winnable races. It could get swept in all of them, if Democrats can't win in Georgia, South Carolina and Montana. The question is why.
There are several theories floating around. I'll provide the best explanation for the party's missed opportunities.
Theory 1: Democrats historically don't do well in special elections.
This theory is advanced by those who feel that the Democratic Party's success is based on turnout and that the Republican Party's wins come from suppressing it. Unfortunately, this theory isn't backed by evidence. In my analysis of all 23 Senate special elections since 1990, Democrats won 12 and Republicans won 11. Each party flipped a seat seven times. In other words, neither party has a historic advantage in special elections.
Theory 2: Special elections are occurring in red states.
There is some truth to this argument. We're looking at races in Kansas, Montana, Georgia, South Carolina and Nebraska. Donald Trump won all five states, but that shouldn't be used as an excuse. Each election was in play for the Democrats.
Some of the races are in areas of the state where Democrats are competitive. In the district Jon Ossoff is running in, Hillary Clinton nearly beat Donald Trump. Barack Obama won the second Nebraska district where Omaha is located. Jon Tester and Brian Schweitzer have won Montana races for the Democrats. Democrats once held the district in South Carolina. Only the districtin Kansas is blood red (Trump won 60 percent of the vote in it).
Most importantly, if Democrats are going to "retake" the House of Representatives and Senate and gubernatorial, mayoral and state legislative races—not to mention the White House in 2020—shouldn't they win a few places that Trump won?
Theory 3: Poor infrastructure and leadership are costing the Democratic Party.
This is the strongest reason for the Democratic Party's failures. The party has blown nearly every winnable race and may lose more unless leaders get their act together.
What's the matter with Kansas… Democrats? Take the case of Kansas Democrat James Thompson, a civil rights attorney, who ran for Congressman Mike Pompeo's open seat. He campaigned hard and begged the state and national party for funds and help—to no avail. They wouldn't even spare $20,000 for him. The party saw polls that seemed to indicate Thompson would be trounced and didn't rush in until the last minute, and they were feuding too much, according to his campaign manager. His 7.5 percent loss against a well-funded opponent with statewide experience was chalked up by Democrats as a "win" instead of what it was: a missed opportunity.
Intercepted on Omaha: Nebraska State Senator Heath Mello, a Democrat, had a good chance to upset Omaha Mayor Strothert—until the national Democratic Party swept in. Mindful of how they ignored Thompson, the party proceeded made the opposite mistake by virtually hijacking Mello's campaign. Democrats forced him to abandon lifelong pro-life positions and had Bernie Sanders lead the charge, effectively making the race less about local politics. Mello lost by a handful of points in the end.
Georgia on their mind: Jon Ossoff's bold campaign, fundraising prowess, youth and energy have fans seeing him as a JFK type. He came within a whisker of winning outright in the special election in Georgia's sixth district. He's also seen as the best chance the party has of taking former Congressman Tom Price's seat. With about five weeks to go, he's sporting a two-point lead over GOP candidate Karen Handel.
But last night, in the same neighborhood as the Ossoff-Handel duel, plucky family and juvenile attorney Christine Triebsch, who finished first in the April 18 primary for the State Senate District 32 (vacated by Judson Hill who ran for Congress and lost), saw her dreams slip away. She lost to Dr. Kay Kirkpatrick in the open seat contest, who tapped into the Tom Price donor network to raise $300,000.
Despite being right next to Ossoff, Triebsch could only raise $5,000 and had to loan her campaign another $5,000. Apparently, the Ossoff campaign fundraising juggernaut couldn't spare a few bucks or volunteers to help her in Cobb and Fulton counties. It's typical of Democrats to pour money into an expensive race with national implications and ignore lesser-known contests. Triebsch had to spend her personal money, making it less likely that other Democrats will step forward for such contests, if they don't think the party has their back.
Warnings for Montana and South Carolina: Currently, folksy Rob Quist has narrowed the lead to a few percentage points in his attempt to win Montana's sole congressional seat against wealthy Greg Gianforte. He's wisely trying to keep DNC Chair Tom Perez from taking over his campaign, as Perez did in Omaha. In South Carolina, tax attorney Archie Parnell has a shot to take Congressman Mick Mulvaney's seat, banking on the unpopularity of the AHCA and the GOP's divisive and inconclusive primary.
Democrats need a winning formula. They need to help candidates raise money and get volunteers and staff in place without nationalizing the race. Let the candidates have more independence on the issues as well. Democrats have won special elections in state legislative races in Connecticut, Iowa and Delaware, but if they get swept in the most of the high profile races, it will call into question whether Democrats can win in 2018—no matter what the national mood is.
John A. Tures is a professor of political science at LaGrange College in LaGrange, Ga. He can be reached at jtures@lagrange.edu. His Twitter account is JohnTures2.