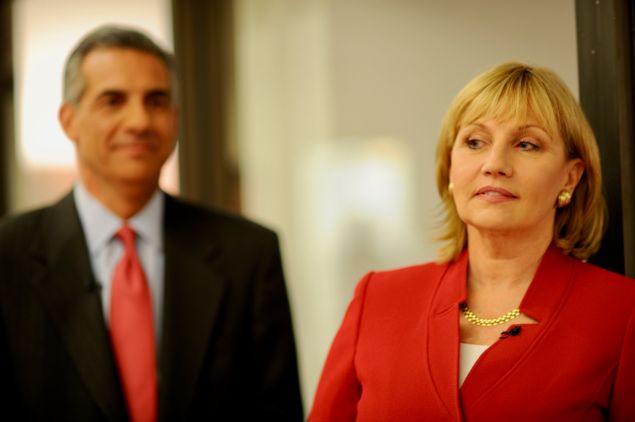 A dizzying overflow of Trump-related leaks and headlines understandably put the quaint-by-comparison New Jersey governor's race on the back burner this week. But the Republican debate between Jack Ciattarelli and Kim Guadagno was a lively, caustic show that gave primary voters a clear contrast.
Whether Ciattarelli's command performance made enough of an impact to swing the race in his favor will be the big question heading into the June 6 primary. It's a challenge, though, because Guadagno, the poll leader so far, did not implode onstage or wither from the "Jack attacks," as she likes to call them.
Winners
KIM GUADAGNO
The lieutenant governor and Republican gubernatorial candidate had the most to lose at Thursday's debate. She came out in one piece, likely protecting her lead in the polls with little more than two weeks to go before the June 6 primary. She also has the advantage in fundraising over Ciattarelli, according to an ELEC report this week.
JON CORZINE
We can't say how things will go for Corzine and his imaginative new hedge fund, which will be making investments based on President Trump's seemingly unpredictable moves. But the former New Jersey governor got the New York Times to write 3,500 words about his big idea, which in and of itself is a credit to his salesmanship after the MF Global fiasco.
CHRIS CHRISTIE
Before New Jersey turns the page, the sitting governor has a few moves left to play. Thanks to the administration's quick maneuvering, a controversial $300 million state house renovation is moving ahead despite widespread opposition from Democrats and Republicans. And a novel plan from Christie to prop up the cash-starved pension system with revenue from the New Jersey lottery is getting a warm reception from Senate Democrats.
NICK SCUTARI
The chairman of the Senate Judiciary Committee rolled out a long-awaited bill to legalize marijuana in the Garden State. The Scutari proposal got a cautious reception in the halls of Trenton. But no one doubted the amount of research and attention Scutari has devoted to the issue. And he was conciliatory in the face of criticism, calling his plan the start of a conversation likely to last until a new governor takes office.
KATIE JENNINGS
The Politico New Jersey scribe stole the show at the Legislative Correspondents' Club annual shindig on Wednesday. Her songs skewered both gubernatorial front-runners, Guadagno and Phil Murphy, and her rendition of "You've Got a Friend" — or rather "You've Bought a Friend" — was not only pitch-perfect, it went on long enough to smudge Murphy's ubiquitous smile.
Losers
RODNEY FRELINGHUYSEN
The 22-year incumbent from Morris County's leafy suburbs saw his district moved slightly to the left by the Cook Political Report and Inside Elections. The 11th District still leans Republican, but political experts say it could slip from Frelinghuysen's hands in a wave election. The reasons? His vote to rewrite Obamacare, shifting demographics, pressure from the activists at NJ 11th for Change, and a viable Democratic challenger in former Navy pilot Mikie Sherrill. Oh, and that letter he wrote tattling on a constituent to her employer certainly didn't help matters, Cook said.
JIMMY DAVIS
The Bayonne mayor is facing a sexting scandal, having reportedly sent inappropriate messages to a former city employee. The woman, Stacie Percella, was fired in December and is now calling on Davis to resign.
LOSER HALL
This aptly named building at the College of New Jersey is really a winner. It's getting a new name. Former namesake Paul Loser was a Trenton superintendent who fought to allow segregation to continue in his school district even after it was ruled illegal.
THE HOMESTEAD REBATE CROWD
New Jersey is projected to have a $527 million budget hole in the fiscal year that ends June 30, according to the state treasurer. That means yet another delay for municipalities expecting payouts for rebates on property tax deductions.