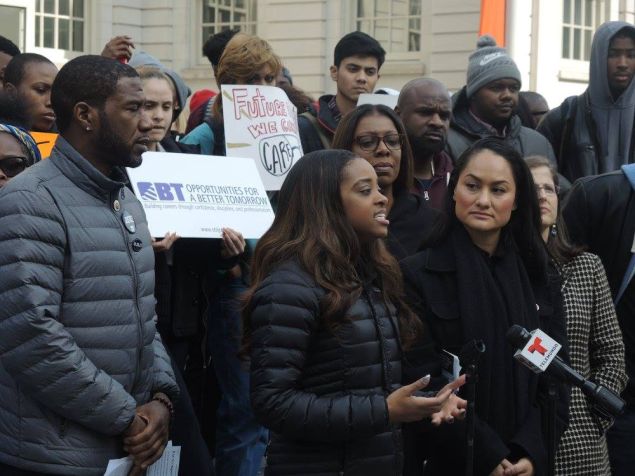 The organizers of the Women's March on Washington are holding a birthday party and fundraiser for Councilman Jumaane Williams, a Brooklyn Democrat—and a candidate for City Council speaker on record as "personally not in favor of abortion."
Palestinian-American activist Linda Sarsour, former Rev. Al Sharpton lieutenant Tamika Mallory and Carmen Perez, executive director of singer/advocate Harry Belafonte's Gathering for Justice group—who organized the march that drew roughly half a million people the day after President Donald Trump's inauguration—will marquee the May 10 event, which will mark Williams' 41st birthday.
"They will be joined by an extraordinary group of community leaders and activists who support Jumaane in pursuing progressive policies that will change the lives of all New Yorkers for the better," the event description reads.
Sarsour, Mallory and Perez did not immediately respond to requests for comment.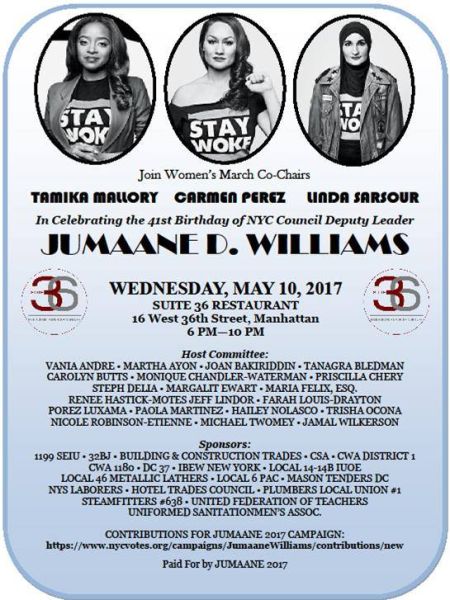 While the Women's March was in the planning stages in January,  reports arose that New Wave Feminists, a pro-life group, received partnership status in the demonstration. The organizers subsequently announced that the group was mistakenly added as a partner and reiterated that it would stick to its policy platform, which expresses support for complete reproductive freedom.
According to the march's guiding vision and definition of principles, they are against any federal, state or local cuts or restrictions on women's ability to access reproductive healthcare services, birth control, HIV/AIDS care and prevention, or "medically accurate sexuality education." They also said that they want open access to safe, legal and affordable abortion and birth control for all people.
It also states that they support LGBTQIA rights: comprehensive healthcare, access to name and gender changes on identity documents, full anti-discrimination protections, access to education, employment, housing and benefits as well as an end to police and state violence.
Williams, who hails from the largely Caribbean-American and often socially conservative community of East Flatbush, has emerged as one of the city's most left-leaning officials.
A co-founder of the now-dominant Progressive Caucus, Williams—who was the second Council member to endorse Vermont Sen. Bernie Sanders in the Democratic presidential primary last April—became a regular face at Occupy Wall Street and Black Lives Matter protests, and was a tough critic of former Mayor Michael Bloomberg's policing policies and Gov. Andrew Cuomo's handling of the city's rent laws.
As a legislator and advocate, he has pushed hard for police reform and for gun control.
But he has struck an uncertain stance on abortion. He has said that he regards himself as neither pro-life nor pro-choice—citing a "painful" personal experience when a woman he was involved with terminated her pregnancy without first informing him.
"There is no space I think for fathers to express that kind of pain," Williams was quoted as saying in the left-wing magazine Jacobin.
In 2013, when Williams sought the Council speakership, Manhattan Councilwoman Rosie Mendez she could not support him due to his opposition to abortion. Assemblywoman Deborah Glick, another Manhattan Democrat, made similarly critical remarks.
Questions and critiques over his beliefs besieged him until he dropped his bid and endorsed now-Speaker Melissa Mark-Viverito.
But he has stressed that he fully supports women's legal access to reproductive healthcare services.
"The Council member believes that it's his job as a legislator to protect access to women's healthcare, which includes access to safe abortions," Vania Andre, a spokeswoman for Williams, said.
Williams recently defended Sarsour over criticism from Brooklyn Assemblyman Dov Hikind, a religious Jewish Democrat, over her upcoming commencement address at the City University of New York's Graduate School of Public Health and Health Policy. The councilman blasted the assemblyman over his appearance in blackface at a party in 2013.
Nationally, Democrats have split over whether to embrace candidates who profess opposition to abortion—with House Minority Leader Nancy Pelosi in favor, and Democratic National Committee Chairman Tom Perez against.