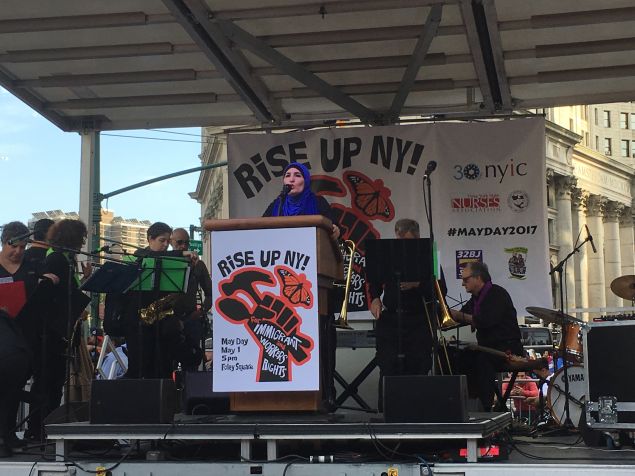 Palestinian-American activist and Women's March organizer Linda Sarsour called for liberals to be "united" in the face of President Donald Trump's agenda, railing against "divisive" elements in the progressive movement that would throw marginalized groups "under the bus."
Sarsour served as emcee for the 5,000-strong rally and musical celebration called "Rise Up: Immigrant Rights and Workers' Rights," organized by the New York Immigration Coalition, Make the Road New York, New York Teamsters and Churches United for Fair Housing. The oft-controversial advocate used the occasion to fire on her favorite targets: the NYPD's policy of regulating quality-of-life offenses, and liberals who do not embrace all aspects of the progressive program and all currents of left-wing activism.
"We must end 'broken windows' policing which could put our immigrants at risk for deportation," Sarsour said. "Sisters and brothers, the time is now for us to be united. We cannot play any games in the progressive movement. If you are choosing to be divisive in the progressive movement, what you are doing is you are throwing the immigrants under the bus, black people under the bus, communities of color under the bus, poor working class people under the bus."
"Shout out to all the New York City organizers, all the union members, all the immigrant organizers, all the Black Lives Matter organizers, and all those who continue to resist every day," she continued.
Trump's aggressive immigration enforcement agenda includes expanding immigration detention, building a wall along the Mexican border and temporarily blocked executive orders barring entry to people from Muslim-majority countries and withholding funding for so-called "sanctuary cities." He has also expressed support for federal right-to-work legislation, which would end requirements that all employees of a unionized organization pay membership dues.
Sarsour stressed that "we don't need to make America great again"—a jab at Trump's campaign slogan—because immigrants, workers, black people, Muslims, Jews, Christians, Buddhists, Sikhs, people with no faith and LGBTQI communities "make this country great" with their contributions. And she said that they are united around "compassion, love, justice and equality for all people."
"Let me be very clear: this country was built on the backs of enslaved Africans," Sarsour said. "This country was built by immigrants. This country was built by workers. So we wanna make it clear that none of us are going back to our country because these United States of America is our country."
Mayor Bill de Blasio—an outspoken supporter of broken windows policing—blasted Trump's Victims of Immigration Crime Engagement Office within U.S. Immigration and Customs Enforcement, arguing that most crime is committed "by people who aren't immigrants." The liberal Democrat insisted that Trump is trying to get people experiencing "economic distress" to blame immigrants for their circumstances.
"Working people did not create income inequality but working people will answer income inequality by fighting for fairness and justice," he said. "And that is what May Day is all about. We gather together to show our strength. We gather together to say to Donald Trump, you can try all these things but you will not succeed. You think you can, but no you can't."
He highlighted immigrants' contributions to the city's economy and said that, in conjunction with the City Council, and noted his budget proposal will ensure that anyone "unjustly faced with deportation" receives the legal assistance they need.
"When we're together, when we're organized, when we're mobilized, guess what?" de Blasio continued. "There are a lot more of us than there are of Donald Trump supporters. Our numbers are greater, our voices are stronger."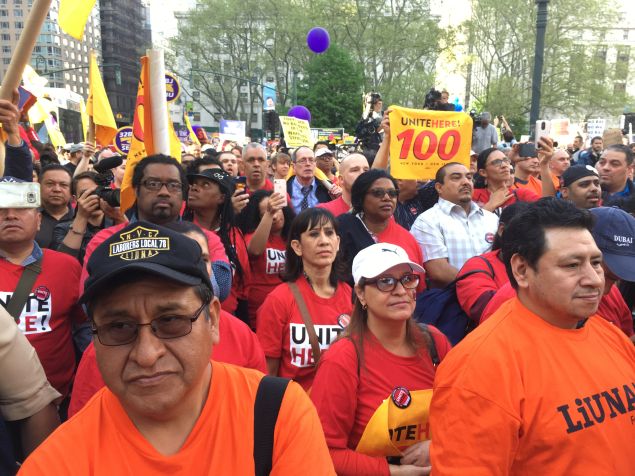 City Council Speaker Melissa Mark-Viverito—flanked by Council members Jumaane Williams, Brad Lander, Margaret Chin and Carlos Menchaca—as well as Public Advocate Letitia James and Comptroller Stringer all made similar remarks in support of immigrants and laborers.
Audu Kadiri, a Nigerian-born community organizer for nonprofit African Communities Together, recalled serving the LGBT community in his home country—up until he felt his life "was no longer safe after numerous threats" and after the passage of a same-sex marriage prohibition law in 2014. So he fled to New York.
"The long waits, the barriers asylum seekers face when they come here are onerous," Kadiri said. "You cannot work, you have to depend on people to live. We cannot stand by and watch the government of today sign executive orders that makes life harder…I will continue to tell them there is a need to protect all humanitarian reliefs, refugee, asylum and TPS."
Edison Severino of LIUNA Local 78 stoked the crowd with recollections of how immigrant workers from all over the world came to America and "bled and died to create unions."
"Today, in the age of Trump, what do we do?" he said. "We have to fight, we have to fight like never before. Our forefathers in the labor movement did it when they had to do it. Today, it's our turn. Today, it's our moment, it's our moment to rise, it's our moment to unite…it's our moment to throw hell."