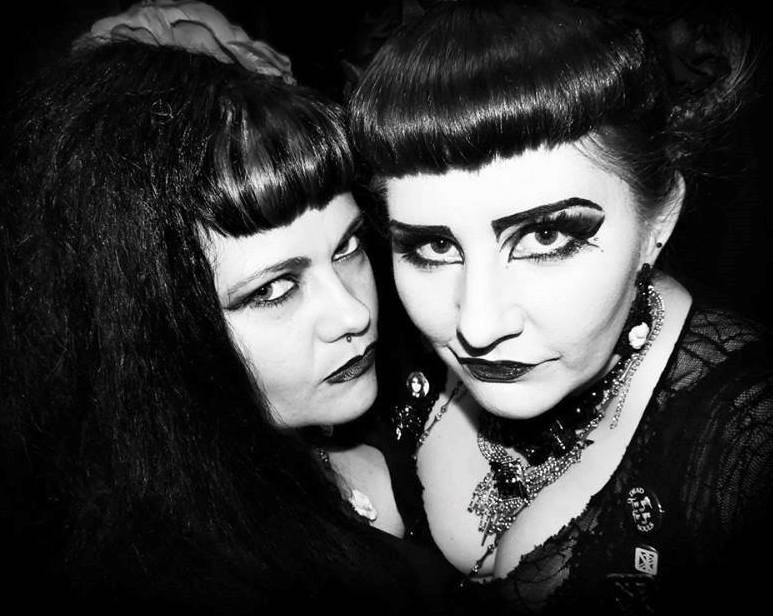 When you're a goth, every day is Halloween—but there's only one World Goth Day.
What started as an idea transmitted through social media back in 2009 by British internet radio and club DJ Cruel Brittania, and expanded worldwide with the help of DJ Martin Oldgoth, has grown steadily since. Celebrated officially on May 22, but with events occurring before and after in some cities including tomorrow night, World Goth Day has inspired over 40 events globally this year, with many parties luring hundreds of attendees.
"It still amazes me just how strongly supported World Goth Day is even now," says DJ Cruel Brittania. "People have really taken the ball and ran with it, year after year. The amount of events in Mexico alone is staggering. We were notified of 16 events at the beginning of May. The South American regions have always been a good stronghold for the support of World Goth Day, and one day I'd love to go and visit there just to see how and why it's so popular."
READ THIS: America Has Nothing on Russia's Booming Post-Punk Scene
With World Goth Day events ranging from club nights and concerts to movie nights and pub quizzes all over the globe, the holiday's popularity has risen high enough to be referenced in Vogue, and, perhaps most striking, as a level in the Angry Birds Seasons video game.
Candy Durant, co-organizer of the World Goth Day Picnic in Charlotte, N.C., says this is the second year for her event. Last year they drew 60 people and seem to be on course for the same this year. It mirrors a monthly "Gothnic" that friends in Asheville, N.C., have held in a cemetery, plus a larger-scale picnic arranged at the annual Wave Gotik Treffen festival in Leipzig, Germany.
"It really brought people out of the woodwork and connected people who ordinarily might not cross paths," says Durant of her picnic. "I'm not sure what to expect this year. It's not really meant to be a big public event, but I think it will get an even bigger turnout than last year. It feels like a large family get together. We had so much food [last year], we ended up giving some away to homeless people at the end of the day."
Durant says the North Carolina scene is small but growing, with at least one dance night per month (Digital Noir or New Wave Undertow), along with "a growing cluster of local bands in the dark genres" that includes IIOIOIOII, Solemn Shapes, Malhond, Mall Goth, and Joshua Cotterino. "Two years ago, we did not have this much going on, so I think there's an uptick," says Durant. "The younger people are catching on, and us older people are re-discovering our musical roots. And of course, The Cure did that amazing tour last year. That had to have helped."
Christian Diaz and Tirza Zancerv are co-organizers of World Goth Day Mexico in Mexico City, and this year they have organized two events, one on May 27 at El Real Under and the other on June 2 at the Bizarro Forum. Beyond local and outside bands, goth-influenced artists from different disciplines like writing, sculpting, and theatrical and circus performers will participate. The first event will be a 16-hour marathon with numerous participants; the second will last about seven hours with a more modest roster. And on May 22 they'll have an online radio broadcast with a 12-hour DJ set of gothic rock music.
Diaz says that across the 32 states of Mexico there are scenes of varying sizes. In larger urban areas like Mexico City the numbers are greater. (When Bauhaus played there in 1998, 3,000 people showed up.) The two clubs he works with have a capacity of 300 and they are filled to the brim for World Goth Day events. "In locations outside the city of Mexico there are no gothic clubs, so they wait every year to celebrate the gothic scene and have the ideal pretext to make their own event," says Diaz. "World Goth Day has spread throughout Mexico as a free concept and whoever wishes can make it yours. That is why every year we have more events."
[youtube https://www.youtube.com/watch?v=yCIcBmV9LW4&w=560&h=315]
Eris and Anarki are the two women behind the bi-monthly club night The New Order in Melbourne, Australia, and they hold annual World Goth Day events. They expect a crowd of 250 this Saturday night at the Sub Club. (And on May 27, goth singer-songwriter Voltaire will journey from New York to play their city as part of his Australian tour.) The duo keeps their music mix fresh and multi-generational.
"I would say it's probably one of the quickest evolving scenes you've seen for a while," Eris says of the Australian goth scene. "I think what defines goth for a lot of Melbourne partygoers can be quite different from month to month, week to week. It's not unusual for us to mix in real old-school sounds like Christian Death and The Creatures to newer sounds like Chelsea Wolfe and Pretentious Moi? I think it's a fantastic time to be involved in goth subculture."
Eris says when she first transitioned to the goth world from the rave scene 12 years ago, there were not club nights in every capital city in Australia like there are now. "We were on our way to a rave when we heard Robert Smith coming through a particular door and thought we're going to open up the door, and we never really left," recalls Eris. She notes that parents now bring their kids to goth club nights and gatherings like the annual Melbourne Gothic and Victorian Picnic.
Chicago DJ Scary Lady Sarah (also guitarist/vocalist for the Bellwether Syndicate) has held her club night Nocturna for 29 years. She does not see much of an influx of "baby bats" (late teen and early 20-something goths), but she has noticed at goth-related shows that the venues are often packed with people outside of the subculture.
"I always hearken back to what a music journalist and former promoter friend of mine from London, Uncle Nemesis [a.k.a. Michael Johnson], said a few years back," says Sarah. "'The most interesting goth music coming out these days isn't coming from goth bands.' The fans of these bands don't necessarily come from the goth subculture either. They'd probably enjoy the music at a goth club though."
[youtube https://www.youtube.com/watch?v=X0Cftwtlho4&w=560&h=315]
Along those lines, the newer dark music that she likes falls into genres like post-punk, deathrock, synthwave and coldwave, with artists including Drab Majesty, She Past Away, La Scaltra, Holygram, and The Soft Moon. "While these bands might not sound like the gothic rock bands of the late 80's to mid '90s, I hear goth in all of them," notes Sarah. "Out of those bands, some have already achieved and are starting to achieve success beyond the goth scene. Most would not even classify their own music as goth, but doubtless the bands they would cite as influences would fall squarely there."
Following the classic goth period of the '80s with artists like Bauhaus, The Cure, Sisters Of Mercy, and Siouxsie and the Banshees, the '90s became a fertile time for goth artists of many different musical persuasions, including Switchblade Symphony, Faith and the Muse, Rosetta Stone, and Lycia, not to mention the mainstream ascension of industrial stalwarts Nine Inch Nails.
READ THIS: The Nostalgic Allure of 'Synthwave'
A more electronic slant (particularly EBM) began to swell around the dawn of the new millennium, many of them "laptop bands" that veered away from a traditional group format. For a brief time, the goth world in America got hit with a quasi-Satanic stigma akin to what heavy metal endured throughout the 1980s when the Columbine high school killers were egregiously misidentified as goths. It felt like the momentum the scene had built up through the country in the mid to late '90s deflated after that, although that was likely not the only reason.
Over the last decade, many '90s-spawned groups of various musical amalgamations like The Birthday Massacre and Bella Morte have kept the flame alive along with younger artists in the dark wave, dark synth, goth metal, and witch house subgenres. (In the early '00s, the "Mall Goth" vibe of the Hot Topic clothing and merch chain flirted with the scene, becoming more anemic as time went on.) But classic goth rock, new wave, and synth pop sounds have become en vogue again in recent years, thus spawning newer dark entities like Angels Of Liberty and King Dude.
[youtube https://www.youtube.com/watch?v=ds73xDoP780&w=560&h=315]
The goth aesthetic has been steadily integrated into mainstream culture through horror films, various fashion trends, the occasional TV character like Abby Sciuto from NCIS and Triana from the animated Venture Bros., and the co-opting of the brooding look by the emo world. "I would say that sometimes people aren't quite aware of where this dark influence is coming from," says Eris. "I think what you see injected in mainstream media and perhaps into fashion is mainstream's way of borrowing from the subculture with what they find approachable and making it their own. It also de-stigmatizes it little bit. I'm not saying it completely removes the stigma from it, but it certainly helps."
"I don't think it's any more or less mainstream now than it may have been for the past 20 to 30 years, if I'm honest," says Brittania of goth. "It's not like the streets are suddenly ablaze with people dressed like they were in The Matrix, which is possibly the nearest image you can get away with having in an office job. But I do think that the short-lived 'Health Goth' phase we went through for about five seconds two years ago has made it easier for us to pick up sportswear in colors other than DayGlo orange. Which is nice."
But when asked about the idea of a goth revival, Brittania muses, "The goth scene was borne out of a particular decade, from the roots of a particular music genre, in a particular political climate. These are all essential elements to the 'recipe of Goth,' I guess. A subcultural return could well be because we're seeing those same elements crop up again in our lives. Without getting too in-depth about it, there's a lot of tension out there, and last time that happened a lot of really good guitar music came about!"
Perhaps we are not yet seeing legions of dark music denizens everywhere, but goth thrives perpetually in countries like England and Germany, and the rising global popularity of World Goth Day and the media scrutiny it invites reminds outsiders that it is still a vibrant underground. A new generation of artists is carrying on the traditions from different aesthetic standpoints.
"It is always on May 22, which is just over halfway to Halloween, so those of us who love Halloween can get a mid-year fix and plan events," says Durant of World Goth Day. "People who aren't involved in the scene can feel a bit less intimidated if there's a day dedicated to it. It puts a level of comfort in it knowing that, 'Yes this is a thing, and it is celebrated every year.' Having an annual holiday shows that it's not a passing fad. In one way, shape, or form, the gothic subculture will always exist."
Regular Observer contributor Bryan Reesman likes all things dark and spooky.