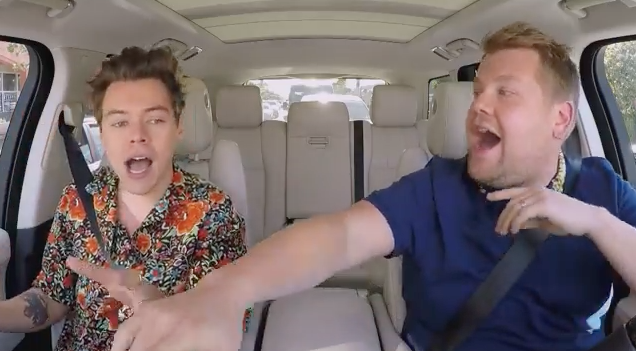 Former One Directioner and expert pattern shirt wearer Harry Styles joined James Corden on the Late Late Show last night to perform, both on stage and in his car. Styles and Corden participated in his most famous viral bit with plenty of air drumming and falsetto singing.
The most important takeaway from all of this is Harry Styles is adorable and for the first time now I fully understand what Taylor Swift saw in him. Second, we learned that "Sign of the Times" is like, a really, really good karaoke song.
If you've been dying to see Harry Styles in a mesh tank top, and dance like a dorky dad to "Hey Ya," your prayers have been answered.
The point of this post is basically to confirm that I am fully onboard the Harry Styles train. He is a little cutie and he seems very nice and I would want to go out to dinner with him and hold his hand and touch his hair. He also seems like a delight to drive around with in a car.