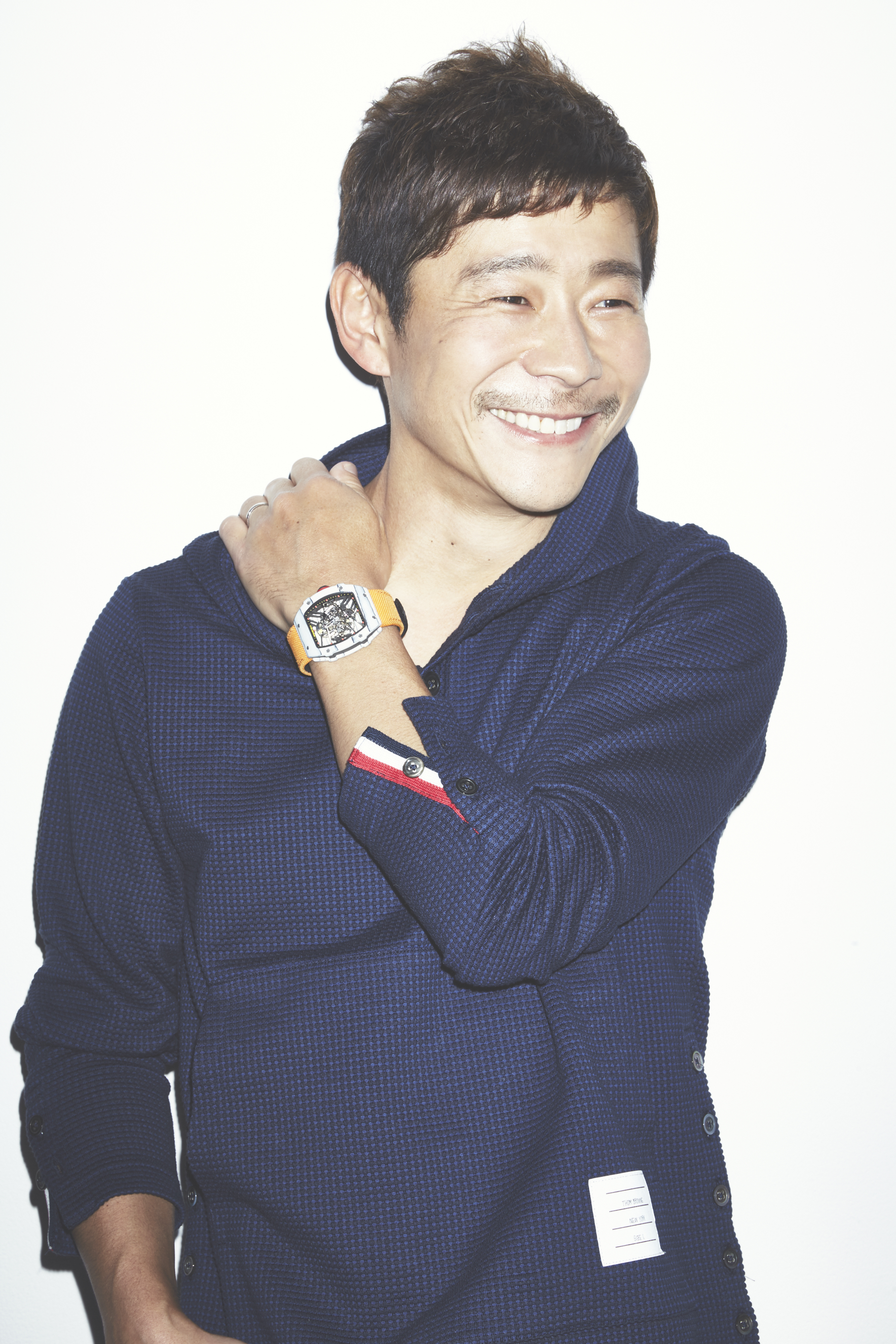 Remember Yusaku Maezawa? If you're don't, let me refresh your memory: Last spring, the Japanese billionaire single-handedly carried the New York auction season by spending $98 million over a span of two days on art Sotheby's and Christie's. While he'd been quietly collecting for the last 10 years, his public buying spree stunned the art world, and boosted the relatively unknown art enthusiast to a major player on the scene almost overnight.
Fast forward to last night at Sotheby's, and Maezawa has struck again. The e-commerce guru snapped up an untitled Jean-Michel Basquiat painting from 1982 (estimate $60 million) for a whopping $110.5 million, eliciting gasps from the auction room crowd (these aren't people easily shaken by million dollar price tags mind you), according to the New York Times, and cheers louder than when Edvard Munch's iconic painting The Scream sold for the same amount in 2012, according to the Art Newspaper.
Not only does the Basquiat painting of which Maezawa is now a proud owner enter into the exclusive $100 million club (there are only a handful of artworks that have sold above this amount at auction), but it crushed several impressive auction records in the process, and now holds titles for: the most expensive work created after 1980, the highest price ever paid for a work by an American artist, the second priciest contemporary artwork ever sold and the sixth most expensive artwork ever sold.
On purchasing the Basquiat, Maezawa said in a statement provided by Sotheby's: "When I saw this painting, I was struck with so much excitement and gratitude for my love of art. I want to share that experience with as many people as possible around the world—regardless of age or background or whether they are a collector or not. One day the painting will be a centerpiece of my museum in my hometown Chiba, but before then I wish to loan this piece—which has been unseen by the public for more than 30 years—to institutions and exhibitions around the world. I hope it brings as much joy to others as it does to me, and that this masterpiece by the 21-year-old Basquiat inspires our future generations."
A little background on the mysterious Maezawa: The 41-year old entrepreneur began his career in the music industry in the 1990s when he founded Start Today Co., an import business which sold CDs and vinyl. He then went on to start the online fashion retail giant ZOZOTOWN. The collector is worth approximately $3.6 billion, according to CNN Money.
So, why then is Maezawa spending so much on art? In an interview for Observer conducted by email in May 2016, the collector told me, "Unfortunately, the general interest in art among the Japanese is very low compared to that of western countries. I would love to be able to correct that by bringing many more pieces of interesting artwork to Japan." Maezawa began collecting art, he said, as a way "to help young artists to promote their work as well as to increase awareness of contemporary art among the younger generation."
Maezawa doesn't see collecting as an investment. On the role of the art collector in the market, he told me: "I would love to be able to share my artwork with as many people as possible so that I can help spread an appreciation for art in general. Artwork is beautiful when it's displayed in a museum, but can add so much depth to one's life when enjoyed in the home."
Last spring, his purchases included another untitled 1982 Basquiat painting (that sold for $57.3 million), and works by Richard Prince, Jeff Koons, Alexander Calder and Bruce Nauman, all of which he plans to show—along with the $110.5 million Basquiat—in either the museum he is planning to build in his hometown of Chiba or a "guesthouse" for artists he envisions will be housed in London. Both projects Maezawa is spearheading through his philanthropic arts organization, simply called the Contemporary Art Foundation.