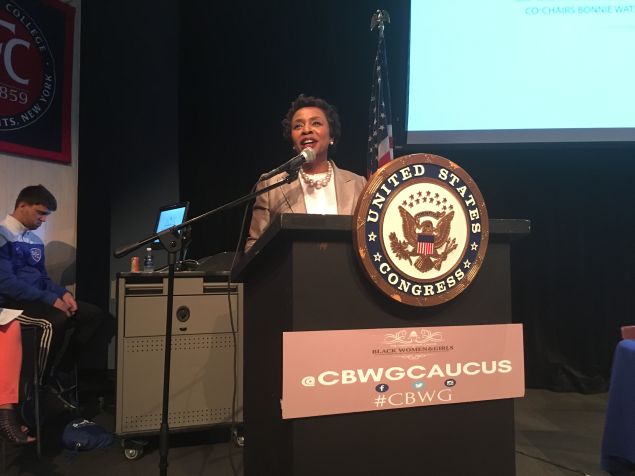 Brooklyn Congresswoman Yvette Clarke, co-founder and co-chairwoman of the Congressional Caucus on Black Women and Girls, said that she thinks Small Business Administration head Linda McMahon "seems to be almost diametrically opposed" to President Donald Trump's positions—and that McMahon has shown a commitment to promoting female-owned businesses and diversity in entrepreneurship.
During her Senate confirmation hearing in January, the former president of World Wrestling Entertainment—a company she co-founded with her husband, Vince McMahon—vowed to be "a defender of the little guy." When the Observer asked Clarke at a forum on minority and women-owned business enterprises last night about her concerns about what challenges such companies could face under the current president, Clarke suggested that Trump might be "inclined to discriminate"—but that McMahon appears to have a different approach.
"What I can say is that her intent seems to be almost diametrically opposed to the positions that Donald Trump has taken so we'll see, you know, we'll definitely see," Clarke said following the event for black entrepreneurs at St. Francis College. "I mean, he prides himself on being a businessman, she prides herself on being a businesswoman. We should see the clash of the titans and where they come to a meeting of the minds."
Clarke said that she was "a bit impressed" with McMahon's answers to the Senate committee during her approval process. The congresswoman said that she wants to work with new administrator to determine ways in which they can "reformulate some of the things that SBA is doing" to lower some of the barriers that black women face in interacting with the agency.
"I think she really understands the challenges that women entrepreneurs, in particular, face," she said. "I'd love to have more conversations with her about specifically black women and I think she's very conscious of the fact that black women have been some of the fastest growing cohort of entrepreneurs in the nation."
McMahon is also a co-founder and former CEO of Women's Leadership LIVE, a start-up that promotes female business owners. But the former wrestling executive and one-time Connecticut Senate candidate has also been embroiled in some controversy, including for her role in settling a lawsuit against WWE employees who allegedly abused minors and for providing testimony to a congressional committee looking into the connection between wrestler deaths and steroid abuse.
Clarke's admiration for McMahon is a marked departure for her contempt for Trump, who she has repeatedly vowed to see impeached.
During her introductory remarks at the forum, Clarke said that nearly half of black-owned companies are owned by women and that 14 percent of women-owned companies are owned by black women—and that in 2015, these 1.3 million firms generated an estimated $52.6 billion in revenue.
She said that she has sponsored legislation to increase the availability of low-interest loans for small business owners, particularly companies owned by women and people of color, and to improve the process by which SBA provides assistance to those owners. Last May, she formed the Multicultural Media Caucus.
The Congressional Caucus on Black Women and Girls recently hosted a convening on the thousands of missing children and women of color throughout the country.
Illinois Congresswoman Robin Kelly, co-founder and co-chairwoman of the caucus, also attended last nights event. She took a decidedly more skeptical stance on McMahon.
"To be honest with you, time will tell," Kelly told the Observer. "I mean, is she gonna walk the walk or just talk the talk? But I'm sure because she's in the sports world, she's probably seen her struggles being a female so maybe that'll help but it's hard to say, but time will tell."
As to what effect the Trump administration will have on black women-owned businesses and minority- and women-owned businesses, Kelly said that there is "so much uncertainty" around his administration and that he doesn't know "what his priorities are or what should be priorities."
She alluded to recent rumor that the president plans to eliminate the Office of Minority Health, formed during the Reagan administration to address the specific needs of nonwhite communities.
"I don't think they have a sense of our community at all. And the Congressional Black Caucus went to meet with him, but even though we went to meet with him as he's carrying out what he's supposed to be doing, it's not—I don't see it as supporting our community, male or female, and particularly not female," Kelly said. "I think we already face access to capital and I just think that the things that we already face will be exacerbated, you know, under his administration."
Trump's proposed budget would gut funding for the Minority Business Development Agency, the only federal agency whose responsibility is to promote the growth and competitiveness of minority-owned businesses. When the Observer asked Kelly about it, she seemed to suggest that it is no surprise given who he has his in his administration, referring to White House chief strategist Stephen Bannon—who previously ran the right-wing website Breitbart.
"When he has a white nationalist that works for him, you can imagine the advice that he's getting, even though they keep saying his son-in-law or others will balance that out," Kelly said, also referring to White House senior advisor Jared Kushner.
Disclosure: Jared Kushner is the former publisher of Observer Media.