Back in 2002, a few film buffs with an obsessive love for Asian cinema found themselves frustrated with New York's limited selection of Asian action flicks, romcoms, and other populist fare. After all, to say the films of Takeshi Kitano, Wong Kar Wai, and Hou Hsiao-Hsien (to name a few arthouse favorites) are representative of what Asian movie audiences are watching would be like saying Terrence Malick and David Lynch are the be-all end-all of American cinema. Therefore, these intrepid cinephiles decided to take matters in their own hands, grabbing a theater at Anthology Film Archives and presenting the first-ever New York Asian Film Festival. Later NYAFFs would take place at venues all over town, from the ImaginAsian to the IFC Center, until finally finding a home at the Film Society of Lincoln Center, where it has become a cherished summer tradition, with wide-ranging lineups of new films and classics, sold-out crowds, and an incredible collection of guests like Jackie Chan and Tsui Hark. This 16th edition of NYAFF, running from June 30 to July 16, features a typically eclectic lineup ranging from romantic comedies like This Is Not What I Expected to auteurist softcore porn like Aroused by Gymnopedies to action flicks like Vampire Cleanup Department. While just about every movie NYAFF screens is worth a look, here are five must-sees from this year's lineup: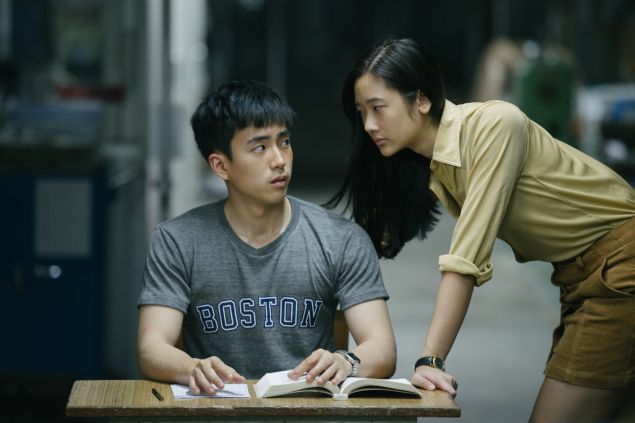 Bad Genius's title seems calculated to invite comparisons to Hollywood comedies like Bad Teacher, Bad Santa, and Bad Moms, wherein hilariously awful people do hilariously awful things to everyone around them. However, that description doesn't quite apply to BAD GENIUS, which centers around teenage wunderkind Lynn (Chutimon Chuengcharoensukying), who may be morally challenged, but is also righteously angry at a broken and corrupt academic system that penalizes the poor and props up the rich (something we in the US surely know nothing about). Director Nattawut Poonpiriya stays away from polemics, however, and instead frames Lynn's saga of academic fraud as a white-knuckle heist thriller, culminating in an epic transcontinental SAT cheating scheme that would leave the Ocean's 11 guys shaking their heads in awe. It's a hell of a lot of fun, but more than that, it's a fascinating look at how the gaping flaws in a corrupt educational system is a much more global concern than you would suspect.
Concurrently a naturalistic portrait of a twenty-something woman falling through the cracks of society, a vicious satire of vapid (male) youth culture and art, and a surreal action movie featuring a roving gang of schoolgirls who beat the crap out of random men walking home alone at night, Japanese Girls Never Die is a haunting, bewildering, and thrilling tale of pervasive misogyny. Anchored by a beautifully underplayed lead performance by Yû Aoi, this film gives voice to the beaten-down but never broken women whose existential pain tends to be left out of so many representations of modern Japanese society.
With a plot reminiscent of Eternal Sunshine of the Spotless Mind and playing like a harder-edged Minority Report, the Mainland Chinese Battle of Memories may not break new ground, but it's a hugely entertaining cat-and-mouse thriller. When successful crime novelist Jiang Feng (Bo Huang) erases the memories of his marriage (as seems to be a common practice in 2025 China), he is soon forced to retrieve them, but his matrimonial memories are accidentally switched with those of an on-the-loose killer. The details of the memory procedure may be a little overcomplicated, but director Leste Chen takes the conceit and runs with it, mixing a top-notch mystery with fantastic dream imagery.
Any Hong Kong film fan (or, frankly, any kind of film fan) who somehow hasn't seen Johnnie To's 2005 masterpiece finally has an opportunity to regain their credibility. This Godfather-esque saga of two Triads (Simon Yam and Tony Leung Ka Fai) locked in an epic struggle over control of a crime family is HK cinema at its best: an impeccably constructed story told at a breakneck pace.
To recommend a movie while expressing relative disinterest in its script seems anathema, but Saving Sally is a fairly unique case, despite its billing itself as a "typical love story." In fact, not only is it the typical story of the nerdy Marty (Enzo Marcos) pining for a gorgeous and geeky best friend, Sally (Rhian Ramos), but it . So what the hell is it doing on this list? The visuals. Holy crap, the visuals. Think Roger Rabbit-esque human/toon interactions with a Scott Pilgrim style, but pulled together on a shoestring budget. Just about every frame of the film features beautifully idiosyncratic animation and jaw-dropping production design, with some nifty touches like representing Sally's skeevy boyfriend as a giant talking penis. Director Avid Liongoren has spent 10 years putting this film together and that love and devotion simply explodes off the screen. Once he gets a script worthy of his visual expertise, however, he just might become an international cinematic icon.
The New York Asian Film Festival runs from June 30th to July 16th at the Film Society of Lincoln Center and the School for Visual Arts. For tickets and more information, visit here.