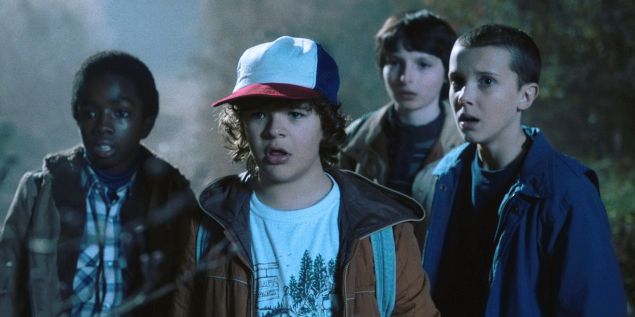 The cast and creative crew of Stranger Things touched down in Los Angeles last Tuesday (June 6) to not only present begin the 2017 Emmy campaign for the popular genre series, they reminisced with fans on the pop culture phenomenon Season 1 became, while teasing a few details of what's to come when the new episodes premiere this Halloween to Netflix.
All month long, Netflix has presented their very best programs at their FYSee Space in Beverly Hills, California — which is pretty much a pop-up museum celebrating the streaming service's original programming in all its epic glory.
And while the appearance of Millie Bobby Brown (Eleven), David Harbour (Sheriff Jim Hopper), Gaten Matarazzo (Dustin Henderson), Finn Wolfhard (Mike Wheeler) Caleb McLaughlin (Lucas Sinclair), Noah Schnapp (Will Byers), and creators/executive producers Matt and Ross Duffer and Shawn Levy was reason enough for me to attend, Netflix leveled up the evening with an open bar and kid snacks for days (In retrospect, mixing whiskey drinks with sour gummy fish, chocolate filled wafers and peanut butter, jelly and banana sandwiches may not have been the best decision. But, YOLO!? ).
Aside from taking in the multimedia exhibits and sugary treats, I was able to walk away from the event with some nuggets of wisdom regarding what to expect from Season 2. We have a little under a half a year until the show returns. Here are five intriguing tidbits to get you ready for another trip back into the Upside Down:
There will be a bigger advertising presence.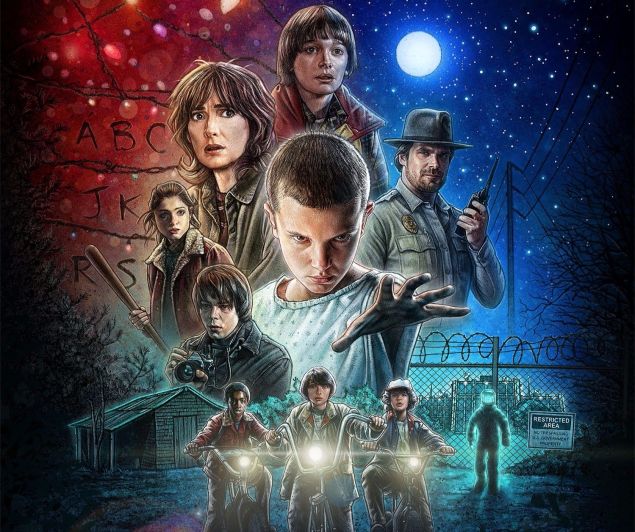 If you'll recall, Season 1 of Stranger Things came out of nowhere. There was absolutely no advertising presence, no billboards and no commercials which added to the allure and mystique of the series once it dropped on July 15, 2016. While the show caught on like wildfire, word of mouth spreading quickly within the first week, it's clear that everyone involved were in panic mode as Netflix made the executive decision not to advertise the series before its premiere.
"When we were making this thing, there was no sense that people would watch it in big numbers," Shawn Levy explained at a Q&A following the FYSee screening of the pilot episode. "We just knew that it felt cool to us and, above all, we were just kind of doing right by this creation from the Duffers' hive mind. It was a lot of social media because Netflix famously doesn't give numbers or anything like that. So you just kind of felt it permeate the culture really quickly."
Ross Duffer continued: "That sort of opening weekend thing doesn't matter to them and this show just shows that they're right. It just snowballed with word of mouth. But yeah, it was hard for us. It freaked all of us out."
Needless to say, it's easy to speculate what the campaign will look like this time around. After the buzz the Season 2 teaser trailer left after premiering during the Super Bowl, it's safe to say we'll be seeing a whole slew of bus stop posters, billboards and online advertisements.
The story will pick back up after a year time jump.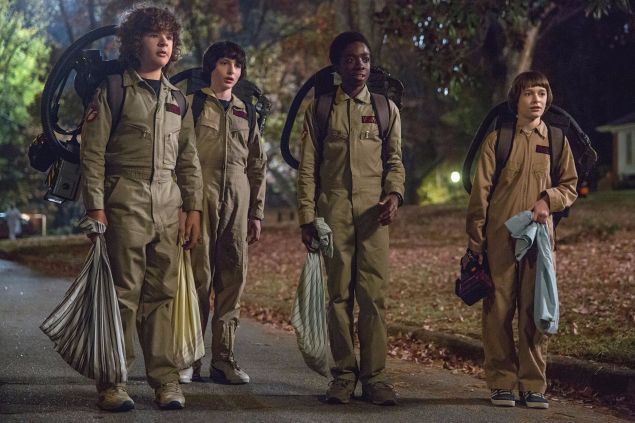 This was a detail we already knew: Season 2 will take place a year later during Halloween of 1984. Still, hearing the Duffer Brothers discuss the significance of 1984 with regards to pop culture and the movies that were released in that year, it makes you wonder just what sort of genre references we'll be getting this time around. Aside from Ghostbusters, that is.
It was a great year for movies," Ross Duffer explained. "It's fun for us because we have this group of boys who we believe would be obsessed with these movies. Ghostbusters plays the biggest role because there's no way they wouldn't be obsessed with that. It was a great year …  There was Temple of Doom, there was Gremlins, there was Karate Kid … I mean, they don't do movies like this anymore […] So anyways, we're going to have some fun with it!"
Get ready for a longer season and a darker story.
From the sound of things, creating Season 1 was a huge learning experience for everyone involved and now, understandably so, the pressure is on to deliver the goods in these new episodes. With that said, Season 2 will be a little bit longer: Nine episodes, to be exact. Aside from the longer season, the scripts were longer as well, leaving Netflix to grant more production time to the group — they shot from November, 2016 to June, 2017.
"There's just more story," Matt Duffer stated. "And this season is more dense, so it just took much longer to film. There's a little bit more of a visual effects component, there's new characters … "
He left it at that, but when you think about the amount of time they invested (six months) in shooting nine episodes of television (which is kind of unheard of), it's a safe assessment that we're going to be in for a treat when the show returns.
The stakes will be higher for everyone.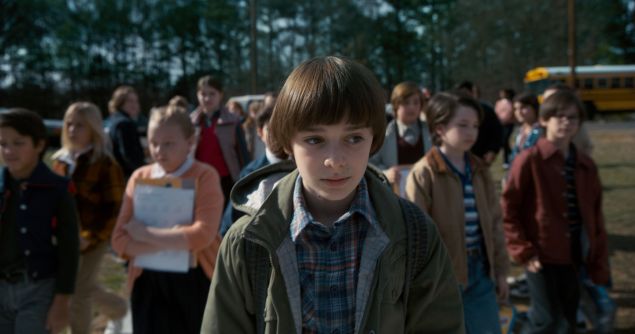 While it has been announced that Millie Bobby Brown will be returning as Eleven in Season 2, details behind her character's role this time around has been kept under extreme secrecy — so much so, that Brown admits to wearing a cloak around the set to keep the press from identifying her.
Still, the impact of her character on the series is impossible to ignore, which is interesting given the Duffers' original plan to kill her off in the Season 1 finale. But alas, Eleven has lived on. Not for nothing, but enough fan favorites were done away with in those episodes anyway!
"That was the Game of Thrones thing, for me," Ross Duffer explained. "When you kill characters that you feel aren't supposed to die, suddenly you don't feel safe anymore. And then the stakes feel a lot higher in every scene and there's more tension." Matt added, "We wanted to clarify this wasn't a show just for kids and this is not a show where the kids are necessarily safe. When I had watched stuff like The Goonies, I felt like these kids are in danger — his hand is going in that blender! That scared me as a child!"
The focus on the characters is key.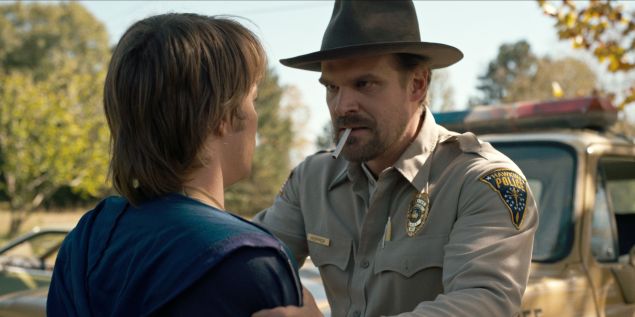 Talking to Variety earlier in the evening, Shawn Levy said: "There is a lot of talk — and I've contributed to it — about the move to darker threats and a larger cinematic scale, but here is the thing: 'Stranger Things' works because we root for these kids and we root for these damaged characters who live on the margins. Everyone is struggling with that feeling of being a bit on the outside looking in. But we know that what really brought us here are the characters that people connect to and that feel authentic … so Season 2 is every bit as loyal to characters first, and spooky second."
David Harbour touched on this important detail further after the screening: "What the Duffers have skillfully done is, really been like, 'Okay, we love these guys too. But we're not going to let them just be cardboard cutouts. We're going to allow them to actually develop.' […] In this season, Hopper's got a full beard … you know, facial hair changes, styles change, human beings grow and they develop. And I think that we're taking those risks that could piss some people off because they have attachments to these characters. In a way, I think it's very brave and satisfying when you see a human being go through that journey."
Alas, the journey didn't stop there for me, as just days after the show's FYSee event ended,Netflix invited members of the press (and the Screen Actors Guild) back to their FYSee Space for a Stranger Things-themed Waffle Breakfast. Real talk: They had me at "Waffle Breakfast."Yet, as I ventured back into the building on Sunday morning, there was nary a waffle in sight. In fact, the food stuffs being served to those in attendance were the exact same sugary treats I stuffed my face with just days before. I didn't skip breakfast just to stuff my face with more gummy bears!
After an hour of searching, I finally found a waiter holding a tray of miniature waffles. They were tiny, like the size of a cracker. But I snatched 'em up with gusto … only to discover that these mini waffles came topped with chives. What sort of tom-foolery was this? And then it hit me: Maybe … just maybe, breakfast didn't exist in the Upside Down. Talk about an immersive experience.
Stranger Things will return to Netflix with nine new episodes on October, 31, 2017.