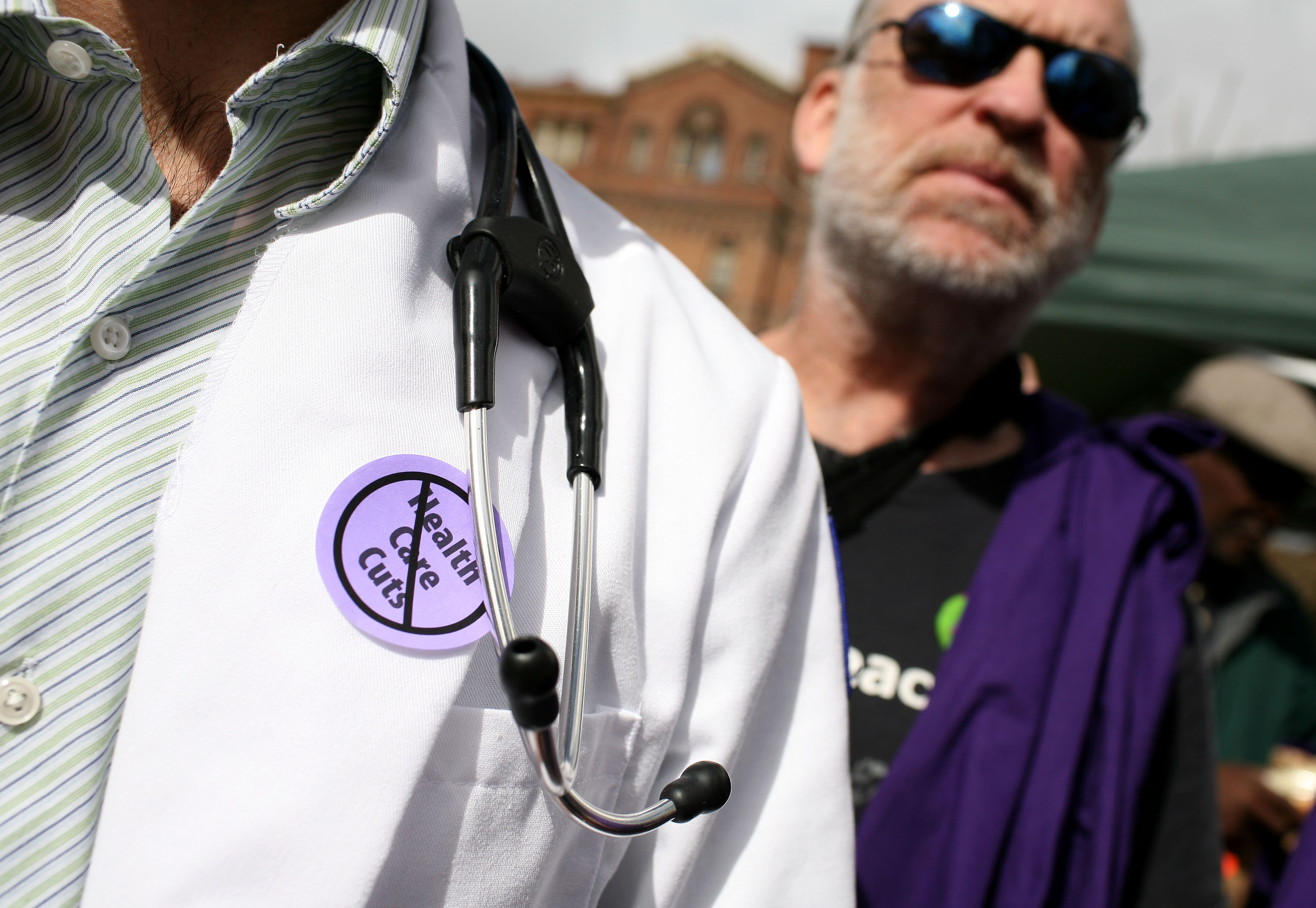 The number of people without health coverage would rise by 22 million nationwide through 2026 under a Republican health care overhaul drafted in the U.S. Senate, according to the nonpartisan Congressional Budget Office.
The Senate bill — known as the Better Care Reconciliation Act of 2017 — differs from the American Health Care Act passed in the House in May. But both plans would scale back a broad expansion of Medicaid that began under President Barack Obama's Affordable Care Act.
In New Jersey, that could be a head-on blow to the state budget. Gov. Chris Christie chose to expand Medicaid under Obamacare in 2013 and has called the results a big success, freeing up billions of dollars for other state programs over the last four years.
"This week, the independent CBO shattered any illusion that the Senate Republican health repeal bill is any less cruel and craven than the version passed by the House," U.S. Sen. Cory Booker said in a statement.
"This repeal plan doesn't just target the vulnerable, the elderly and the poor. It targets all of us," he said. "It undermines our character as a country and our highest ideals."
Booker said the bill could cut $22 billion in federal funding for New Jersey over seven years.
"Page by page, this Republican plan forces Americans to pay more for less comprehensive health care coverage," U.S. Sen. Bob Menendez said. "It eviscerates Medicaid, leaving over half a million low-income New Jerseyans with no options, and abandoning vulnerable children and pregnant women, families living paycheck to paycheck, and seniors with long-term care needs."
At an unrelated news conference in Trenton on Tuesday, Christie acknowledged concerns about the potential Medicaid cuts but said the legislation still lacks the votes to pass in the Senate, meaning it could be amended to his satisfaction. It could also be changed once the House and Senate reconcile the differences to both bills in committee, he added.
Other Republican governors and lawmakers have opposed the health care plan in more forceful terms, but Christie indicated that would be counterproductive.
"I am not going to go down to Capitol Hill and pour gasoline on myself and light myself on fire," Christie said. "I have lots of friends and contacts down there. I have expressed myself. Now the Senate and the House will express their will and the president will express his."
"I am the guy who voluntarily expanded it and I am the person who has publicly said it has worked," Christie said of New Jersey's Medicaid program. "I have also publicly expressed that I have concerns about this but I am not going to go yelling and screaming about this. It is not the way you get things done in this context."
The Democratic Congressional Campaign Committee on Tuesday released a statement claiming that Reps. Frank LoBiondo (R-2), Tom MacArthur (R-3) Leonard Lance (R-7) and Rodney Frelinghuysen (R-11) will have to answer for any Medicaid cuts passed by their party.
Only MacArthur and Frelinghuysen supported the House's health care overhaul, and on Monday, LoBiondo said he remains opposed to the Senate version.
"There is nowhere New Jersey Republicans can hide from this bill and the disastrous effects it will have on Garden State families," DCCC spokesman Evan Lukaske said.
Rep. Frank Pallone (D-6) said both the House and Senate bills would give tax breaks to the wealthy while saddling middle-class and poor Americans with higher health care costs.
"The nonpartisan CBO confirms that the Senate bill will rip healthcare away from 22 million people, undermine protections for people with pre-existing conditions, and increase the costs of premiums and deductibles for working families," Pallone said. CBO also confirms that this heartless bill would cut $772 billion from Medicaid, stripping healthcare from millions of Americans and rationing care for seniors in nursing homes, pregnant women and children."