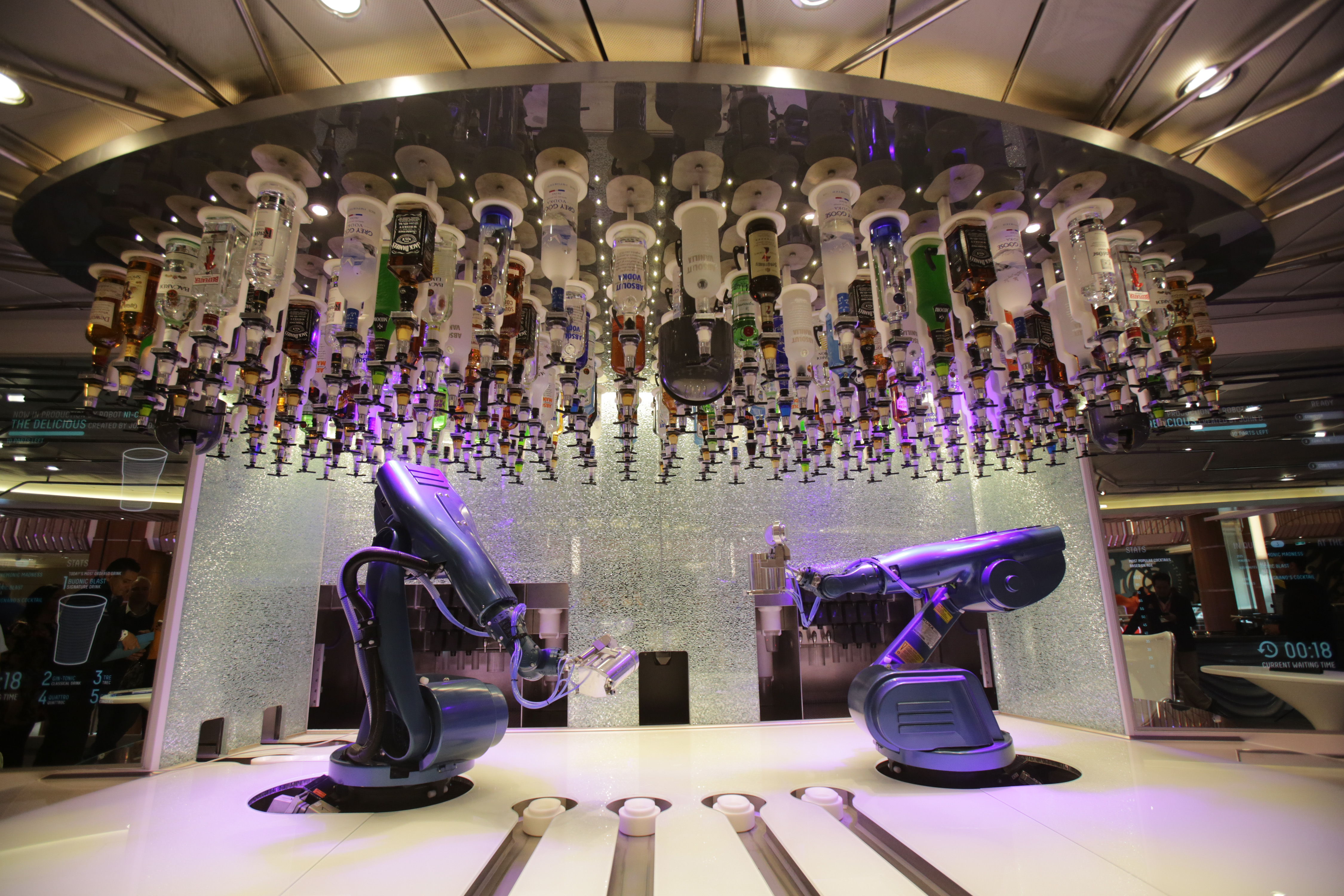 Few things are more annoying during a night out than having to battle for a bartender's attention. We've all been there—it's the peak of happy hour, you finally manage to wiggle your way up to the bar and you're stuck there sans booze for what feels like an eternity as the precious minutes until drinks go back to full price pass by. Your arm is so outstretched over the bar that it looks like you're trying to hail a cab rather than order a drink, and then finally a bartender notices you. You're somewhat relieved and somewhat annoyed, and you start to feel sympathy for the busy bartenders who are just trying their best to please the thirsty crowd. They're only human after all. That is, until now.
Old-fashioned human bartenders are about to get some stiff competition. A robot-operated bar called "Tipsy Robot" is set to open later this month in Las Vegas at the Miracle Mile shops, which is just a stone's throw from the Planet Hollywood resort, according to Digital Trends. While these won't be the first ever automated bartenders, this will be the first venue in the U.S to use them.
To get your drink from one of these robots or "Galactic Ambassadors," you'll simply place your order via iPad, and then one of the two smart robots behind the bar will mix it up just like a human. The robots' arms mimic the motions of a human bartender and can stir, shake, mix, garnish and more. You can choose from a variety of 60 different spirits and mixers, but if there's something specific you can't convey through the tablet interface, there will be at least two human employees backing the venue's second bar.
Italian company Makr Shakr is behind the drink serving technology, which debuted at the "Bionic Bar" aboard four Royal Caribbean cruises in 2014. Now following the success of the trial run, the company decided to bring the technology inland. The Verge reporter David Pierce tried it out and described the robots as "perfectly efficient, fast bartenders" that operate with accuracy and precision.
"They always select the perfect amounts of Bulleit borboun, ice and lime and shake it just so before dumping it carefully into my plastic cup," he wrote. "They move in fluid, full gestures, almost as if they're human."
The company emphasizes efficiency in their product design. Makr Shakr claims each robot will be capable of mixing drinks at a rate of one per 30 seconds, or about 120 per hour. While designing the robots, the company even studied the movement patterns of New York theater ballet dancer Marco Pelle to evoke a more pleasing aesthetic when mixing the custom cocktails.
The "Galactic Ambassadors" are set to start operating at The Tipsy Robot on Friday, June 30th. So whether you're excited to embrace the future of mixology, or still prefer your cocktails made with a human touch, the robots hold one key advantage that could turn the odds in their favor—they won't be expecting tips.