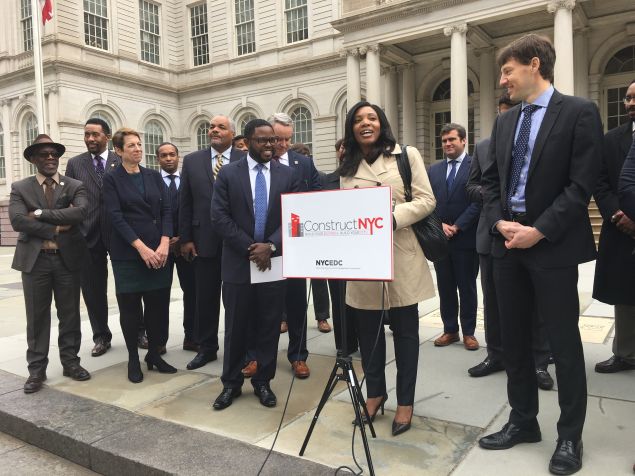 Albany passed two bills in the final hours of its legislative session Wednesday night to expand the city's authority to spend money on so-called "minority- and women-owned business enterprises" and eliminates the state's cap on personal net worth of nonwhite and female owners it will contract with.
The first piece of legislation—sponsored by Upper Manhattan State Senator Marisol Alcantara, a member of the breakaway Independent Democratic Conference, and Queens Assemblywoman Alicia Hyndman—allows City Hall to parcel out as much as $150,000 to MWBEs without a competitive bidding process. This, the sponsors argue, will shorten the time it takes for historically marginalized entrepreneurs to receive awards for small projects and grant more such owners access to contract dollars.
It goes into effect immediately.
"Assemblywoman Alicia Hyndman and I just passed our landmark MWBE bill!," Alcantara wrote on her Facebook page at 9:08 pm yesterday. "This will be game changer for women- and minority-owned businesses in the city of New York."
An activist tweeted that he wished she would leave the controversial, GOP-aligned IDC but said he also thanks for her "advancing this smart and necessarily proposal for our #MWBEs." Alcantara seemed to appreciate the conciliatory gesture.
Hyndman also took to her Facebook page at 9:26 pm to hail the news.
"We passed a great bill tonight, helping increase city contracting opportunities for Minority and Women Business Enterprises in our community," she wrote. "With all the development happening in our communities, it's important that we play a role in shaping our future."
The New York City MWBE Alliance held a call to action at the New York State Capitol in Albany in early June to urge the state Legislature and Gov. Andrew Cuomo to support the legislation.
The bill references City Comptroller Scott Stringer's most recent annual MWBE report card that found that in fiscal year 2016, the city spent $15.3 billion on goods and services but only 4.8 percent went to MWBEs—which make up 51 percent of all businesses in New York City. Deputy Mayor of Strategic Initiatives Richard Buery, the city's MWBE director, has disputed those numbers.
The legislation notes that Mayor Bill de Blasio unveiled a new vision for the city's MWBE program that includes a new goal of allocating 30 percent city contract dollars to MWBEs by 2021.
And earlier this month, the state Assembly passed legislation sponsored by Brooklyn Assemblywoman Rodneyse Bichotte, who chairs the Oversight of Minority- and Women-Owned Business Enterprises Subcommittee, that eliminates the requirement that MWBEs have a net worth of less than $3.5 million in order to receive state certification. Last night, the Senate passed the bill by a vote of 62-0.
Bichotte argued that the ceiling discouraged the expansion of MWBEs, whose owners have to choose between making more money or being unable to partake in state programs aimed at helping historically marginalized entrepreneurs. Republican State Senator Patty Ritchie, was the sponsor for the Senate version of the bill, which foreshadowed possible bipartisan consensus on the bill.
In 2014, Gov. Andrew Cuomo increased the state's MWBE participation goal from 10 percent of state contracts in 2011 to 30 percent. Though some MWBEs and advocates have said the state is reaching its goals faster than the city, some argue the city is more transparent about how its goals are being executed.
Mayor Bill de Blasio's administration has been pushing to get language into the state budget that would provide the city with new tools and resources to hire MWBEs as the state budget deadline approached, an endeavor spearheaded by Deputy Mayor of Strategic Initiatives Richard Buery, the city's MWBE director.
Yesterday, the city launched a $10 million Bond Collateral Assistance Fund for MWBEs and small businesses. The fund supports MWBEs and small businesses facing obstacles accessing surety bonds, bonds that offer collateral to allow businesses can perform well on city construction contracts.
BESbswyBESbswyBESbswyBESbswyBESbswyBESbswyBESbswyBESbswyBESbswyBESbswyBESbswyBESbswyBESbswyBESbswyBESbswyBESbswyBESbswyBESbswyBESbswyBESbswyBESbswyBESbswyBESbswyBESbswy