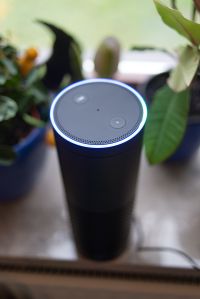 Steve is a father in Chicago. What he likes about his family's Amazon Alexa is that his daughters don't have to ask him to play music for them anymore. What he doesn't like is that they tend to listen to the same song over and over.
Steve was one of several case studies shown by Edison Research today at the RAIN Podcast Business Summit in New York City. Tom Webster, a vice president at the company, presented several stories like Steve's, along with a bevy of stats derived from a survey of 1,620 people—half of them owned smart speakers, half of them didn't.
Long story short: people who buy these things like them. Amazon's goal is to make Alexa as powerful as the computer on Star Trek. It's not there, but it's getting there.
"This is a device where people are telling us, the more they have it, the more they use it," Webster said. Most people Webster spoke to said that their use of it had either stayed steady or increased over time. It has not proved to be a device that ends up getting tucked unused in a drawer.
In another case study, Teresa, an immigrant from the Dominican Republic, said that since her daughter left home, Alexa is now like her granddaughter.
Forty-two percent of respondents said a smart speaker is essential to their daily life. 70 percent said that they listen to more audio now than they did before they had a smart speaker.
There's good news for content makers, too, because 57 percent of the smart speaker owners said they paid for a music streaming service. Of those, 28 percent said they started their subscription to use it on their smart speaker.
One hip hop fan in Atlanta said that once he was able to control his music with his voice, he didn't want to go back.
Besides conducting the survey, Edison researchers also visited 15 homes to watch people use smart speakers. They found that people discovered it was very helpful not to have to use their hands while doing work at home. People mainly used it for playing music, but lots of new uses are arising, including setting timers, playing trivia games, listening to news updates, placing orders and checking flight or traffic info.
We recently wrote about experiments to make the Amazon Echo a device a user can chat with.
Among the non-owners, the leading reason for not buying one was price and a lack of knowledge. People also expressed privacy concerns, though they fell at the bottom of the list.
Only seven percent of Americans actually own a smart speaker. Of those, 84 percent have an Alexa and 24 percent have a Google Home. If those numbers look like they don't make sense, they do—eight percent are weirdos who own both.
"It's more than just a gadget," Webster concluded. "We learned that these devices genuinely change behavior."