Gigi Hadid's outfit is so bright, she needs small shades from Les Specs.
Instagram
Kendall Jenner in a pair of frames from Kendall and Kylie.
Instagram
Simi and Haze Khadra try out a colored version of the look.
Instagram
Yael Shoshana Cohen of Lola Marsh rocks tiny lenses on stage.
Getty Images
A little pink is perfect for Halsey.
Pinterest
Young entrepreneur Kylie Jenner jumps on the trend.
Instagram
Rihanna is not here for your larger frames.
Getty Images
Bella Hadid shows off just how small her glasses are.
Instagram
Delilah Hamlin does teeny frames poolside.
Instagram
Jordyn Woods takes her frames on a PJ.
Instagram
Evangelie Smyrniotaki (aka @styleheroine) wears shades that are the size of lemon slices.
Instagram
The Native Fox, whose real name is Jennifer Grace, eschews a top for a small pair of glasses.
Instagram
Model Carlotta Kohl goes for the smallest cat eye glasses possible.
Instagram
Even Selena Gomez goes for the small.
Instagram
Well ahead of the trend, Kaia Gerber wore these small glasses in August 2016.
Instagram
Suki Waterhouse also knows that a good beret goes far.
Instagram
While promoting peer pressure isn't something we usually condone, it seems appropriate when it comes to the glasses you should be wearing this summer. So here goes: All the cool girls are wearing small glasses this year and so should you.
We came to this conclusion after embarking on a bit of research (exclusively via Instagram), where we found that almost every "it" girl has been photographed in shades that are extremely small. We're talking littler than John Lennon's iconic shades, even tinier than those violet frames Jennifer Aniston wore on Friends and somehow more compact than the signature Matrix style glasses.
In 2017, the stars are opting for shades that don't surpass a circumference of three inches. This style preferably includes a wire frame and may or may not have a transparent lens of red or pink. Bonus points are offered for styles with a reflective sheen. But how did these frames, which were once seen everywhere in the '90s, become cool again? Well, for one, these frames go well with mom jeans, crop tops and old school logos of Adidas and Gucci; basically every retro trend that has been resurrected over the past year or so.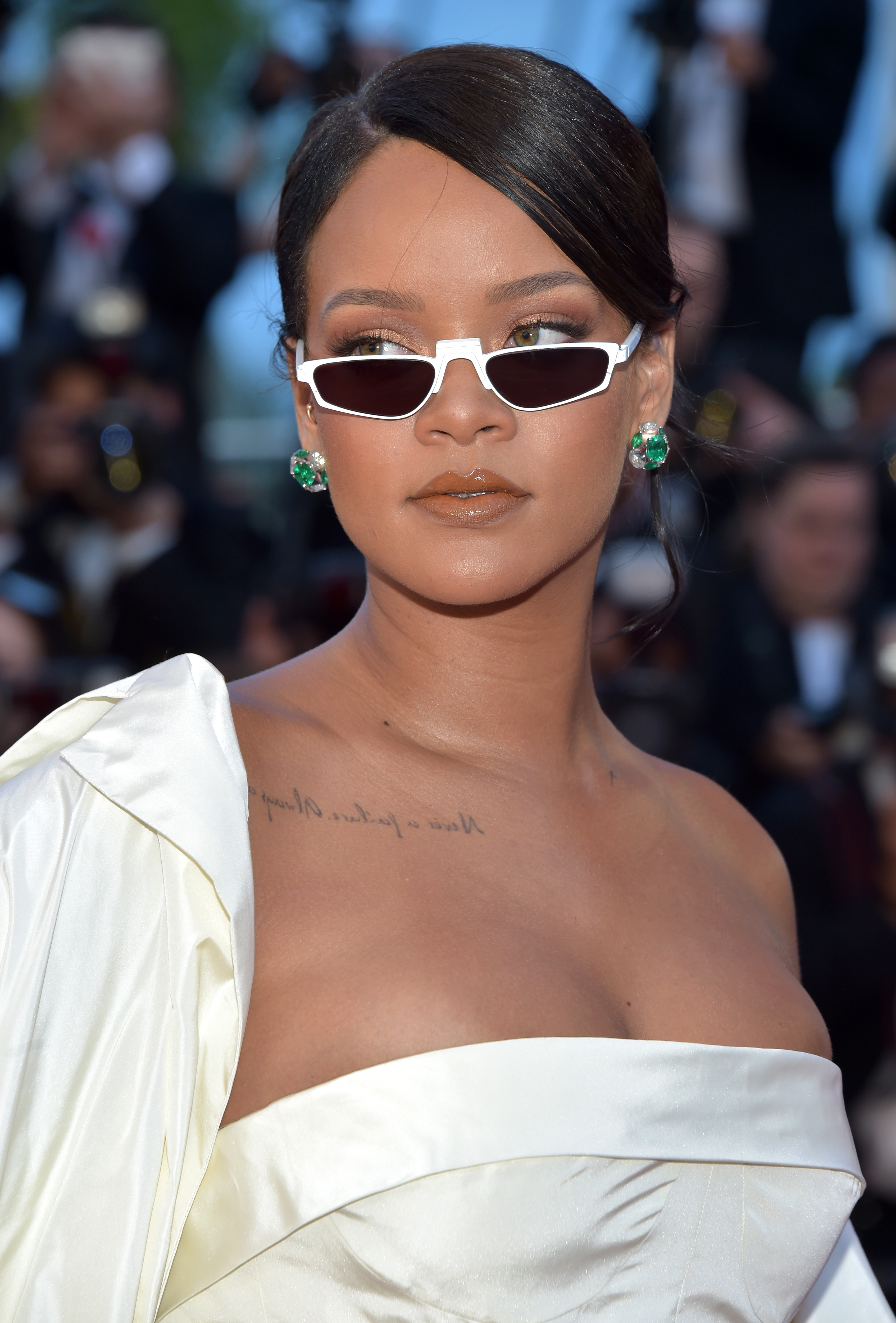 And seeing as purses are getting smaller and smaller every season, at least these glasses can be squeezed into a mini carry-all. Furthermore, as Rihanna proved at the Cannes Film Festival with a pair of Andy Wolf frames, these tiny glasses are perfect to glance over, throwing shade at whomever happens to step into your general vicinity.
Gigi Hadid, on the other hand, showed that you can add some even more shock value to an all-yellow ensemble, by topping it off with two small reflective triangles. The list of other "it" girls, who have been simultaneously shading their eyes from the sun while showing off their cheekbones, is impressive. There's Selena Gomez, Bella Hadid, both Jenner sisters and The Native Fox blogger, Jennifer Grace…and that's just a small sampling of the tiny sunglasses crew.
But these stars are all in on one secret: wearing a pair of these tiny shades automatically makes any outfit look cool. Click through to see all the celebs who are in the know.