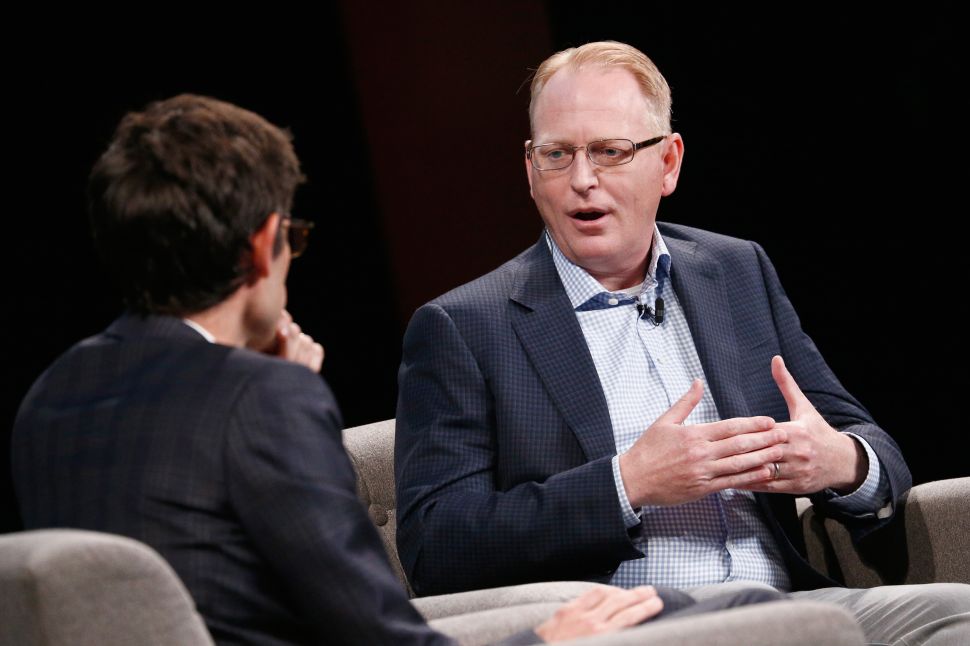 At the WIRED Business Conference in New York Wednesday, Editor-in-Chief Nicholas Thompson did an on stage interview with Amazon's senior vice president overseeing devices, David Limp. Most of the conversation focused on products powered by Amazon's voice recognition software, Alexa, and Limp kept bringing up the talking computers on Star Trek.
"If you think about that north star, that Star Trek computer, there's more problems that need to be solved," Limp said. On the show, the computer was available to answer questions almost anywhere on the ship. All anyone on board had to do was speak to it. 
"Do you guys really think about the Star Trek computer?" Thompson asked.
"All the time," Limp answered, without a moment's hesitation. Its founder, after all, has been ploughing much of his riches into his rocket company, Blue Origin.
Limp spoke to some practical examples for making Alexa available everywhere that humans need help.
"My kitchen is a war zone often," he said. In kitchens, there are people talking, pots clanging and sinks running. For talking computers to really be useful, they needed to be able to distinguish a human voice from the noise. 
"We felt like the product we wanted to ship and needed to ship still needed to work in that environment," Limp said. "It gets back to this term, 'ambient computing.'" 
Ambient computing refers to machines that can work in all kinds of places, with all kinds of people.
Limp described a vision where computing and storage continue to become less and less expensive, allowing computing to happen in more and ore places. As that develops, computing doesn't have to be locked into discreet devices, like a phone or a laptop. Humans can interface with machines in the cloud in new ways, such as with gesture and speech. The goal is to get to that place where, like on television's most famous spaceship, a computer is always available.
Before the Echo, companies were building devices that were meant to get better and better for one person, such as phones and laptops. By being ambient, Alexa has to be generally useful. "It is about trying to make it ambient and making it so anybody can use it," he said.
"What's super interesting about Alexa and Echo to me, compared to other products I've done in my past is how horizontal it is," Limp said during an interview with reporters after his talk.
"Teens love it just as much as the aging population. Female and male," he said. Incidentally, Limp loved Saturday Night Live's Amazon Echo for Seniors skit. "There's some good product ideas in there," he said. 
Amazon has recently opened up Alexa for developers to build into their own products, with its Amazon Lex offering.
We previously reported on how Echo owners could help university teams working on teaching Alexa how to hold an actual human conversation. Short-term and long-term memory are key problems for Limp's team to work on in that area now. In order to really talk with someone, people need to be able to remember what they have already discussed and connect what someone just said to what they said a few minutes before. That's a complicated computational problem.
One factor holding Alexa back from working for everyone: language."It's very hard to do this in other countries because you have to get data and train it," Limp told reporters. He pointed out, for example, that Apple is only releasing its HomePod in English-speaking countries.
Thompson asked how long it would be until Echo owners really could chat with their devices in anything close to the conversational fashion that Captain James T. Kirk talks with his ship.
"It's not decades," Limp said. "It's years."