Two retail giants as well as Amazon have come under fire for selling clothes and accessories that are hostile toward supporters of Israel.
Through their websites, Walmart and Sears recently began selling shirts, phone cases and other items with anti-Semitic messages. Most of the designs read "Free Palestine. End Israeli occupation," and many people—especially the Jewish community—are protesting and calling for boycotts.
Amazon has also come under fire for having over 30 such shirts and clothing items on its site. Unlike the retail companies which had the items on their sites via third party vendors, Amazon is selling some directly through Prime.
The backlash regarding this was quick and widespread. Several Jewish media organizations reported on the issue and reached out to the offending companies. While Amazon has yet to give a public comment or take action, Sears explained the items were from a third-party seller and that they would review them. Amid complaints Tuesday evening, the company announced it will remove all of the "Free Palestine" paraphernalia from its site.
Walmart has not responded publicly, but people who complained to the company have been sharing their correspondence with customer service on social media. This morning, one person received a message from a Walmart representative informing him the items have been removed, and indeed they are no longer on the site.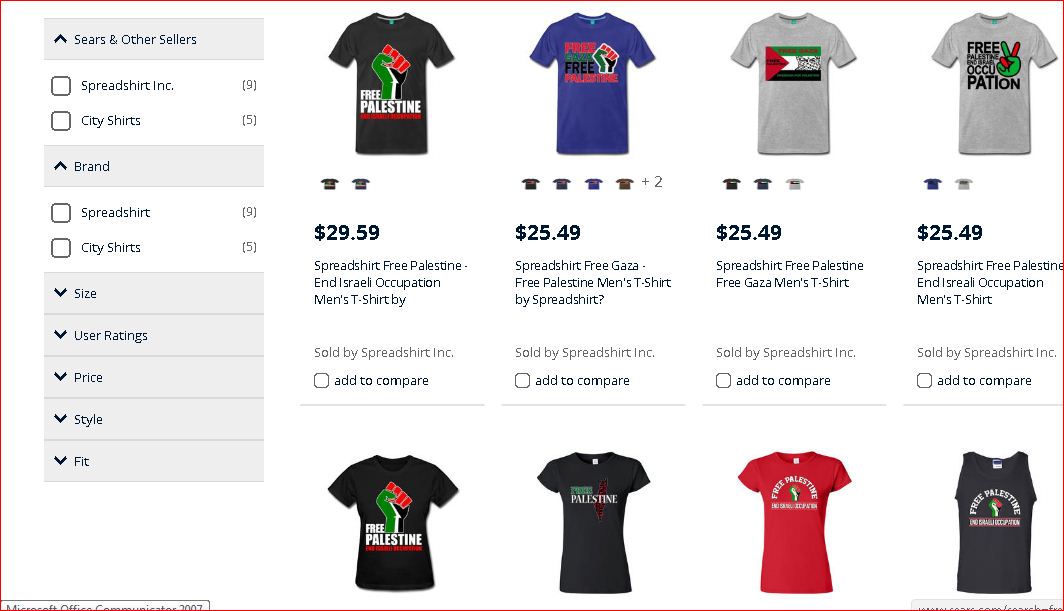 Major conversation about the sale of the items took place on Facebook, where many people went to express their outrage and urge others to boycott. Here are some of their comments:
"There is no justification for Sears to have allowed such politically-charged, factually incorrect T-shirts – whether it was sold through a third party, or not."

"Sears is off my list as retailers. How ridiculous to pull a stunt like this! Shame on you Sears!!!!"

"So disappointed and disgusted to see you peddling and supporting a murderous entity that calls for the destruction of Israel that I just cancelled my Amazon Prime membership. I'll consider patronizing you should you'll correct this atrocity."

"I will be forced to no longer shop at Walmart due to the carrying of your antisemitic merchandise, one of which are your 'Free Palestine' t-shirts, which promulgate the lie that Israel and Jews are oppressing a group of people, which is not the truth. In doing so, you show your hatred of the Jewish people and if Israel."

"Sears has been struggling financially for quite some time. This may be the nail in the coffin for alienating the Jewish/Christian community."

"Amazon also selling this offensive anti-Israel propaganda 'wolf in sheep's clothing' t-shirt. Due to an outpouring of disgust, Sears has promised to remove this item. Let's do the same with Amazon and any other retailer who chooses to close its eyes in the name of commerce."

"Have you seen the latest is summer fashion at Sears?? @Sears you should be ashamed to sell this type of anti-Semitic and anti-Isreal crap. Sure let's just legitimize anti-semitism wrapped up in 'fashion.' How cool is this movement that ultimately just says that Israel does not have the right to exist and the Jewish people don't have a right to their eternal homeland."

"Call To Action! Amazon-REMOVE OR BOYCOTT. Amazon has over 30 anti-Semitic, pro jihadist shirts for sale. Many are being sold DIRECTLY by Amazon."
On Amazon, protest has even hit the reviews. Every single review on one of the shirts is shaming the company for selling it.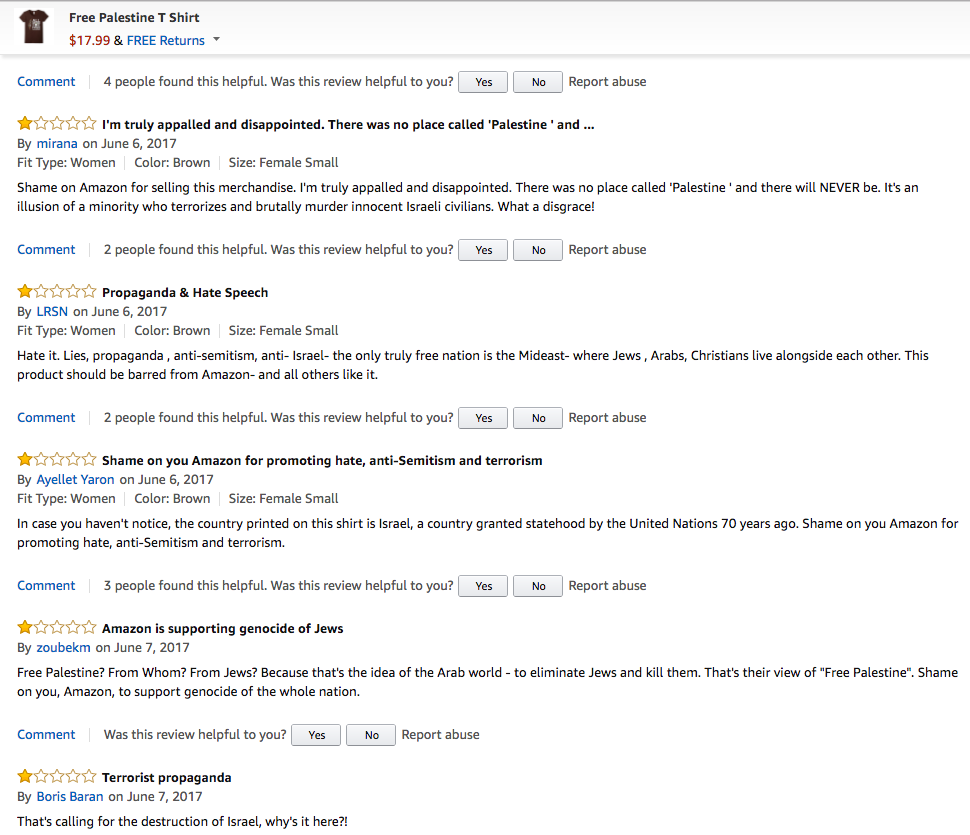 Amid all of the outrage, there are also many pointing out that selling the items is free speech.
"I know I am asking for trouble by saying this, but we are in America, where we still have freedom of speech, even if you don't agree with it," wrote one commenter on Facebook. "Feel free to boycott all you want, but the companies have the right to sell whatever they want."
"As much as we hate it, its free speech sadly," wrote another. "Having said that, the choice you have is to not use these retailers, and that is the best weapon—their bottom line."
The Observer has reached out to Walmart and Amazon for comment and will update if we hear back.