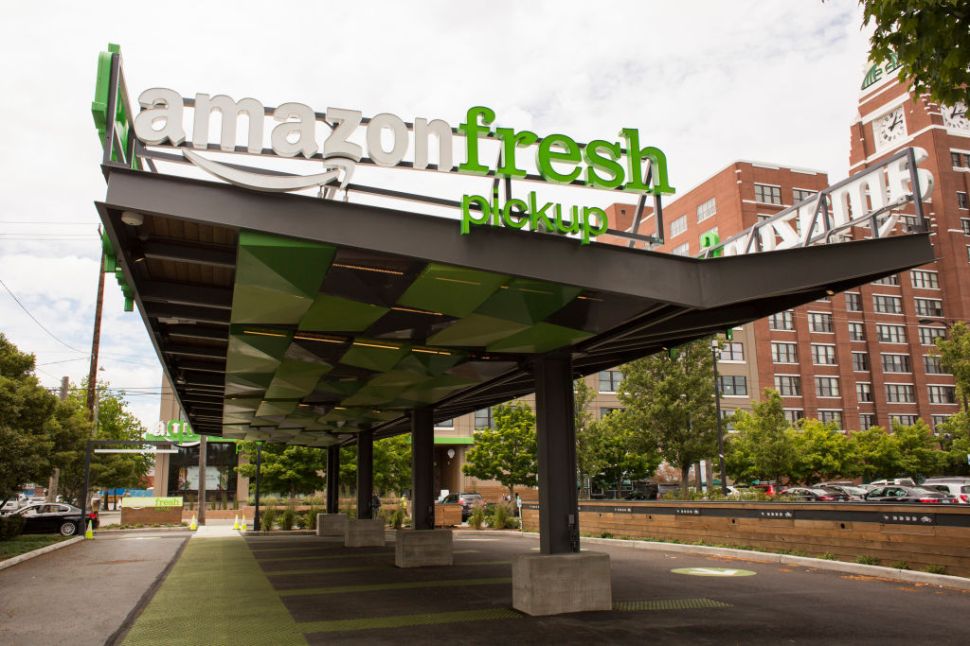 It's hard to distribute food. "It's not like you can just walk in and grab a building" and turn it into a food-ready warehouse, Marc Wulfraat, the president of MWPVL International explained to the Observer in a phone call. Warehouses used for food and food distribution can take a year or so to build or rehab to the specifications safe for storing stuff people will one day eat.
"Amazon (AMZN)'s been trying to get into groceries and it's been a long slow process," Wulfraat explained. His company did an independent analysis of Amazon's existing distribution facilities. Whole Foods has 11 food distribution centers already working around the country, which helps explain the rationale for Amazon to buy the company. Rather than starting from scratch near major metro areas, Amazon has just purchased a nationwide network of warehouses equipped to handle food.
They aren't large warehouses, though. Whole Foods runs lean distribution operation, with considerably smaller warehouses than its competitors use. It accomplishes this in part by relying on United Natural Foods for its fresh produce. Wulfraat said Whole Foods keeps its warehouses just "big enough to have a limited number of high velocity items." Still, by adding nearly a dozen more food distribution centers to its network, Amazon can more quickly expand its Amazon Fresh services.
Amazon Prime in many cases builds facilities inside cities in order to quickly get products out to customers more quickly. "These Prime warehouses, they're sourcing from the green grocer down the street," Wulfraat said. "This way they can become a viable food retailer because they can purchase from the nearest Whole Foods distribution center." This shaves a layer of markup off many sales.
"They are accelerating the pace they are getting to market," Wulfraat said.
Amazon did not reply to a request from the Observer for comment.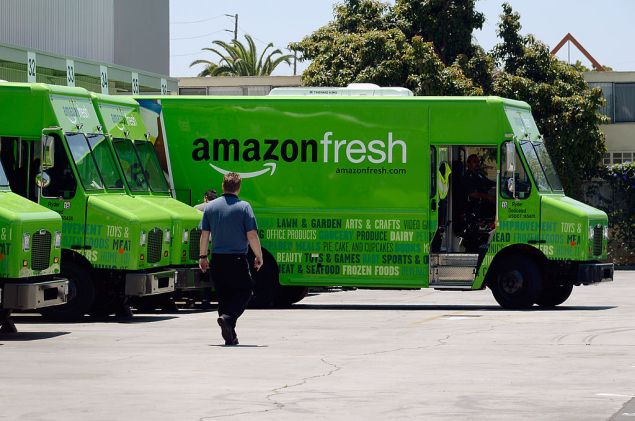 It's unlikely that Amazon will stop there. Tech industry tracking firm CB Insights reported in a blog post last week that Amazon's patent application activity in logistics has dramatically accelerated in the last few years, setting a company record 78 applications in 2016. The patents cover everything from underwater warehousing to drone charging stations on lightposts.
Automation will be key to making the economics of new services work. "Fulfilling orders out of a store is something everyone is delivering on," Wulfraat said. However, the numbers are overly optimistic. Grocery works in part right now by customers doing part of the labor for free. If stores have to pay someone to go around and pluck a customer's orders off the shelves, that could eradicate the store's already thin margins. A typical $100 order only represents about $2 in profit. If the typical grocery store worker makes about $10 per hour, then assembling someone's order needs to take less than 12 minutes.
That is, of course, exactly what Instacart (CART) does. It sends staff into stores to buy customers groceries on their behalf. "From the beginning, we've been committed to helping grocers compete online. That's more important than ever given Amazon just declared war on every supermarket and corner store in America. We already work with over 160 retailers across the country and look forward to partnering with many more," the company wrote in an emailed statement, via a spokesperson.
Instacart has recently added the popular Florida chain, Publix, and stores owned by Ahold-Delhaize, which also owns Peapod—the company that initiated the computer-ordered grocery delivery sector. Whole Foods represents less than 10 percent of Instacart's revenue.
In May, Amazon was granted a patent for "Systems and methods to facilitate human/robot interaction," which looks like a way to let lots of robot pickers scramble around a space grabbing stuff, while also working alongside unpredictable humans. The MIT Technology Review called Amazon Warehouses a "carefully coordinated harmony" of humans and machines.
Automation is exactly what alarmed unions about the proposed merger, as we reported last week, but if Jeff Bezos' team can translate the symbiosis of bots and bodies to grocery stores, that $2 margin might be more than enough to make store pickup and delivery pay.