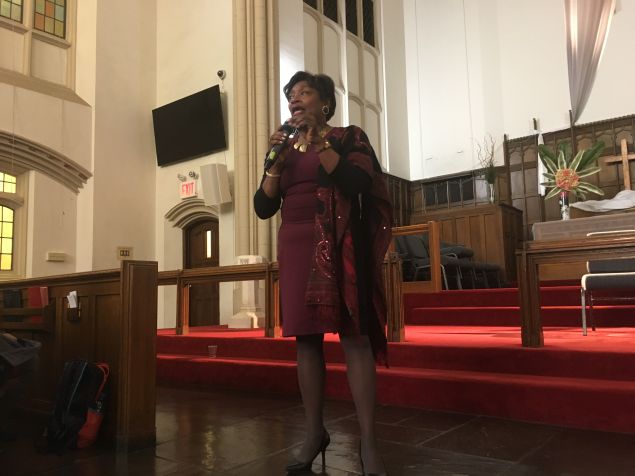 State Senate Democratic Minority Leader Andrea Stewart-Cousins called on the eight-member Independent Democratic Conference to stop using State Senator Simcha Felder, a conservative Brooklyn Democrat who caucuses with Republicans, as an excuse to continue their own five-year-old power-sharing deal with the GOP.
Felder, who runs on both the GOP and Democratic lines, has sat with the Republicans since his 2012 election—and will have singlehandedly provided the margin of the Republicans' majority in the 63-seat chamber for this year. The IDC, a completely separate caucus that has cooperated with the GOP since 2012, has frequently noted that even if they rejoined Stewart-Cousins' larger Democratic conference, Felder's deal with the GOP would still prevent Democrats from controlling the State Senate.
Speaking at an event in Manhattan last night, in response to a question from a constituent of IDC Brooklyn State Senator Jesse Hamilton, Stewart-Cousins called such a claim a diversion.
"It goes back to distractions," she said during a community meeting hosted by United Thru Action in Greenwich Village. "Keep your eye on the ball. Like you said, this is your senator and you expect him to represent you on the party line that he actually decided to take to run. You didn't expect him to go in there and vote with Republicans. I'm sure you're capable of voting for a Republican if that's what you wanted to do."
Felder recently penned a letter to Bronx State Senator Jeffrey Klein, who heads the IDC, asking him to return to the Democratic fold and requested that the IDC challenge him to do so as well. But Felder has not committed to returning if the IDC does so, telling Politico that "the only thing I'm loyal to is being able to serve my constituents best" but saying that he was frustrated over Klein putting all the blame on him.
"Simcha Felder has made it very clear—and he made it clear before—Simcha Felder is ready to conference with us," Stewart-Cousins asserted last night. "He didn't promise but he didn't say no. I'm still waiting for the IDC, frankly, to say that they will conference with us, not if at a certain number, blah, blah, blah. No. You're Democrats, come be Democrats."
She seemed to suggest that she does not buy the IDC argument that they had to leave because of failed leadership, or in order to best serve the state and their districts. She noted that that Senate Minority Leader Charles Schumer and Sen. Kirsten Gillibrand did not forge a pact with Majority Leader Mitch McConnell when elections left Democrats outnumbered in the U.S. Senate.
"I would love to operate every day of my life in optimal circumstances, I really would," she said. "I'm sure that my counterparts in U.S. government would love to be in the majority as well. We all do…everyday is not gonna be, 'I'm on top in my career or the group that I'm in,' but I don't think it's okay to abandon this group of people."
The IDC has long defended the deal with the GOP by asserting it has permitted the passage of an array of liberal measures, including gun control, an undocumented immigrant legal defense fund, paid family leave and two minimum wage hikes. But several members have met controversy lately for receiving special salary stipends for committees they do not chair, even though those bonuses—often called "lulus"—are traditionally reserved for leadership roles.
The IDC has maintained that members have abided by the law. In a statement to the Observer, the splinter faction reiterated its demand that Stewart-Cousins "call the role" of her own caucus on an array of liberal issues, including abortion rights, single-payer healthcare and the extension of state tuition assistance to undocumented immigrants. The 23-member mainline Democratic conference does include several centrist and conservative members.
"Every member of the Independent Democratic Conference has laid out their commitment to advancing a progressive agenda and standing up for women, immigrants, and the most vulnerable New Yorkers," said spokeswoman Candice Giove. "Thirty-two isn't a magic number as long as members of the minority Democratic conference refuse to say where they stand on critical issues like a woman's right to choose."
Minnesota Congressman Keith Ellison, deputy chairman for the Democratic National Committee, along with New York's two vice chairs—Bronx Assemblyman Michael Blake and Queens Congresswoman Grace Meng—called on Felder and the eight members of the IDC to abandon their alliance with the Republicans.
Stewart-Cousins excused Mayor Bill de Blasio's recent appearance with Klein, saying that de Blasio has always been supportive of Senate Democrats and that she believes he's just "trying to do what he has to do." She also said that she believes Gov. Andrew Cuomo could be "influential" in decisions Democrats make in terms of who they coalesce with as well as coalescing with their own party. 
The mayor has worked with the IDC on various issues, but said that he believes the IDC must return to the Democratic fold. The governor, for his part, told the Observer that his party "wasn't extraordinarily successful" when it wholly controlled Albany last decade.
But he conceded this week that full Democratic domination of the State Senate would be an "optimal" arrangement.
Stewart-Cousins said that Trump's election has forced people to "wake up" and be forced "out of our semi-conscious state." She said that people who thought they understood "everything about everything" or felt that everything would "work alright anyway" even if they did not understand were forced to say, "Wait a minute, this isn't what I signed up for."
"In this powerful moment, people like you started looking around, not waiting for the next four years to say, 'Oh well, we blew this somehow so let me wake up again in 2020'—no," she said. "You looked around and you said, 'What can be done where I am?'"