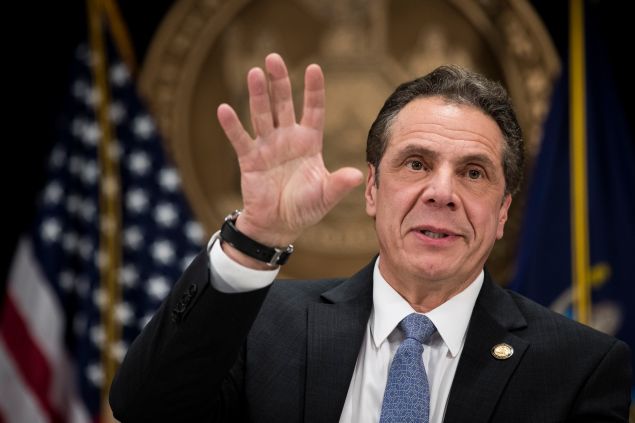 A day after the State Legislature adjourned for the year without renewing Mayor Bill de Blasio's authority over the New York City school system, Gov. Andrew Cuomo accused the Assembly and State Senate of "dereliction of duty"—and indicated he would call them back to Albany over the summer to resolve the issue and others.
State Senate Majority Leader John Flanagan sought to link the continuation of mayoral control to lifting the cap on the number of privately-run, publicly-funded charter schools in the five boroughs, even though the current ceiling was not scheduled for reconsideration until 2019. Democratic Assembly Speaker Carl Heastie—with support from de Blasio and the teachers unions—aimed to connect the renewal of the program to the extension of local taxation authority for upstate municipalities largely controlled by Republicans.
The receivership will expire at the end of this month unless Albany lawmakers reconvene to extend it.
"I think if they go home and they're not assaulted by the residents of their district and chased back to Albany, then yes, I would call a special session," the governor said at a media availability in the state capital this afternoon. "They have to have an agreement. But I think the reality is going to set in relatively quickly."
If the State Legislature does not come together in a special session and pass an extension of mayoral control, the city will revert to its previous model: where schools were by the Board of Education, over which no one elected official exercised control, and by their community school boards. De Blasio has spent much of the past week recalling the unevenness, inefficiency and malfeasance that characterized he old system.
Such a retrogression occurred in 2009, when then-Democratic State Senate held up the renewal of the receivership former Mayor Michael Bloomberg first obtained in 2002. But the state ultimately restored mayoral control in a special session.
The second receivership expired in 2014, and de Blasio—who has a fractious relationship with both Cuomo and the State Senate—has been unable to obtain a renewal for longer than a single year at a time.
Cuomo blasted the two chambers for attaching conditions to passage of mayoral control, particularly targeting the Assembly.
"The legislature does not like to say linkage, but the Assembly passed the bill that had mayoral control and 576 tax extenders attached to it," he said. "So we belabor the point of linkage. Everything should be decided on its own. Everything is a separate issue. It's not really true in practice and the nature of this beast called the legislative process has always been a negotiating, a bargaining session."
He also asserted that failure to maintain mayoral control constituted implicit support for restoring the old system.
"They voted for the Board of Education, that's what they did. They voted for the Board of Education," he said. "It's a dereliction of duty."
When asked why the State Legislature was able to pass an extension of mayoral control last year but failed to this year, Cuomo said "there was a different agreement that people wanted." He said that when they go home to New York City, the issue "won't be mentioned to them at the grocery store" but that he anticipates that they'll "hear about it from editorial boards and that they'll start to get the word."
Michael Whyland, spokesman for Heastie, did not agree with Cuomo's characterization but said they are focused on moving forward.
"The governor is entitled to his own opinion," Whyland said in an emailed statement. "It's an unfair characterization of this process but we share in his frustration. We're moving on and trying to get this resolved."
A Senate GOP spokesman lashed out at Heastie and his conference when asked for comment.
"The Senate approved three separate bills to extend mayoral control and ensure each of the City's 1.1 million schoolchilden has the same opportunity to secure a first-class education," said Scott Reif. "Unlike the Assembly, every one of our bills has been wholly related to education and we haven't linked it to anything else."
The Assembly has defended its tying of mayoral control to taxation authority by arguing both pertain to matters of "home rule," and that both are necessary to the healthy functioning of local government.
The governor maintained that the state had a successful 2017 session overall, and that nobody got all the measures passed they wanted.
He noted that the State Legislature did not pass his last-minute bill that would grant him power to appoint two additional members to the Metropolitan Transportation Authority, nor did he force the city to match the state's $8 billion commitment to the transit system.
But he expressed hope that they will be able to resolve the issues.
"Those issues, we'll continue working on or we'll do them next year," Cuomo said.
De Blasio, for his part, said everyone in the city "should be deeply concerned" by the lack of renewal and that mayoral control supports such as business leaders, labor leaders and parents need to urge Albany to "get back there and finish this work." He said that he spoke with all four key leaders in Albany throughout yesterday numerous times, his last conversation with Flanagan. He said that despite not renewing the program, a lot of work went on that "opens the door to resolution."
But he refused blame any one of the leaders.
"If god forbid mayoral control lapses then there will be more than enough to talk about who is responsible," he said during his weekly "Ask the Mayor" segment on WNYC. "But they've got a chance right now to avoid something that would be absolutely destructive for our school system and 1.1 million kids. They've just got to come back and get it done."