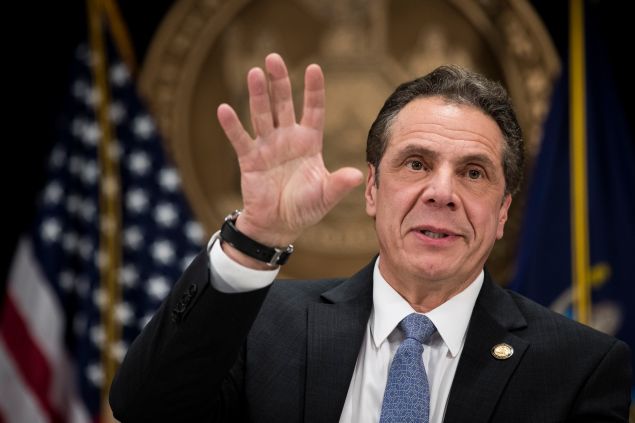 Gov. Andrew Cuomo announced today that New York state will not provide voter data to President Trump's Advisory Commission on Election Integrity. New York, Cuomo said, will not "perpetuate the myth" that voter fraud played a role in last year's presidential election.
On Wednesday, Kansas Secretary of State Kris Kobach, vice chairman of Trump's commission, sent a letter to the 50 states and the District of Columbia asking for public data from state voter rolls and suggestions on how to bring about election integrity.
The commission is set to hold its first meeting July 19 in Washington, D.C. And in the meantime, it is requesting voters' names, dates of birth, the last four digits of their Social Security numbers and voter history.
"New York refuses to perpetuate the myth voter fraud played a role in our election," Cuomo said in a statement Friday afternoon. "We will not be complying with this request and I encourage the Election Commission to work on issues of vital importance to voters, including ballot access, rather than focus on debunked theories of voter fraud."
He said that New York has protections in place to secure voters' private information.
"The electoral process is sacred and New York law has strong safeguards in place to prevent sharing of sensitive voter data and harassment against those who exercise their right to vote," he said.
California, Kentucky and Virginia also have announced that they will not comply with the commission's request.
In May, Trump signed an executive order establishing the commission to look into unproven claims that "millions of people voted illegally" in the 2016 presidential election. Vice President Mike Pence serves as the chairman of the commission.
Trump had blasted Democratic presidential nominee Hillary Clinton and Green Party presidential candidate Jill Stein for participating in election audits and claimed — without proof — that he lost the popular vote to Clinton because "millions of people" cast ballots illegally.
The executive order called on the commission to submit a report to Trump identifying laws, rules, policies, activities, strategies and practices that will reinforce people's confidence in the integrity of voting processes in federal elections. The commission is also tasked with identifying flaws in voting systems and practices that could lead to "improper voter registrations and improper voting, including fraudulent voter registrations and fraudulent voting."
Kobach is a supporter of voter identification laws, which Democrats have lambasted as a voter suppression effort in disguise, targeting low-income communities and communities of color, which tend to vote Democratic. In February, Kobach supported Trump's unsubstantiated claims of voter fraud during the election. The American Civil Liberties Union has sued Kobach four times claiming voter suppression and won each case.
New York Attorney General Eric Schneiderman, who has called for electoral reforms, praised Cuomo's move.