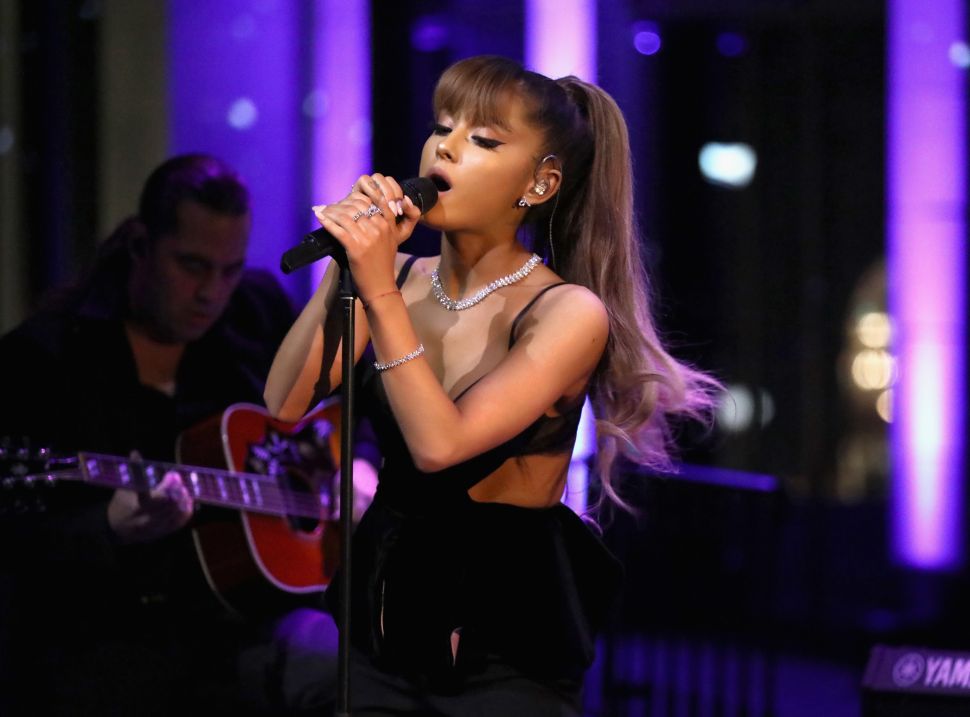 My eyes couldn't believe some of the things I read on my Facebook feed last week after a Manchester Ariana Grande concert turned into a disaster. A terrorist, Salman Abedi, detonated an improvised explosive device and killed 22 people, many of which were children. Though certainly not the time to make jokes, some people said that sitting through an Ariana Grande concert would kill them as well.
After one particular man caught backlash for similar sentiments, the offending posts disappeared. One day later, I overheard a conversation at Starbucks where some young 20-something guys called Grande's music "musical terrorism."
The kind of comments Grande inspires are pretty much a given for any female pop star these days. A small sample of the insensitive comments on Twitter:
While it's true that a lot of people felt bad for Ariana and the victims, the trolls wanted to make it seem as if she was the terrorist. I suppose it leads to more social media clicks. However, Grande responded honorably to pay tribute to the victims.
"My heart, prayers and deepest condolences are with the victims of the Manchester Attack and their loved ones. There is nothing I or anyone can do to take away the pain you are feeling or to make this better," the sultry singer said, adding that she wanted to extend her hand, heart, and everything she could possibly give to her fans.
The letter that Grande posted on Instagram went a lot deeper, and one could tell it came from her heart rather than a PR exec's mouth. Predictably, some criticized the letter, but it touched a lot of people. Grande was smart not to answer the trolls since the victims of the attack are more important. Besides, Grande is used to everything she does being criticized.
The reason why the criticism towards Grande is more jarring than it is for other female pop stars is because Grande barely asks for the criticism, personally or figuratively. The bile aimed at her idol Madonna is filled with even more hatred and misogyny, but the Queen of Pop's actions sometimes seem to invite it. Then, there's fellow pop star Katy Perry, who tries to be something she's not. (A different person each week.) There's also Lady Gaga, who tries to be the savior of every single social justice cause and ends up, at times, coming across as a hypocrite. Grande only tries to be herself, and she inspires her fans to be themselves as well.
It was quite disgusting a couple years back that a so-called feminist website like Jezebel joyfully mocked Grande for acting like "a baby." Then, to further their woman-on-woman hate and produce more page clicks, they mocked her again in early 2016. Of course, who could forget Donut-Gate, the one time Grande actually did act like a baby, or at least a very goofy young woman. Not knowing she was on camera at a donut shop, Grande joked about "hating America" because of their obsession with sweets and appeared to even take a fast lick at one of them. She was being self-depreciating, not anti-American as some claimed. In any case, Grande issued a passionate apology, and instead of acting like the victim of (mostly) faux outrage, she explained what she had learned from the event and how she would behave in the future. Eventually, people forgot about the event and donuts lived happily ever after as America's most iconic junk food.
Like she did with Donut-Gate, Ariana Grande has often turned the criticism against her into empowerment. For example, she passionately spoke out after she was body-shamed in 2015:
"We live in a day and age where people make it IMPOSSIBLE for women, men, or anyone to embrace themselves exactly how they are. Diversity is sexy! Loving yourself is sexy!
Who could ever forget the time Grande put a male interviewer in his place after he asked her to hypothetically choose between her smartphone or makeup one last time. Then, there was the manifesto Grande posted about the sexual double standards women face.
The difference between Grande and other "activist" artists is that Grande doesn't cast herself as a victim; she knows she controls her own destiny. And even if she is the victim (as well as her fans in regards to Manchester), she won't be held down. Grande showed this recently when she decided to return to Manchester only a few weeks after the horrific terrorist event with a show benefitting the victims of the attack.
Ariana could easily send a check to all the victims' families, but she knows the terrorists win when they prevent her and other artists from performing. The benefit show will take place Sunday and will include Justin Bieber, the Black Eyed Peas, Coldplay, Miley Cyrus, Niall Horan, Little Mix, Katy Perry, Take That, Usher, Robbie Williams and Pharrell Williams. Though she is certain to keep the spotlight on her fans, the concert will inevitably show why Ariana Grande is the classiest act in pop music today.