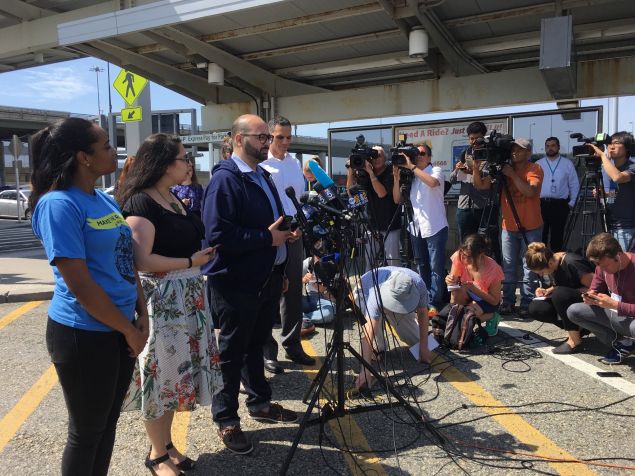 Immigrant and Muslim advocates who were among thousands protesting President Trump's travel ban at John F. Kennedy International Airport in January returned to the same spot this morning, hours before the ban is set to take effect.
After several courts blocked the travel ban from taking effect, the U.S. Supreme Court agreed this week to hear the case in October and ruled on a provisional basis that the ban on travelers from six majority-Muslim countries could be enforced on "foreign nationals who lack any bona fide relationship with a person or entity in the United States." The partial travel ban is scheduled to take effect at 8 p.m.
Citing national security concerns, Trump in March signed a revised executive order barring travelers from Iran, Libya, Somalia, Sudan, Syria and Yemen, instituting a 90-day moratorium on new visa applications from five of those countries, and a 120-day ban on those coming from Syria.
Speaking in the outdoor area of the airport's Blue Lot — where they held a Jummah prayer and interfaith action in the wake of the ban — Murad Awawdeh, the New York Immigration Coalition's director of political engagement, said that the "bona fide relationship" designation has only served to create more "uncertainty" for people "who are the most vulnerable across the world."
The New York Immigration Coalition and Make the Road New York hosted the press conference.
"Right now the world is watching us," Awawdeh said. "The world is watching the United States of America and what they are saying is we thought that that was a country for opportunity and justice for all, but it does not seem that way."
They will be rallying at the north side of Union Square at 5:30 p.m. and will hold an emergency town hall on the ban at the 32BJ SEIU headquarters at 10 p.m.
He encouraged any affected individuals to seek legal representation to ensure that they are not subjected to additional screenings or detention. He also encouraged those "who are watching abroad" or are stateside who may be traveling to or coming to JFK to call or email them for assistance.
"We're gonna be at JFK," Awawdeh said. "We're gonna be monitoring the situation."
Advocates held an emergency press conference in the wake of the Supreme Court decision indicating that they were "prepared to mobilize" against the ban and offer support at JFK.
Camille Mackler, director of legal initiatives for the New York Immigration Coalition, stressed that the Supreme Court "was very clear" that the ban should not be applied to anyone who already has a relationship with the United States because it would "in some way harm or impede on the rights of a person or entity in the United States."
"Now what the Department of State did by issuing this guidance flies in the face of what the Supreme Court said," Mackler said. "Yes, the Supreme Court terminology was vague. No, there is no such immigration legal process as a bona fide relationship. We don't know what that means."
Rama Issa, executive director of the Arab American Association of New York, who is engaged to a Colombian man, said that her father, her aunts, her uncles, her cousin who is a refugee in Austria and another cousin who lives in Lebanon — and escaped war in Syria — will not be able to attend the wedding because of the ban.
She said that the Trump administration is "redefining what a family is," and said that she was raised by her grandparents so the idea of grandparents not being considered part of a family "is very foreign to me."
"It really leaves me at loss for words to try to even come to terms with the idea that a government can tell me who the members of my family should be and thankfully, my grandparents live in the United States but I can't even imagine what it would be if they were stuck in Syria right now, just like my father is," Issa said.
Mark Wasef, senior attorney with the Urban Justice Center's International Refugee Assistance Project, spoke about the airport rapid response that his group has been putting together over the last week. He said that since January 28, there has been an influx of volunteer attorneys that have been in contact.
"We've been organizing with them, we've been reaching out to coalitions, we've been reaching out to the attorney volunteer groups asking them to go back to the airports again, showing solidarity," Wasef said.