Sharing its name with the legendary baseball slugger of yore, Fort Lauderdale's Yankee Clipper has seen a few things in its time. Built in 1956 as one of the few beachfront hotels in the city, it welcomed a luminous Marilyn Monroe, who enjoyed some R&R and the company of a Yankees' special instructor: the great Joe DiMaggio. In its mid-century heyday, the hotel served as a home base for many Yankees greats, who trained—and partied—in the city.
But today, the historic resort has a new lease on life. The newly christened B Ocean Resort recently unveiled a multi-million dollar renovation and expansion that resurrects its glamorous past with a sleek, modern aesthetic suited for today's Marilyn and Joe.
The unique ocean-liner architecture originally conceived by Robert "Bob" Gill Jr., a Fort Lauderdale hotel pioneer, is still intact—pulling up to the property, it's hard to discern if you're about to board a cruise ship or stay at a resort. But once inside, one thing's clear: Toto, we're not in the Clipper anymore. The lobby is strikingly different from its former incarnation, with a 50-foot skylight brightening the sleek white space. Marine-themed décor and an expansive water feature greets guests as a sparkling glass staircase winds its way to the conference rooms above.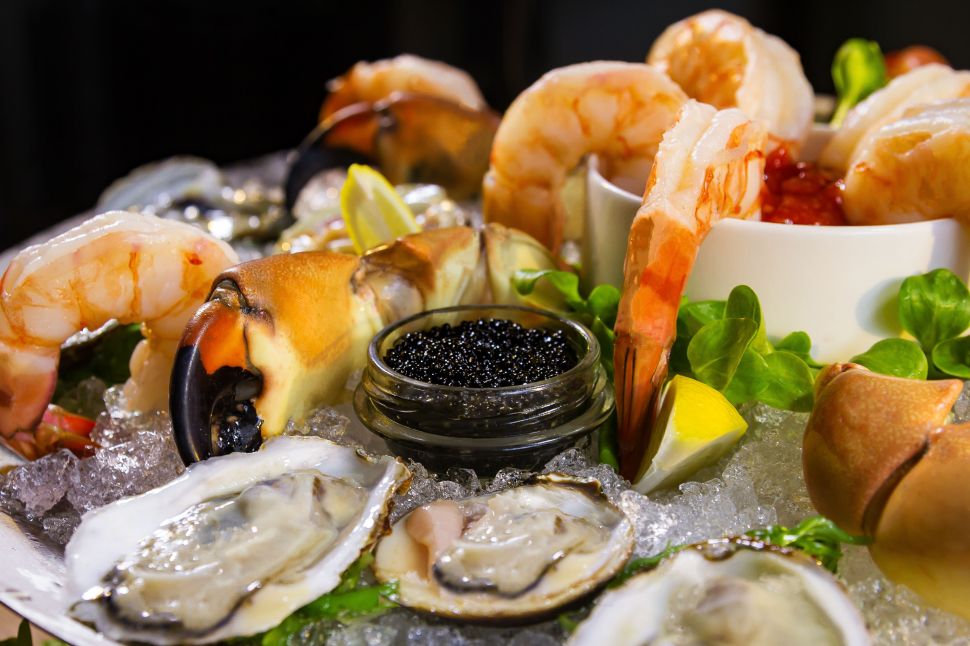 They've also tripled the number of guestrooms, expanding the original 150 space to a lofty 484 rooms—each spanning between 300 to 1,700 square feet. Private balconies? Naturally. Not to mention a coastal-chic vibe boasting soothing hues of blue and grey, dark woods, and subtle prints reminiscent of the local endangered sea turtles that nest on the resort's sands. For those who adhere to the YOLO school of thought when it comes to making life decisions, the resort has also introduced a two-story penthouse with a private elevator, kitchenette, separate sitting area, and a king-size bed that looks out to the ocean and bustling Fort Lauderdale Beach.
As for dining, you're in good hands—celeb chef Ralph Pagano from Hell's Kitchen and Iron Chef is leading the charge with several F&B outlets. The Salty Siren caters to the bikini-clad denizens lounging by the resort's two infinity-edge pools. Bright and fresh fish tacos, hearty sweet potato fries, and a juicy trio of sliders accompany frosty margarita glasses until sundown. Old Hollywood glamour is on full display at the hotel's signature restaurant, the Naked Crab, Chef Pagano's ode to all things surf… and a bit of turf. "Naked Crab is a stripped down, dressed up crab and seafood house, cooking up classic signatures with the freshest, most delicate and impeccably sourced fish and sushi, where fundamentally raw is hot," explains Chef Pagano. "B Ocean Resort is located at the tip of Fort Lauderdale Beach and is of the most iconic property's with so much history. Serving up all things fish, crab and fun, just seemed like the ideal choice." Caviar bumps, a 32-ounce porterhouse, and grilled line-caught whole fish served fra diavolo are pre-cursors to a throwback dessert: bananas foster. Prepared tableside, rum-soaked bananas are lit on fire as candied pecans and toasted coconut wait to top this warm and sweet concoction.
After dinner, the infamously retro and kitschy Wreck Bar awaits. A historic destination since the '50s, the bar was originally designed to resemble an underwater shipwreck, highlighted by its expansive aquariums and porthole-shaped views looking into the hotel's main pool. Order up a frosty mug of one of the tiki classics here (like the Mai Tai or Singapore Sling) and sidle up to the bar for the live mermaid show on Fridays and Saturdays. With plenty of flips, winks, smiles, kisses (and the occasional sip from a tiki glass), it's a performance that'll stick with you long after you've checked out. Late at night, the mermaids ramp up the action with some Aqua Burlesque—Marilyn and Joe would've approved.