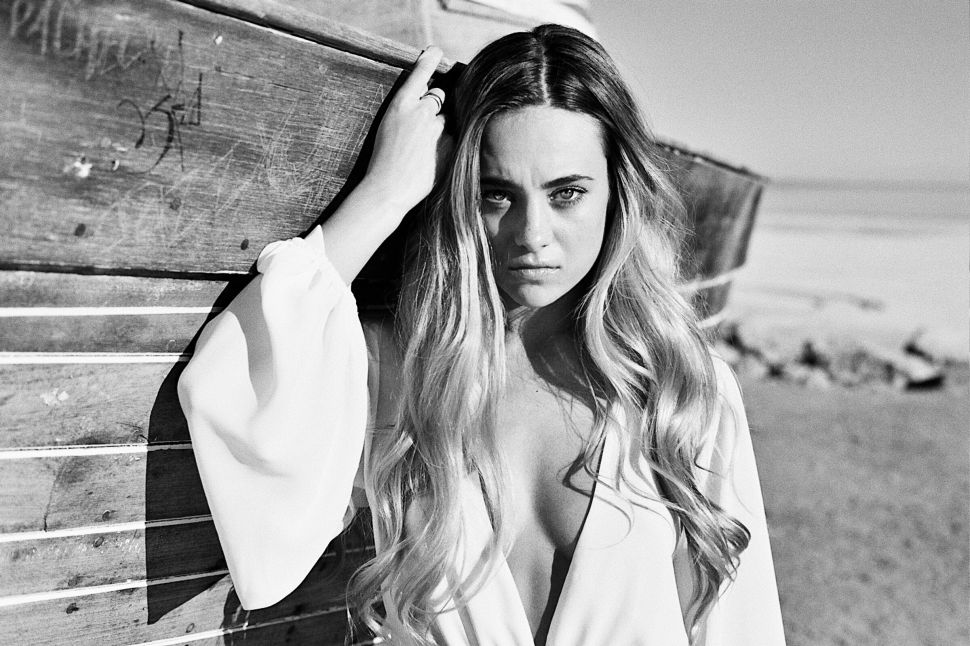 It sounds like every woman's dream come true: magnificent hair with body, volume, and that perfectly imperfect look the French do so well. If you think messy buns are chic, you've probably fallen hard for the beachy wave perm.
Millions of women have been relying on various seat salt sprays and curling wands to give their hair that sexy texture for years. But looking that gorgeously carefree is a lot of work.
So when minor celebrity Julianne Hough appeared on Instagram last year with a freshly done permanent wave, beauty influencers and their audiences sat up straight. Could it really be so easy to get that effortlessly beautiful look we all wish we had naturally?
While it might be easy to get—at least for a while—all is not as it seems. Because while Hough's minutes-old perm has sold thousands of women on taking the plunge, we have some bad news: The temporarily tousled trend is too good to be true.
Celebrity stylist Paul Labrecque, who owns several luxury salons in New York and other cities, says he steers his clients away from these buzzworthy new perms. Why? Simply put, perms kill hair.
For those of us who accepted long ago the fact that we'd be hurting our tresses with regular color treatments, it seems a bit crazy to start worrying about breakage and dryness at this point. But Labrecque points out a major difference that makes perms so much worse for your hair.
"With color, we can see the clear line of new growth," he says. "We can not only see it, but we can totally separate it from the rest of the hair and only treat that new growth with fresh color. When a perm treatment is applied, it is virtually impossible to separate old hair growth from the new hair growth in this process. These chemicals should not consistently be applied to the same area. "
How can that be? "Because the hair is placed in a perm roller that saturates the entire length of each strand. As a result, your first perm is always the best. Each subsequent one is less great, with more exposure to damaging chemicals," Labrecque says.
Perms hit peak popularity in the 1980s. Since then, hasn't the world that came up with iPhones managed to produce a gentler perm solution? Labrecque says things are better, but there's no way to give straight hair a permanent curl without doing harm. "No matter what, if someone keeps going in for a perm, damage will be done," he says.
What's worse is that those glossy photos purportedly showing nothing but a beachy wave perm are highly misleading, if not downright fraudulent. "In almost every picture I'm ever shown of waves, I'm certain the hair styling was done with irons," Labrecque confirms. As for Hough, her hair has been perm-free for months.
There is an alternative to getting beachy waves without the perm: Go to the beach. Or, if you don't have that luxury, get really good at doing it yourself, with superb products and hot tools.
The Best Products & Tools for Beachy Waves
Paul Labrecque Repair Style Hydrating Hair Lotion ($24) Protect hair from all that heat and styling, so you don't have more damage to despair over later.
Sachajuan Volume Powder ($35) One of the most wonderfully fragrant hair products of all time, this spray gives hair body and texture without giving you white, sticky roots.
Drybar Mai Tai Spritzer Sea Salt Spray ($25) Get that salty grit without the heaviness or frizz.
Paul Labrecque Straight Finish Humidity Control Hair Mist  ($22) Control flyaways and give UV protection to hair with this finishing spray.
GHD Platinum White Styling Gift Set, Limited Edition ($230) Paul Labrecque and his team swear by this iron, which delivers an even, constant heat to minimize damage and increase shine. Apply heat protectant and sea salt spray, make haphazard braids, and go over them with this flat iron. (Pull the braids to make them wider if you want a looser wave.) Allow to cool completely, then use fingers to separate into a beach-worthy bombshell look.