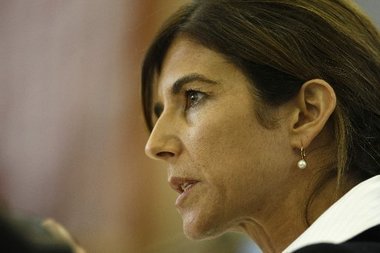 With a state budget deadline looming, a key Republican lawmaker on Thursday called for $175 million in new revenue for cash-starved school districts next year, but said none of that money should come at the expense of so-called overfunded districts.
State Sen. Jennifer Beck (R-Monmouth) floated the alternative school funding proposal at a State House news conference with school district superintendents, municipal officials, union representatives and other Republican lawmakers.
Last week, Senate President Steve Sweeney and Assembly Speaker Vincent Prieto announced an agreement on school funding that would provide $100 million in additional school aid than what Gov. Chris Christie has proposed and an extra $25 million for preschool education. The agreement also would redistribute $46 million in so-called adjustment aid, redirecting some money from districts considered to be overfunded under the School Funding Reform Act of 2008 and giving it to underfunded districts.
Beck said she welcomed the $125 million in new revenue, but said the adjustment aid redistribution was unfair. She said applying cuts to school districts at this time would lead to layoffs and property tax hikes since many districts have already adopted budgets and issued tax levies for next fiscal year.
Some districts Beck represents such as Red Bank and Freehold Borough would see aid increases under the Sweeney-Prieto plan to help them cope with explosive enrollment growth in recent years. But overall her legislative district would lose funding if the Democrats get their way.
"So my suggestion is do no cuts. Do $175 million in new revenue to these districts that are starved and underfunded and have high enrollment. Just do it all with new revenue," she said.
She noted Democrats want to add $300 million to Christie's $35 billion proposed budget. Rather than take $46 million from so-called overfunded schools, she suggested taking it from the $300 million in new revenue Democrats have identified
"The state of New Jersey has the capacity to deliver all $175 million in new revenue in this budget," she said.
School funding is at the center of budget negotiations between Christie and Democratic leadership. Sweeney (D-Gloucester) has said he won't pass a budget without an agreement on school funding, and the state must adopt a budget by July 1. Further complicating the talks, Christie has asked lawmakers to pass his plans to raid Horizon Blue Cross Blue Shield's reserves and commit the New Jersey Lottery to the public pension system in exchange for a deal on school funding.
Beck, who has said the Democrats' proposal unfairly benefits schools in Democratic districts at the expense of Republican towns, isn't alone in her opposition. A mix of liberal groups, unions and Republican lawmakers also voiced skepticism of the plan.