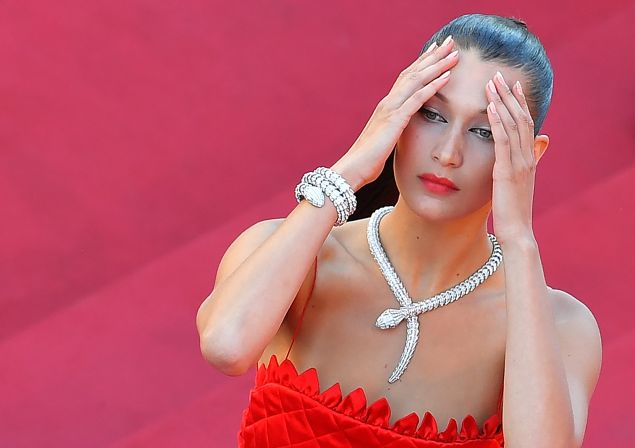 All the celebrity design and real estate news you missed this week.
Apartment hunting: Bella Hadid is ready to find a new apartment in New York following a serious invasion of privacy. While the model is used to being photographed on the street or in public, this week paparazzi took photos of Hadid while she was hanging out inside her apartment on her terrace. She tweeted that "whoever thinks it's OK to photograph into someone's home and private space is straight-up sick, sad, and f-cked up," and that it's "time to move." via Glamour.
Change of heart: Kylie Jenner delisted and the relisted her Calabasas "starter home," but she didn't alter the $3.3 million price tag. Jenner took the property, which has its own "glam room," off the market on June 4, but it reappeared four days later. She's been trying to sell the home since June last year, when she was asking $3.9 million for the manse. Her sister Kendall is also trying to sell her starter home, an apartment in Westwood, for $1.6 million. via Daily Mail.
Expansion plans: Sarah Jessica Parker and Matthew Broderick are one step closer to creating their West Village megamansion. The couple bought two townhouses at 273 and 275 West 11th Street a year ago for $34.5 million, and now documents filed show Morris Adjmi Architects as the architect of record for the project. The two townhomes come to a total of 13,900 square feet. via Luxury Listings.
New neighbors: Channing Tatum and Jenna Dewan Tatum will be welcoming new neighbors soon, as Jessica Alba and Cash Warren are finally about to move in to the Beverly Hills home the couple bought for $10 million in January. Apparently, the Tatums' daughter, Everly, can't wait for Alba and Warren's daughters Honor and Haven to live nearby. via Architectural Digest.
Swanky digs: Hilary Swank's former West Village townhouse is going to hit the market soon. She lived at 33 Charles Street with her then-husband Chad Lowe; they sold it in 2007 for $7.05 million. It's set to be listed for $11.99 million. via The New York Post.