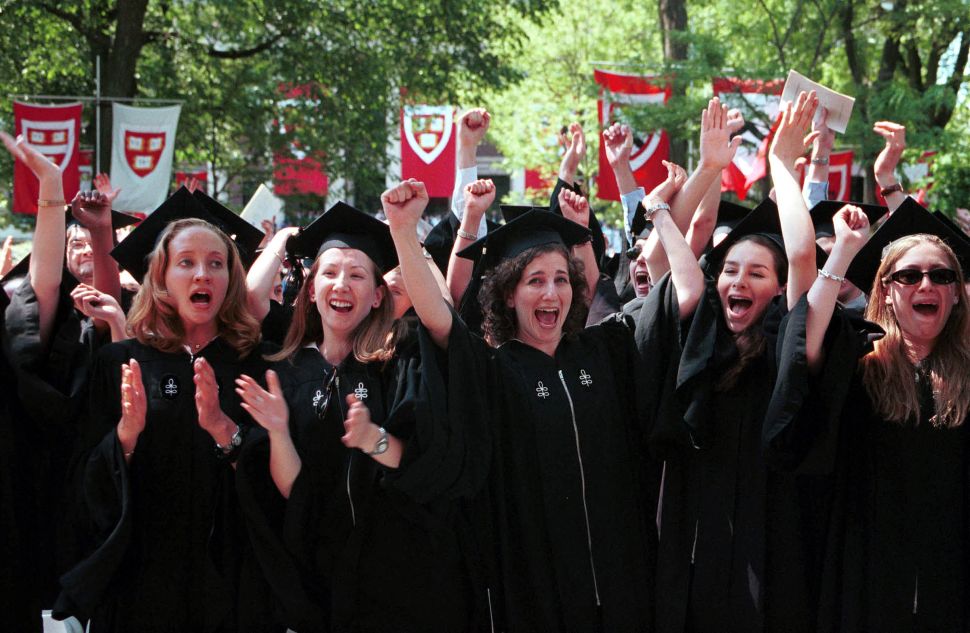 Once a niche industry serving primarily high school juniors and seniors—and their parents—the business of U.S. college rankings has ballooned into a billion-dollar operation over the past two decades. Now, just about every media outlet offers up some form of an annual college list. With rankings such as best value, most selective, and best party scene, the options are seemingly endless.
Where one chooses to go to college is, in many ways, much less about the classes offered or the degrees pursued. It's about establishing a cornerstone of one's lifelong reputation and personal branding. For urban professionals in major U.S. cities, conversations with new acquaintances both in business and in social settings—particularly for those still in the first decade of their careers—start with two basic questions: where you grew up and where you went to college.
"When a new acquaintance asks where you want to college, he or she is attempting to gather some initial data about you. Your college brand says quite a bit about the kind of person you might be," says John Addrizzo, a former brand marketing director for GlaxoSmithKline, who now runs a boutique college admissions consultancy called RightFit. The advisory group helps high schoolers and their families with the entire college application process, from initial student assessment and campus visit planning to essay ideation and ultimate decision. "The selectivity of colleges has increased dramatically over the last 20 years and many students and parents find the process complex and very stressful."
"Whether it's fair is not the question; the reality is that where you went to college is often used as short-hand for who you are likely to be as a person," added Addrizzo. "Other than prospective employers, no one will care too much about what you studied or your GPA; rather, for the first decade or two of your career, everyday acquaintances will look to the prestige of your alma mater as a significant part of your personal brand—something that will be used to frame you until they get to know you better."
We got some insight into which schools' reputations carry the most weight and most effectively enhance one's personal brand from Addrizzo, who is a graduate of Georgetown University and holds an MBA from Columbia University (both of which made his cut, incidentally.) We asked Addrizzo to identify the most prestigious college and university brands in each state. Here are his selections:
Alabama: (tie) Auburn University & University of Alabama
Alaska: University of Alaska, Fairbanks
Arizona: University of Arizona
Arkansas: Hendrix College
California: (tie) CalTech & Stanford University
Colorado: (tie) US Air Force Academy & Colorado College
Connecticut: Yale University
Delaware: University of Delaware
D.C.: Georgetown University
Florida: (tie) University of Florida & University of Miami
Georgia: Emory University
Hawaii: University of Hawaii at Manoa
Idaho: University of Idaho
Illinois: University of Chicago
Indiana: University of Notre Dame
Iowa: Grinnell College
Kansas: University of Kansas
Kentucky: Centre College
Louisiana: Tulane University
Maine: Bowdoin College
Maryland: (tie) Johns Hopkins University & US Naval Academy
Massachusetts: Harvard University
Michigan: University of Michigan, Ann Arbor
Minnesota: Carleton College
Mississippi: Millsaps College
Missouri: Washington University in St. Louis
Montana: Carroll College
Nebraska: Creighton University
Nevada: University of Nevada, Reno
New Hampshire: Dartmouth College
New Jersey: Princeton University
New Mexico: University of New Mexico
New York: Columbia University
North Carolina: Duke University
North Dakota: North Dakota State University
Ohio: Oberlin College
Oklahoma: University of Tulsa
Oregon: Reed College
Pennsylvania: University of Pennsylvania
Rhode Island: Brown University
South Carolina: (tie) Clemson University & Furman University
South Dakota: University of South Dakota
Tennessee: Vanderbilt University
Texas: Rice University
Utah: Brigham Young University
Vermont: Middlebury College
Virginia: (tie) University of Virginia & Washington and Lee University
Washington: Whitman College
West Virginia: West Virginia University
Wisconsin: University of Wisconsin, Madison
Wyoming: University of Wyoming
"The brand or prestige of a college is important generally, but especially so for students of color. Sadly, racial stigma causes too many to doubt the brilliance of people of color, so they tend to need more validators than others, and a first-rate college brand can open many doors that otherwise would've been closed," said Shavar Jeffries, president of Education Reform Now, an advocacy group that seeks to expand educational opportunities for low income students and students of color. "It's common in corporate America to see black and brown professionals with more prestigious college and graduate-school brands than white students precisely because folks of color tend to need greater credentialing than white professionals for comparable professional advancement."
"Your choice of college dictates how many choices you will have as an adult," said Samantha Ettus, a Harvard graduate, work/life wellness expert, and bestselling author of The Pie Life: A Guilt-Free Recipe for Success and Satisfaction. "We like to imagine that people's impressions of us are not only degree deep, but life is full of snap impressions. Just as your hometown, birth order and interests help to create your story, and so does your college degree."
"One need only look at our recent presidents. Four of the last five leaders of the Free World were Ivy Leaguers. Or consider America's recent Treasury secretaries: three of the last four were also Ivy League grads. It's not a coincidence. The branding power of your alma mater matters," said CNN and Fox News Commentator Ethan Bearman. "Your college brand has the power to make a difficult climb to the top a smoother road—or a much more arduous, pitfall-ridden climb."
The prestige of many of the schools on Addrizzo's list only resonates on a regional basis. A Grinell grad in Manhattan will likely get blank stares when he boasts of his alma mater, but in the Midwest it will likely be a much different story. And while some big names, such as the United States Military Academy at West Point and several of top New York schools, such as Cornell and NYU, didn't make Addrizzo's cut, their absence is more a reflection of a crowded field of in-state competitors than any lack of bragging gravitas.
Arick Wierson is a former political and communications adviser to New York City Michael Bloomberg where he was responsible for managing the City's multiple television, radio and digital platforms. Currently, Wierson is a political and branding consultant to the Government of Angola, advising the country's efforts to attract foreign investment and promote trade.
Richard Hecker is the CEO of Traction + Scale, an investment holding company that builds companies transform their industries. He is also the co-founder of SeedingX.org. You can follow him on twitter @RichieBlueEyes.