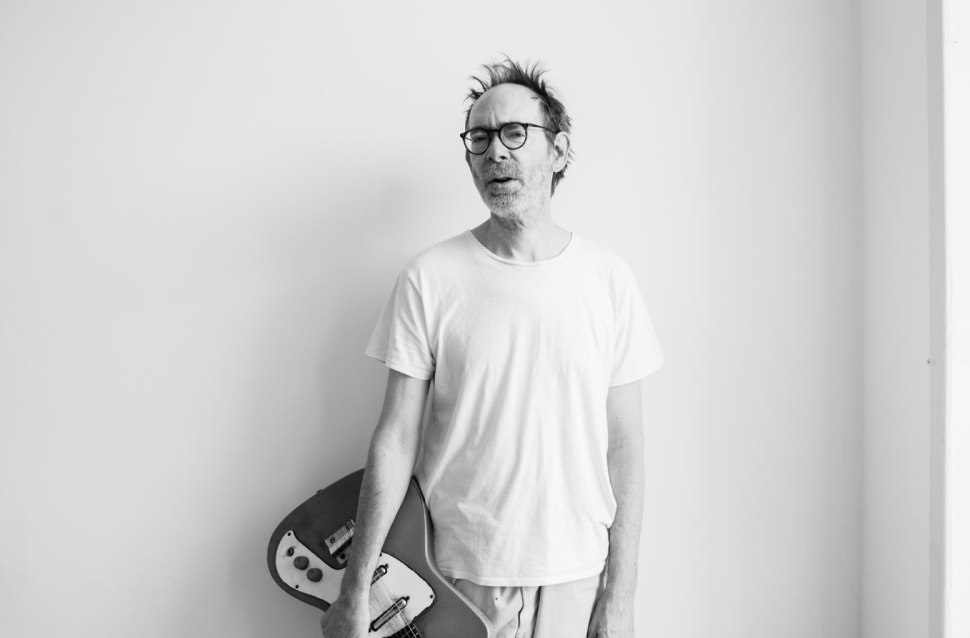 We've barely eclipsed the halfway point of 2017, yet the treasure trove of outstanding records culled from the vast cauldron known as the experimental music orb is mind boggling. We plucked out 10 of this year's best thus far, a smattering from several months that has already served up a pile of records made by fearless musicians working on the fringes of jazz, classical, post-rock, metal and more. Dig into this batch and wait for that year-end list. It's sure to be epic.
10) Colin Stetson, All This I Do For Glory (50HZ)  
Saxophone giant Colin Stetson is a one-of-a-kind hornsmith whose intersection of metal, jazz and electronics is not of this earth. On the new All This I Do For Glory, Stetson—a one-man wrecking crew—bangs out entrancing and dancing drones that is a melodious post-classical, minimalist beast of euphoric sound transmittals from beyond.
9) Dálava, The Book of Transfigurations (Songlines)
Guitar hero Aram Bajakian comes from the school of Marc Ribot: a jack-of-all-trades shredder who's toured with Lou Reed on his final tours, has recorded for John Zorn's Tzadik label, and in solo mode has smashed genres to bits on scorching sets like the punk-jazz of there were flowers also in hell and the meditative drone of Dolphy Formations. Dálava is yet another project that finds Bajakian switching aesthetic gears again. Alongside his wife and vocalist Julia Ulehla, the duo reimagine old-world Czech folk tales on The Book of Transfigurations that look forward as much as they look back. As Bajakian masterfully crafts an ancient sound-world where ghostly folk and proggy finger-picking wizardry nod to his avant-garde and free-improv roots, Ulehla takes center stage with soaring and meditative pipes that run the gamut from arresting whispers to operatic howls.
8) Bearthoven, Trios (Cantaloupe Music)
You'd be hard pressed to find a piano trio that sounds like Bearthoven. Sure, traces of pop, jazz, minimalism and contemporary classical seep from its cerebral and singular hybrid, but to put an exact finger on the musical pulses shared by percussionist Matt Evans, pianist Karl Larson and bassist Pat Swoboda would be an exercise in futility. The telepathic, out-of-this-world interplay heard on the sometimes berserk, sometimes subtle interlocking conversations and high-energy angularity found on Trios is a spellbinding trip into finger-hopping gymnastics and rhythm section-fueled intensity. Like Tigue, So Percussion and Man Forever, Bearthoven fits into none of the obligatory genre-boxing.
7) Crown Larks, Population (Already Dead)
From the land of post-rock, Shellac, Thrill Jockey Records and The Association for the Advancement of Creative Musicians (AACM), comes yet another group making a holy racket, albeit under-the-radar, in Chicago's underground scene and beyond: Crown Larks. On Population, the follow-up to 2015's Blood Dancer, the adventurous, free spirited noisemakers in Crown Larks form a psychedelic rainbow colored by soaring alto sax and flute-driving pirouettes, tribal-centric polyrhythmic action and organ-drenched post-jazz freak-outs on a Kraut-rock bender and topped by the cathartic wails of vocalists Jack Bouboushian and Lorraine Bailey.
6) Mako Sica, Invocation (Feeding Tube)
Chicago shred heroes Mako Sica have aced desert-rock and free jazz skronk over the last decade. For their latest mind-bender, the trio of guitarist/trumpeter Przemyslaw Krys Drazek, guitarist/vocalist Brent J Fuscaldo and percussionist Chaetan Newell have let loose with the chanting and bellowing ritual music of Invocation, their debut for Byron Coley's Feeding Tube label. Bringing to mind the North African-inspired repetition of 75 Dollar Bill and the Greek inflections of Brooklyn own Rhyton, the slow-building hypnotic psych-rock otherworld Mako Sica creates is a rubberbandy and serpentine guitar lick-fest.
5) Conformity Contortion (Sara Lund and Thollem Electric), Perception Management (Personal Archives)
Road warrior Thollem (he literally lives on tour) is a pianist and electric keyboardist maestro who's eclectic resume counts recent collaborations with cornetist Rob Mazurek and a trio with the dearly-departed experimental pioneer Pauline Oliveros and guitarist Nels Cline, among countless other scene giants. Those free-improv fireworks Thollem has made his indelible mark on forge ahead with Perception Management, the second set of interstellar psych-rock overdrive spewed out by Conformity Contortion, the face-melting duo he shares with legendary drummer Sara Lund of Unwound, Corin Tucker Band and Hungry Ghost fame. Like their 2014 debut Impulsive Machinations, Thollem and Lund put the electric keyboard-splattered and drums-bashing pedal to the metal on the Sun Ra-meets-PacWest post-punk fire music thrash of Perception Management. Thollem's partners in improvisational adventures run far and wide but Lund is his ultimate kindred spirit.
4) Bill Brovold & Jamie Saft, Serenity Knolls (RareNoise)
Take Bill Brovold, an intrepid guitarist with roots in the no wave scene and as leader of post-rock collective Larval and pair him with John Zorn protégé and Iggy Pop bandmate, piano titan Jamie Saft. Out-jazz freak-out hell should break loose, right? Wrong. Instead, Saft trades his fingers-on-the-keys magic for dobro and lap steel guitar twang trippiness in tasty duels with Brovold's rustic pick 'n' strum on the hushed back-porch Americana blues of Serenity Knolls. Taking cues from the old-timey waltz's and shuffles of Bob Dylan's recent forays into the Sinatra playbook and the slow-burning bloozy chug of ZZ Top (both big-time Saft obsessions) with the influence of The Dead hovering (Serenity Knolls just happens to be the rehab where Jerry Garcia died in 1995), Saft and Brovold wake and bake with these country-fried stoner guitar campfire jams.
3) Arto Lindsay, Cuidado Madame (Northern Spy)
In 2014, no wave pioneer and samba skronker Arto Lindsay returned after a long hiatus with best-of and live document The Encyclopedia of Arto. Now 13 long years after his last record of all-new material (2004's Salt), Lindsay is officially back. Cuidado Madame is, arguably, his quintessential statement of the Brazilian and American musical cross-section that he first began perfecting in his post-DNA band Ambitious Lovers and via his solo work. With his trademark rhythmic strings-scratching as lethal as ever, the delicately-voiced Lindsay leads a rock-solid group (including bassist Melvin Gibbs) through a sexy, noisy and thrilling ride into tribal percussive-thwacking electro-samba.
2) Joshua Abrams & Natural Information Society, Simultonality (Eremite)
Composer and bass ace Joshua Abrams' has been pulling the strings, literally, in Chicago's post-rock, jazz and free-improv scenes for the last fifteen-odd years. He's played with everyone from the late great Fred Anderson and Matana Roberts plus he cofounded country-bent minimalists Town and Country. But it's in his own Natural Information Society—the rotating door ensemble of avant-heads of which he pilots—where Abrams has made his experimental star-making turn. That came through in flying colors on 2015's Magnetoception and continues full-throttle on the dizzying and exhilarating pulsations bursting from the cosmically groovy seams of Simultonality. With Tortoise'y futuristic electro-prog throbs mixed with Alice Coltrane-esque psych-jazz spirituality and dripping with North African-inspired string-bending psychedelia (check out Abrams' magical wielding of the guimbri, a three stringed lute from Morocco commonly used by Gnawan musicians), Abrams & Natural Information Society move body, mind and spirit on Simultonality.
1) CP Unit, Before The Heat Death (Clean Feed)
Ever since extreme-music overlord Weasel Walter took Chris Pitsiokos under his wing in 2012, the saxophone wunderkind has been a major player in Brooklyn's DIY jazz and experimental underground. In late 2016, Pitsiokos and his Quartet offered up One Eye with a Microscope Attached quickly followed by the early 2017 release of his CP Unit's Before the Heat Death, a godhead assault that channels the downtown free-improv mayhem of John Zorn, the ecstatic groove throw downs of electric-era Ornette Coleman and the proggy precision of Walter's Flying Luttenbachers. Fittingly, it's Walter and his Lydia Lunch Retrovirus bandmate, bassist Tim Dahl on drums and bass respectively, holding the chaotic fort, giving free rein to Pitsiokos and guitarist Brandon Seabrook to go batshit-crazy with a brutal punk-jazz monolith that calls to mind no wavers like James Chance and the Contortions, DNA and John Lurie and The Lounge Lizards.