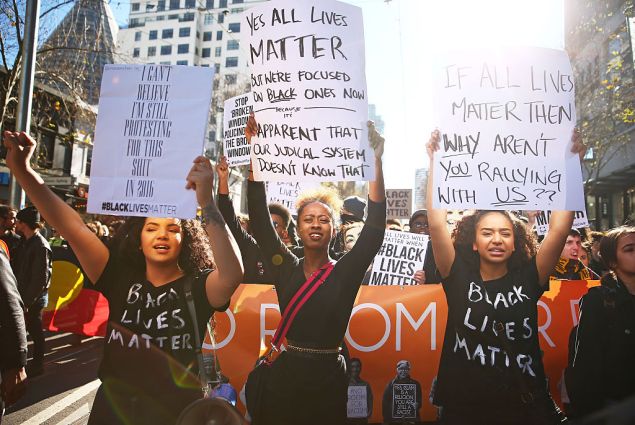 Black Lives Matter co-founder Alicia Garza told the graduating class of LaGuardia Community College last night that she found former Federal Bureau of Investigation Director James Comey's testimony before the Senate yesterday "terrifying"—but said she became hopeful, arguing that marginalized groups are the ones who will make "America great again."
Comey asserted that President Donald Trump fired him last month to undermine the ongoing probe into his campaign's ties with Russia, labeled the president's claims that agents at the bureau had lost faith in him as "lies" and said Trump pressured him to end FBI's investigation of ex-national security adviser Gen. Michael Flynn. In her commencement address, Garza argued the hearing revealed the nature of power in America, and recalled the troubles that have historically plagued—and continue to beset—the United States.
"I turned on my television and I watched the Senate hearings with the director of the FBI testifying about the challenges under the current administration and I thought to myself, 'how completely terrifying it is that this, that here is the state of our world, it is the state of our country,'" she told the students at Barclays Center in Brooklyn. "How terrifying it is that when I turn on the television and watch our government work, most of what I see is remnants of the past. Fighting to stay relevant, fighting to move forward an agenda that honestly only moves us backwards."
The 34-year-old activist and writer—who serves as special projects director for the National Domestic Workers Alliance—asserted that Trump and his supporters sought to return to the "good old days," which she described as the days in which there was "one set of accommodations for whites" and another for people of color and the days when "a black family could be terrorized by the Klan in the middle of the night" then go to the post office or the courthouse the next day, for example, and recognize the eyes "that were poking through the holes of those cowardly hoods."
Conservatives may remember the past as a time "when everything was simple"—when white men "moved the planet" and people of color, women and LGBTQ individuals "knew their place."
"But you and I know that those were not the good old days," Garza said. "Those days are part of a dark history in this country. It's days that we should not only stay far, far away from but they are days that we must all collectively vow to never, ever, ever return to again."
She noted later in her address to the students that when she first turned on her television this morning, she "felt fear" for her family, her loved ones, her community and herself.
It is "really easy in those moments to turn it off," she said, as people are preoccupied by day-to-day priorities such as paying rent and bills—and feel that what is happening in the White House is not as important. But she kept the television on because she knew she was speaking at the commencement ceremony later that day—and was "filled" with hope, determination and courage as she thought about "looking into your incredible and beautiful faces."
"I know that it is impossible to stop time and that time is moving forward and I know that by looking in each of your faces," she said. "I believe in the country that we can become. I believe in the United States that we all deserve. I believe in it because I believe in myself, because I believe in you and because I believe in us. We are who the world has been waiting for."
The Black Lives Matter co-founder took aim at the Trump administration, which she said is moving "wholesale" to wage war around the planet, engage in environmental assault, strip women "of the equity that we deserve" and institute law and order "only for someone"—references to his decision to pull out of the Paris climate change accord and U.S. Attorney General Jeff Sessions rolling back former President Barack Obama's more lenient criminal justice policies.
She pointed to attacks on black Muslims "just walking down the street," raids on undocumented households by Trump's Immigration and Customs Enforcement officers and Congress attempting to dismantle the Affordable Care Act.
She also mentioned the struggles of Native Americans and of LGBTQ individuals. Garza identifies as queer and her partner is transgender.
Despite recent setbacks, she asserted that the future belongs to people like herself and the graduates of LaGuardia.
"It will be us who creates a global family where nobody has too much but everybody has exactly what they need," she said. "It will be us who stops the murders of trans people and the disappearing of indigenous women. It will be us who makes sure that we protect the environment. It will be us who makes America great again."
Garza told the crowd that she and the other Black Lives Matter co-founders—Patrisse Cullors and Opal Tometi—started the movement in 2013 without a plan but had a mandate, saying that they could not sit back and remain silent as "more and more of our people were being killed, brutalized and discriminated against."
"We were just guided by a deep and profound love for our people and that love guides each and every step that we take," she said.