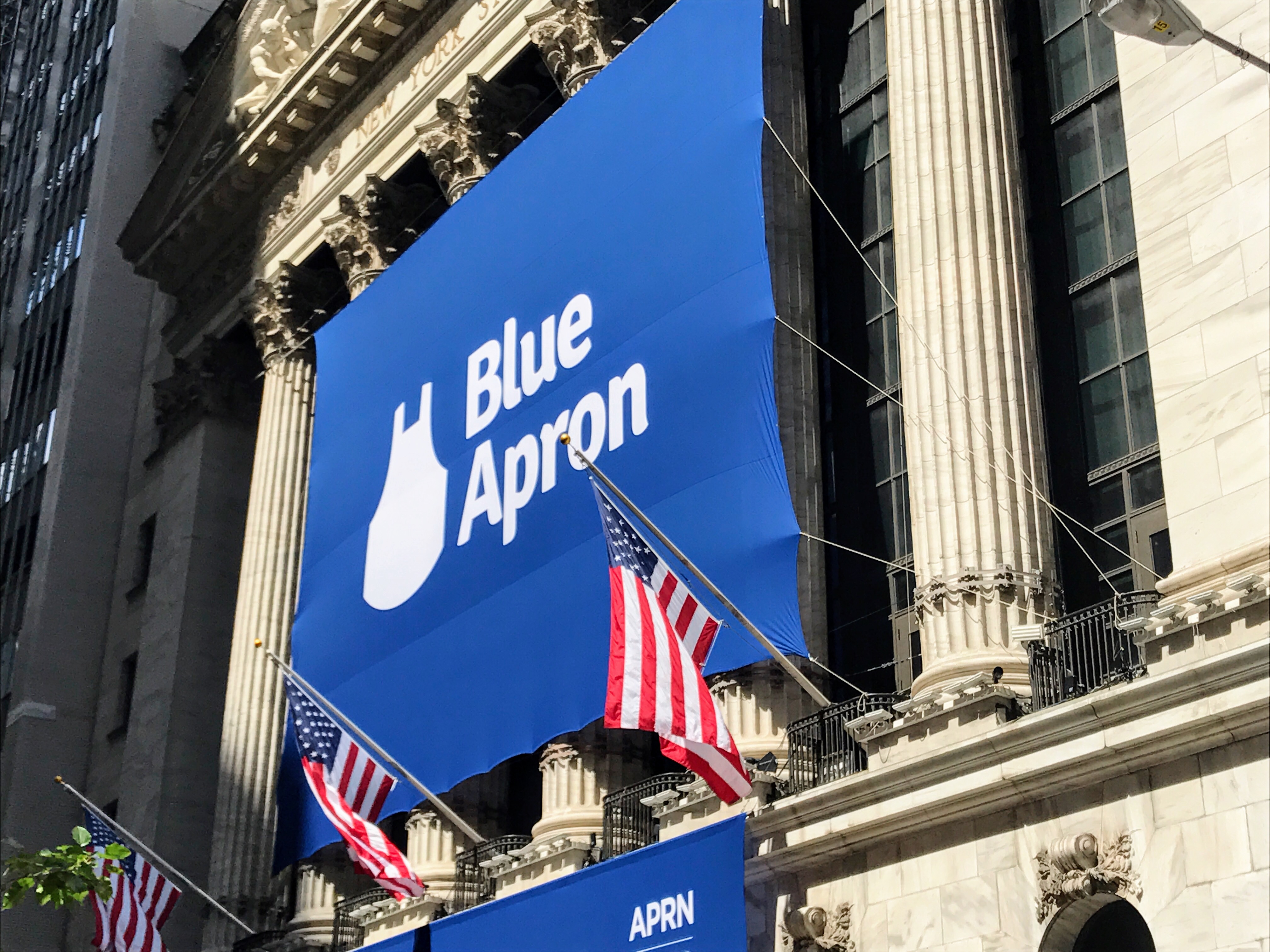 Blue Apron was expected to breeze through its IPO and list with a $3 billon valuation, but things derailed when the Amazon-Whole Foods deal sparked a reality check into how steep competition in food tech will be. This led Blue Apron to slash its shares from $15 to $17 down to $10. The company ultimately listed with a market cap of $1.9 billion, which is less than the $2 billion valuation it was given in its most recent round of private fundraising.
Blue Apron may have listed way below its expected price, but that didn't put a damper on the subscription meal kit company's IPO celebration. It went big for its event outside the New York Stock Exchange Thursday morning and offered hundreds of employees and everyone passing by a chance to hang out and chow down on its food.
While it's tradition to hang a banner and many companies put on a display, Blue Apron turned the entire area around the NYSE into an interactive foodie party you could hear several blocks away. There were servers handing out appetizers, and booths—shaped like Blue Apron boxes—were stationed both on Wall Street and Broad Street and pumping out more substantial food. There were cold soba noodles, fish tacos and fancy tiny-squares-of-meat-on-cracker-type apps. There were sliders too, and everyone was drinking La Croix.
Read also: We Tried Blue Apron, Hello Fresh and Their 4 Competitors—One Was Clearly the Best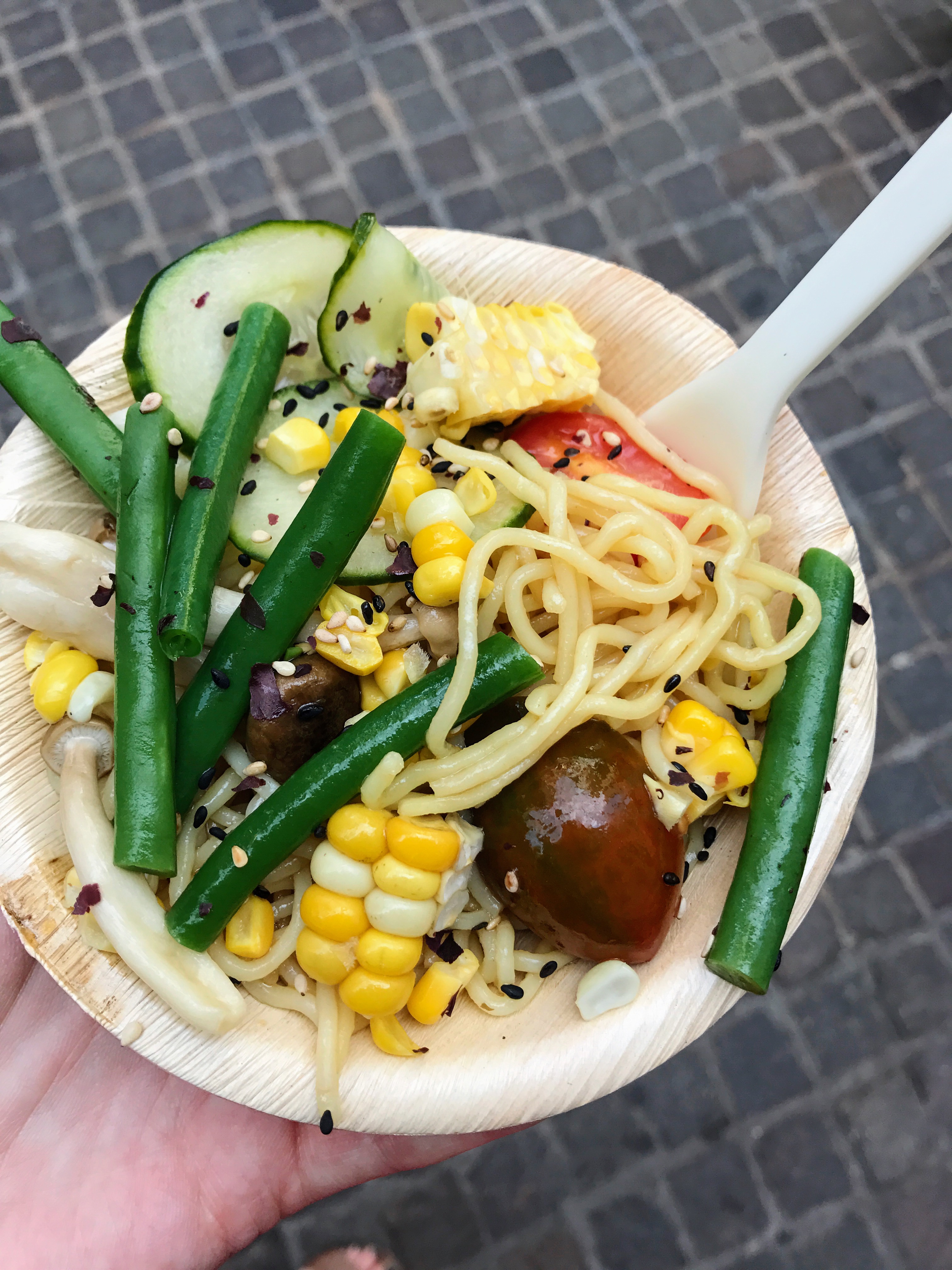 In an attempt to showcase how fresh Blue Apron's food is, the company filled the area with fresh produce. There was a giant wall made of lettuce as well as crates of snap peas, corn and other veggies stationed all around. People were literally walking around with bundles of radishes in their arms.
By 10:36 AM EST, Blue Apron's stock had risen 3.9 percent. Shortly after this, the company began a cook-off right in front of the NYSE.
"Today we have for you two teams of Blue Apron chefs ready to compete in what is sure to be, without a doubt, the biggest and most important challenge of their culinary careers," the emcee announced, before going in hard on the food puns.
The challenge was to create a burger and side dish in 20 minutes. Each team's meal would be judged on taste, creativity and use of the mandatory secret ingredient, earning a maximum of five points in each category. The secret ingredient, it was later announced, would be peaches, because an IPO is about money, and presidents are on money, and "how can you better celebrate the presidents of the Unites States of America than with peaches?" The winning dish would then land a spot on an upcoming Blue Apron menu.
Read also: Which Subscription Meal Service Should You Try? Our Infographic Will Help You Choose
Blue Apron founder and CEO Matt Salzberg tweeted about how excited he was to celebrate at the NYSE.
By 11:30, shares were up 9 percent from the initial $10. 
Blue Apron is the first subscription meal kit company to go public, but it's still being weighed down by steep competition. The Observer has tried and reviewed 10 different services just like Blue Apron—some (like Hello Fresh and Plated) with as much funding and publicity. Others are differentiating themselves, like Green Chef and Sun Basket, which serve only organic food. Then there's Marly Spoon, which officially changed its name to "Martha & Marley Spoon" after bringing Martha Stewart on-board. Now it has its own wine of the month club.
Between the meal kit war and the Amazon-Whole Foods acquisition, food tech is something worth paying attention to.