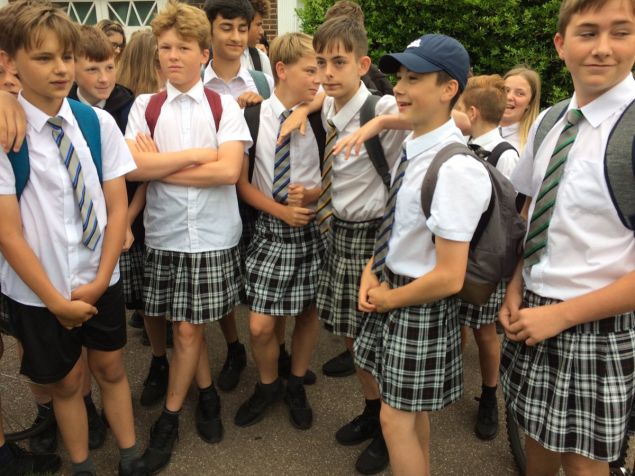 Today is the first full day of summer, not only in the United States but in Europe as well. In the midst of a historic heat wave, European schoolchildren and bus drivers are coming up with creative ways to keep cool—and going viral in the process.
Teenage pupils at Isca Academy in Exeter, England were the talk of Twitter today after they wore skirts to school. Thirty boys donned the tartan garments, borrowed from sisters or girlfriends, after being told they couldn't wear shorts in the hot weather.
The young men said the skirts were "very refreshing" and offered a "nice breeze," according to The Guardian. Some students even shaved their legs.
To the surprise of no one, the boys became a social media sensation:
The unisex skirt movement actually started with a group of bus drivers in Nantes, France. As temperatures climbed to 100 degrees, they also asked to wear shorts so they could be more comfortable, but the request was denied.
"Our bosses' offices are air-conditioned, which isn't the case with the majority of our vehicles," Gabriel Magner, a bus driver and union representative, told The Guardian.
So the men raided their wives' closets and wore skirts to work instead. They weren't technically breaking any rules, since skirts are allowed for female drivers.
These trendsetters also felt some social media love:
Nice work, gentlemen—stay cool.